Welcome to CSP's Office of Career Development. We are here to support you as you pursue your education, establish career goals, and embark on your professional path. Please reach out if we can be of assistance.
Office of Career Development
Poehler Administration Building #124
Office Hours: Monday through Friday 8:00 a.m. – 4:30 p.m. CT
[email protected]
651-603-6245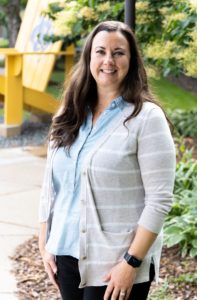 Andrea Mayer, MA
Director of Career Development and Integration
[email protected]
www.linkedin.com/in/andrea-obrycki-mayer/
StrengthsFinder: Strategic, Futuristic, Relator, Focus, Discipline
1. Quote/saying you live by
"Seek First To Understand, Then To Be Understood" -Stephen Covey
"Be the change you wish to see in the world." – Mahatma Gandhi
2. Life Story/About You
Hi! My name is Andrea Mayer and I have been at CSP since 2015! I completed my bachelor of science degree in marketing and business education at the University of Wisconsin Stout and my master of arts degree in higher education at the University of St. Thomas. Prior to working in higher education I taught high school and worked as an account manager for a floorplan finance company.
3. What do you like to do outside of work?
I have a young and active family that keeps me busy! I like to be outside, starting (and sometimes finishing) art projects, gardening, and spending time with friends and family.
4. What did you want to be growing up?
At a young age I wanted to be a teacher. In high school I wanted to be a graphic designer, but had a co-op experience that I didn't like so changed my mind!
5. Favorite restaurant/coffee shop near CSP?
Yellowbird, Yum!, On's Kitchen, Colossal Café, Buffalo Wild Wings (and anything Esther orders via Door Dash!)
6. If you could give one piece of advice to students, what would it be?
Believe in yourself. You have achieved so much and will continue to learn, grow, and achieve during your time at CSP!
Graduate Intern/Student Employees
Career Development Front Desk Assistant
Major: Elementary Education

Career Development Front Desk Assistant
Major: Finance
Minor: Business Management

Career Development Front Desk Assistant
Major: Accounting
Minor: International Business

Career Development Front Desk Assistant
Major: Math

Career Development Front Desk Assistant
Major: International Business