Your words became to me a joy and the delight of my heart.
Here for you.
The Center for Biblical Studies is here for you, offering preaching, teaching, and practical resources for increasing biblical knowledge, enhancing faith in Christ, and enriching the ministry of the local church.
Working collaboratively with Concordia St. Paul's Department of Theology and Ministry, the Center offers annual events such as preaching workshops for Advent and Lent, seminars on a book of the Bible, and workshops focused on biblical stewardship. The Center also showcases the best biblical scholarship in the LCMS by hosting three-day seminars each summer featuring a guest scholar.
The Center is here for you, so that you too might find great joy and delight in the beauty and power of God's Word.
Scroll down to learn more, access resources, and register for upcoming events.
"Your Advent series on John is packaged very well and user-friendly for busy parish pastors. Thanks be to God for your work on this series."
Upcoming Events
January 28, 2022
9:00 a.m.‒2:00 p.m.
$30
In-person or online
The CSP Center for Biblical Studies, in conjunction with Concordia Publishing House, is thrilled to offer this seminar based upon Dr. Lessing's CPH Lenten Kit for 2022. We will meet ruthless villains —like Barabbas and Pontius Pilate — as well as notorious sinners such as Peter (who denied Jesus three times), Mary Magdalene (who was possessed by seven demons) and Judas Iscariot (who betrayed Jesus for thirty pieces of silver). This is a Lenten series like no other.

The $30 fee includes sermons, liturgical resources, PowerPoint slides, and a recording of the session.

Registration opens December 1st.

March 19, 2022
9:00 p.m.‒3:00 p.m.
$20
In-person or online

Through the ages, whether in art or literature, cartoon or animation, Jonah has been a star of the first magnitude. The author of Jonah did his work so well that his book continues to delight and challenge the simple soul as much as the sophisticated scholar. Based upon Dr. Lessing's CPH commentary on Jonah, this workshop for pastors and lay-people alike, will fill minds with biblical truth and fire hearts to take God's love to the world.

The $20 fee includes resources, PowerPoint slides, and a recording of the session.

Registration opens January 15.

Summer 2022. More details to come.

August 16, 2022
2:00 p.m.‒5:00 p.m.
$25
In-person or online

Registration opens June 1.
"The materials & program are well worth the investment."
Resources from Dr. Lessing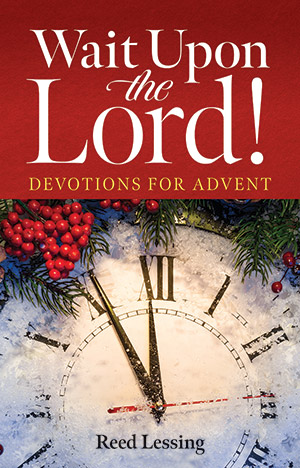 Click here to order Dr. Lessing's latest series of Advent devotions from Creative Communications for the Parish.