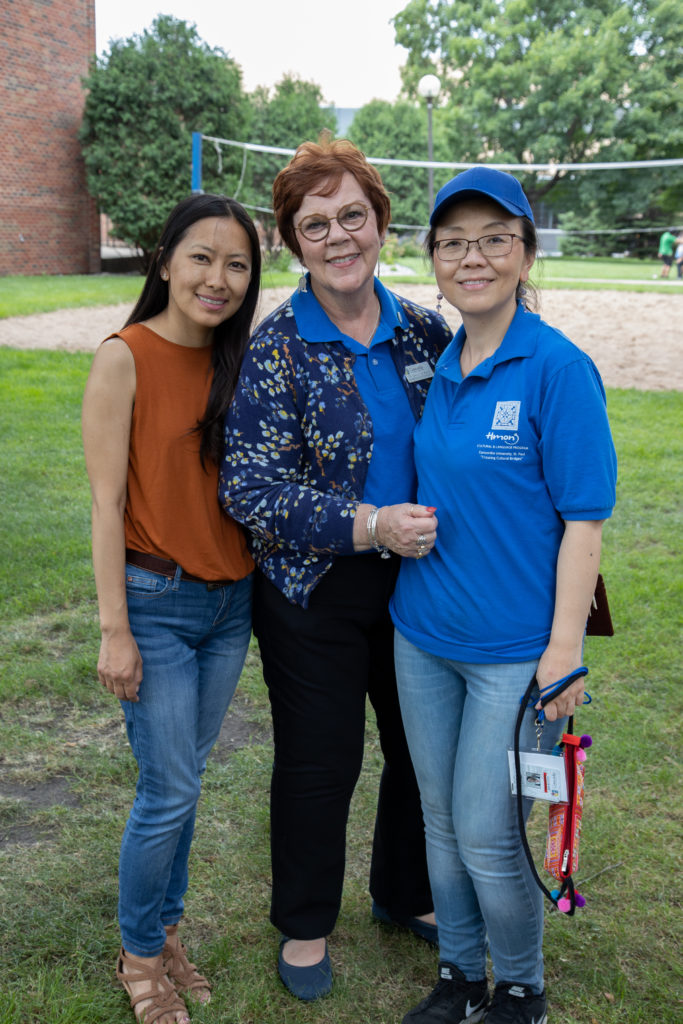 University News
This year marks the 15th year of the Building Cultural Bridges Camp which is a two week camp held at Concordia University, St. Paul's campus. The camp was formerly called the Hmong Culture and Language Summer Program; recently, it was renamed due to the inclusion of as many as 20 different language groups.
Many families have children who have grown up in this program since its beginnings in 2004 all the way into the present. Families of Nao Thao, Chao Vang, and Panyia Ly (co-developers of the program who were initially students in the Southeast Asian Teacher Program directed by Dr. Sally Baas), and many other families have been campers who have grown into youth clan leaders and eventually camp instructors.
Seven years ago, the Fang family encouraged their children Mitchell, Pearl, Claire, and Kai to learn about their Hmong roots by attending the Hmong Culture and Language Program summer camp. 
Pearl Fang reflected on the program's impact on her understanding of her culture and the sacrifices so many made:
"Although I was always taught to be proud of my Hmongness, as a young Hmong-American woman raised in a primarily white suburb of the Twin Cities, my navigation through life was always inhibited by the silent compromise of my culture in a population that knew nothing of it. Without external affirmation, I neglected the tension of my interwoven identities and fixated on my high academic performance. In the summer of 2011, I was enrolled in the Hmong Culture and Language Program (HCLP) summer camp and when I learned about the history of the Hmong and the genocide from which they fled as refugees of the Vietnam War, I was brokenhearted and vehemently sought more information. Upon returning home that afternoon, I pressed my parents for the stories I had been told my entire life, finally able to comprehend the anecdotes of orphans sabotaged so extended families were absolved of their care while fleeing, infants sedated with opium and permanently brain-damaged to prevent their cries, and elders abandoned in the jungle because their senility hindered their family's successful escape. And for the first time, I wept with them—at the suffering and unimaginable decisions our people were coerced to make to survive. Their stories mended my conflict and catalyzed my ambition to achieve. Humbled, grateful, and so proud of their sacrifices, I have affirmed in my heart that I will work to serve people in need." 
Each of the Fang children is focused on using their knowledge from their ethnic background and building their educational careers while sharing their talents and skills in various volunteer ways with the Building Cultural Bridges Camp through leading youth, teaching music, sharing their organizational skills, all the while, bringing their joy faith, boundless energy as models for other youth and young campers. 
The mission of the Hmong Culture and Language Program is to preserve the Hmong culture through storytelling, gardening, and the arts.  The program grew out of needs in the Hmong community and has grown to also meet the needs of our university students for pre-service teaching and cross-cultural experiences. This opportunity has been based on and filtered through Concordia University, St. Paul's mission, "As a university of The Lutheran Church – Missouri Synod, which is to prepare students for thoughtful and informed living, for dedicated service to God and humanity, for enlightened care of God's creation, all within the context of the Christian Gospel." 
The program was initiated through the Southeast Asian Teacher (SEAT) Program, a teacher education completion program for Southeast Asians and other persons of color from underrepresented populations in education who are currently employed in Minnesota school districts as paraprofessional, educational or teacher assistants who are seeking teacher licensure. This program provides licensed teachers for students who better understand the life and culture of the urban and urban-like and Hmong students, specifically. In addition, the program creates greater access and equity for communities of color and helps to close the gap between the number of students of color and the number of teachers of color in the school systems.
The Hmong Culture and Language Program serves as a service arm of the Department of Teacher Education (DUTE) where it resides. DUTE prepares professional, academically capable, and personally responsible entry-level educators to serve in diverse educational communities; to prepare students for thoughtful, informed living, and for dedicated service to humanity, all within the context of the Christian gospel. The Hmong Culture and Language Program development has focused on helping Concordia students, and students from other Minnesota colleges develop thoughtful and informed living.
Concordia's vision is to strive to provide education within a global perspective and to structure integrated learning experiences in which students/faculty/community not only recognize and accept responsibility for their own intellectual, social, emotional and spiritual growth but also share in that of fellow students/colleagues. This opportunity has had a locally global focus to the Hmong and various other communities of color while providing opportunities for social, emotional and spiritual growth with a focus on intellectual growth through a variety of opportunities to create curriculum and teach K-12 students and their families.