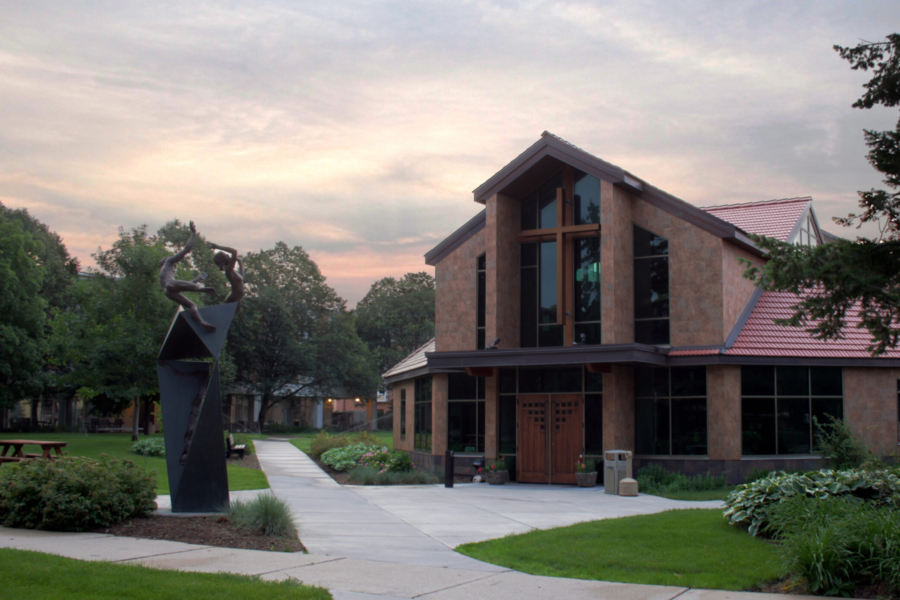 University News
Psalm 46
God is our refuge and strength,
    a very present[b] help in trouble.
2 Therefore we will not fear though the earth gives way,
    though the mountains be moved into the heart of the sea,
3 though its waters roar and foam,
    though the mountains tremble at its swelling. Selah
4 There is a river whose streams make glad the city of God,
    the holy habitation of the Most High.
5 God is in the midst of her; she shall not be moved;
    God will help her when morning dawns.
6 The nations rage, the kingdoms totter;
    he utters his voice, the earth melts.
7 The Lord of hosts is with us;
    the God of Jacob is our fortress. Selah
8 Come, behold the works of the Lord,
    how he has brought desolations on the earth.
9 He makes wars cease to the end of the earth;
    he breaks the bow and shatters the spear;
    he burns the chariots with fire.
10 "Be still, and know that I am God.
    I will be exalted among the nations,
    I will be exalted in the earth!"
11 The Lord of hosts is with us;
    the God of Jacob is our fortress.
At Concordia University, St. Paul, we find ourselves in the midst of the dearly loved Twin Cities. It is in this dynamic and diverse community we live out our mission of preparing students for thoughtful and informed living, for dedicated service to God and humanity, for enlightened care of God's creation, all within the context of the Christian Gospel. Thus, this week, the death of George Floyd has brought the painful realities of racism to the surface right here at home and calls us to respond as a community of faith in service to our neighbor. 
The words of Psalm 46 speak reassurance. God is in the midst of the city. Of course, the city referenced here is the biblical city of Jerusalem, but we know His promised presence there is the same for these Twin Cities. We can hear three promises and a calling for us in Psalm 46:5.
God has always been in the city.

Long before Concordia was in St. Paul, the spirit of Christ was at work here. It is because of the love of God for each person that Jesus was sent to the city of Jerusalem to die for the sins of all and reconcile us to God and each other. We will never see a face Jesus does not love enough to die for.
God has not left the city.

Verse 1 of Psalm 46 says, "God is our refuge and strength, an ever-present help in trouble." Even when our city has not been a place of refuge for so many, that is what God offers us – refuge. We lament the devastation. We see and feel the pain of deeply rooted racism and repent of our role in it individually and as a community. We can be assured our God is not deterred by our sin, chaos, or pain. Jesus came to earth not only to experience the depth of humanity's pain and brokenness, but to take it on Himself in swallowing up death in every form by way of the cross and empty tomb. God is not afraid of the city. He is within her and is her remedy.
God will heal the city.

As the psalm says in verse 10, there will be a day when all will "be still and know that [God] is God." As Revelation 21 offers, not only will all be as it ought in this new, restored city, but God will be among us in fullness there. It says, "He will wipe away every tear from their eyes." In tumultuous days, we take heart that Christ will bring shalom wholeness to the city — no more death, mourning, or pain. We look longingly for that day.
Our calling is to be evidence of God's presence in the city.

The rich culture and diversity of the Twin Cities has always been a blessing to CSP. We have not always taken the stewardship of this blessing as seriously as we ought. In CSP's commitment of dedicated service to God and humanity, our calling is that of Micah 6:8: "Do justice, love mercy, and walk humbly with your God." We are called to do justice on behalf of those in need of it, to show great compassion and mercy, and to take a posture of incredible humility as we seek to be the best evidence possible for the loving presence of Christ is in St. Paul. CSP's "all within the context of the Christian Gospel," points us to follow in the footsteps of Jesus as He walked the earth, seeking to wash feet and right wrongs by giving of Himself. At the resurrection of Lazarus, Jesus wept with those who wept, compassionately listened to those in pain, and ushered in healing. While our efforts will never be as His, we walk humbly in the work of compassion in our Cities, as we try to be faithful to this calling. This is the work of our mission. Hearing the aches of our community, especially our African American sisters and brothers, is the work of thoughtful and informed living and dedicated service to God and humanity. 
On this eve of Pentecost, when we celebrate the outpouring of the Holy Spirit upon Christ's Church, God's people rejoice that the crucified and risen Jesus is present with us today to bring healing, reconciliation, and peace. As the psalmist (vs. 10-11) says, "Be still, and know that I am God…The Lord of hosts is with us."
We pray we are faithful in the Spirit-guided work of doing justice, loving mercy, and walking humbly for the sake of our neighbor. As God dwells among us at CSP and has called CSP to dwell in St. Paul, may we be evidence that the loving Christ is within us as we serve and prepare students in these Twin Cities.   
-Shelly Schwalm, Ministry Associate (author)
-Tom Gundermann, Campus Pastor (contributor)
-Mark Koschmann, Chairperson, Department of Theology and Ministry (contributor)
-Brian Friedrich, President (editor)