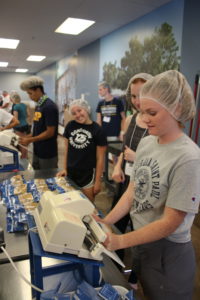 University News
CSP welcomed one of the largest freshman classes in school history this fall, and during Welcome Week students were offered a unique opportunity to not only form new relationships with other students but to gain knowledge about CSP's greater community.
CSP values connecting its students with the community through exposure and real-world opportunity. Students can gain new experiences, which creates a new foundation of knowledge that students can use for a lifetime. The aim of Welcome Week activities was to promote cultural awareness and active leadership within the student body.
Kelly Matthias leads CSP's Community Action, Leadership, and Learning (CALL) Center and is involved in student life initiatives. She finds it important to get involved early.
"Welcome Weekend is a great opportunity for our CSP community to come together to welcome new students into the Concordia community and foster meaningful peer relationships and faculty/staff connections before classes even begin," Matthias explained. 
Some key events planned for our students included the Live With Purpose Service Project, the CSP Seminar Lunch on the Light Rail, and the Amazing Race. The Live With Purpose Service Project was a way for our students to give back through Feed My Starving Children where they created "hand-packed meals specially formulated for malnourished children to help alleviate hunger around the world". Students made an impact on not only the Twin Cities but globally as well.
Another fun activity was exposing the students to cultures in the community through the CSP Seminar Lunch on the Light Rail, by having them try out different local restaurants in the area along the Green Line. Every student joined their seminar class to experience the local ethnic restaurants within the area. Students not only received the opportunity to eat some delicious cuisine but also had the opportunity to converse with the restaurant owners about their culture. The event also offered the chance for students to give back to the community rather than corporate companies.
Here's a recap are the various restaurants that our students tried, located in Frogtown along the Light Rail:
CSP Seminar class photo with HOMI restaurant owners, Miguel López from Hidalgo and Hortencia Ambrocio from Veracruz
Lastly, students had a blast as they joined their seminar class in the Amazing Race to expand their knowledge about public transportation. The scavenger hunt took place on the Metro Transit Light Rail and students had to navigate their way through the area to find various clues. The activity demonstrated many benefits of public transportation for students as it is cost-efficient, helps reduce pollution, and encourages economic growth within the community.
"Welcome Weekend is a great opportunity to introduce our new students to CSP, connect them to resources, and assist them as they transition to campus life," Student Activities and Leadership Development Coordinator Kimberly Newton shared. "Each event is created to help foster relationships between students, whether it is a small group Comet's Crew meeting or riding the light rail to a local restaurant with their CSP Seminar class."
The activities made a positive impact. CSP freshman Heenu Kamboj described the importance of being involved on campus to learn from our school and community's diversity. 
"Being involved in a diverse campus like Concordia prepares students to accept people who are different from them, their thoughts, religion, community, countries, to learn about them and give them the opportunity to explore and come out of their comfort zones," Kamboj said.