Assistant Principal, Minnetonka High School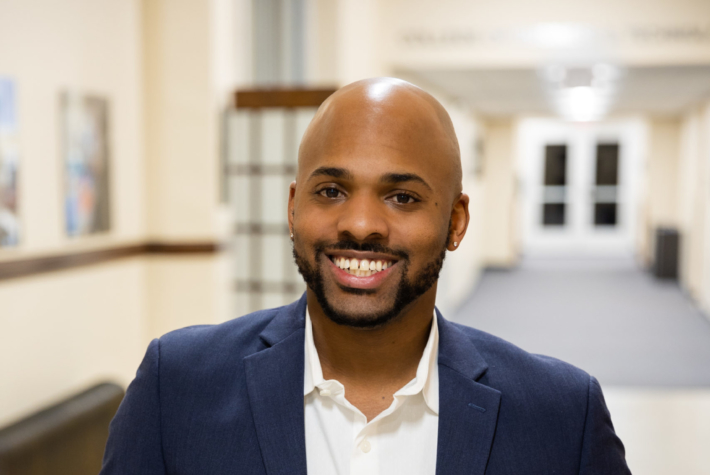 "CSP's location was prime for being an effective urban educator. I was able to get an authentic experience with different populations."
Domonique Gilmer is a 2011 secondary education (social studies) graduate who now serves as an assistant principal for Minnetonka High School. In addition to his work in the Minneapolis community, he continues to shape the Concordia experience for students and alumni through his involvement in the Alumni Advisory Council. Check out how CSP influenced his career path and how he hopes to impact his community's education system.
Q: What brought you to CSP?
A: Education program. I knew I wanted to teach and coach. Class sizes. I started at NDSU and those classes were too big for my learning style. It was easier to transfer my AA degree to CSP. I was offered a track scholarship.
Q: How would you describe your CSP experience?
A: I enjoyed my experience at CSP. It was busy and fast at times.
Q: What was your campus involvement as a student?
A: I ran track for two years. I was a resident assistant for my senior year. I was the supervisor and an instructor for the Playful Learning with University Students (PLUS) Time program, which was sponsored by Concordia.
Q: What has your career path been since graduating?
A: I taught and coached in Maplewood and Saint Paul. I was a college advisor to middle school students in high poverty schools. I was an administrator in the South Washington County Schools. I was an assistant principal for the past three years in the Minneapolis Public Schools. And as of a few months ago, I am an assistant principal at Minnetonka High School.
Q: Describe your current job role and responsibilities:
A:
Assist in the role of instructional leader to promote student behavior that is supportive and conducive to the implementation of the school's instructional programs and goals.
Assist in implementing instructional strategies, including supporting the needs of diverse learners, delivery methods, assessment, and staff development techniques for improvement of instruction.
Build relationships with our multiple stakeholders.
Assist the principal with developing and managing the school budget and implementation of Human Resources policies.
Build a school-wide positive climate
Q: What are your career goals?
A: Support closing the nation's largest achievement gap and to eliminate inequalities in education and housing
Q: Who were some of the people at CSP that influenced you the most, and how?
A: Dr. Cheryl Chatman- having authentic conversations about contributing to the community and informing me about different opportunities.
Adrian Perryman- All reflecting with me about wants vs. needs.
Q: What are your favorite CSP memories?
A: I would say being a two-time Academic All-American and being a three-time NCAA National Provisional Qualifier. Seeing the volleyball team when nationals at home. Earning the Brick-Building Service-Learning Award—the award was honored to a single student who made service an integral part of their college experience through significant contribution to the community. Demonstrated both breadth and depth of commitment to a community organization and social issues.
How has your CSP education impacted your life and career?
CSP's location was prime for being an effective urban educator. I was able to get an authentic experience with different populations. One of the many advantages of small class sizes is the ability to get to know your professors, and I was able to keep many of those connections. I was able to come back and reflect on those experiences.