COMET'S COMMITMENT
Concordia St. Paul is excited to welcome you back to campus this fall! We are doing everything we can to reasonably mitigate risks to our students, staff and faculty. As part of our priority to create a safe and healthy environment for everyone at CSP, we are asking you to adhere to our Comet's Commitment. 
This commitment asks you to both follow health mandates and guidance in both on and off-campus settings and encourage others to observe safety guidelines to help ensure the health and well-being of the campus community. We are all in this together as you work to achieve your educational goals.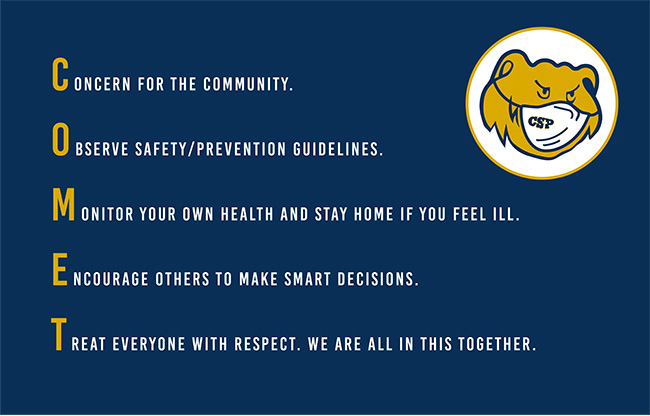 Does CSP have a coordinated quarantine plan in place in the event a campus member tests positive? 

Residence Life will have rooms with a private restroom set aside for on-campus students where a member of the community test positive for COVID-19. The university will work with MDH to assist in contact notifications.

Have transportation policies been put in place for taking students to the isolation area?

There will be designated isolation rooms in two residence halls. These rooms are close to outside doors. The plan is to be outside as much as possible, not have the infected person touch outside handles and clean any areas the person may have touched. 

Have educational videos or other content regarding handwashing, facemask protocol and other public health measures been made available to students and staff?

There are CDC and MDH posters currently hanging in Holst Hall for summer students and conference guests. These posters will be displayed in the rest of the residence halls for all students to see prior to fall move-in dates.

The following assumes that the state considers roommates or suitemates as a family unit, thus allowing more than one occupant per dormitory room.

Does CSP have a protocol to ensure appropriate social distancing within residence halls? Has the institution justified the safety and responsibility of its protocol?

Residence Life is reviewing all lounge furniture and removing some as needed.  

Will housing arrangements be different?

Residence Life will follow MDH recommendations on housing arrangements. All housing assignments will be completed by July 1.

Have additional cleaning protocols been established for residence halls?

Residence Life is working with Sodexo to establish additional cleaning times in all of the common areas in the residence halls including weekend cleaning. These areas include common bathrooms, laundry rooms and lounges.

Residence Life professional and student staff required to complete additional fall training related to public health concerns, social distancing requirements, and how to use and access personal protective equipment?

Residence Life professional, graduate and student staff members will receive additional training related to public health concerns, social distancing requirements, personal protective equipment and other areas as recommended by the CDC and MDH.

Does the college have a student return/move-in plan that aligns with social distancing guidelines? e.g., staggered move-in days, policies on limiting numbers of people helping move)?

Consider the density of typical move-in days and whether adjustments are appropriate to reduce the number of individuals on-campus, including staggering move-in dates over a longer period, or offering students the opportunity to ship personal belongings ahead of move-in. Consider diverting families from entering campus buildings (dorms) during drop-off, with appropriate exceptions for physical handicaps and for medical conditions, including autism and anxiety disorders.
The University is reviewing move-in plans and times. We will extend the hours of move-in and assign students specific timeframes to move in. We will not be able to offer a move-in crew for assistance in moving in items. We will also limit each resident to two (2) guests to assist them in moving in.  

How will lounges and other common areas be used?

Residence Life is reviewing all lounge space and furniture to ensure that we are following social distancing guidelines. 

Have protocols been established to maintain social distancing in hallways and common spaces?

While we are not able to ensure that social distancing can be done in the hallways, we will recommend that all students wear masks/facial coverings while in public areas in the residence halls.

Have you developed protocols for emergency evacuations that allow for social distancing?

Residence Life is currently reviewing all policies and procedures to ensure the safety of our students and staff.

Are you requiring students to bring and use face coverings, and if so, in what circumstances? Are you training students on how to wear and use such coverings?

Yes, we will follow the recommendations of the CDC, MDH, State of Minnesota and the City of St. Paul. We will require the use of face coverings in all common areas of the residence halls including common bathrooms, hallways, laundry rooms, lounges, etc.

Does the campus have separate facilities identified for isolation of students testing positive for COVID-19?

Residence Life has identified rooms with private restrooms for on-campus students who test positive for COVID-19.

Have arrangements been made for food delivery to these students? What about medications, toiletries, laundry (clothes & linens)?

Residence Life is working with campus partners to develop processes and procedures to ensure that these students can self-isolate.  

What are the protocols for students completing an isolation period and moving back into main housing?

The student will work with Student Accessibility Services and Residence Life to ensure a smooth transition.

What protocols are in place to minimize exposure for any staff who have to interact with students in isolation?

Residence Life is working to develop a plan as to which staff should interact with students in isolation and ensuring they are equipped with proper PPE.

Does the campus also have separate quarantine facilities identified for students who need to be separated due to being exposed to COVID-19 but are presently asymptomatic?

Residence Life has set aside isolation rooms with a private restroom that will be used for those that need to be self-isolated or tested positive for COVID-19.

Have arrangements been made for food delivery to these students? What about medications, toiletries, laundry (clothes & linens)?

Residence Life is working with campus partners to develop processes and procedures to ensure that these students can self-isolate.  

How will you modify staff (professional and paraprofessional) responsibilities, training, and protocols to promote their safety and health as well as that of the community?

Residence Life is currently working towards creating online training for our staff members. We have also reserved a larger classroom for training sessions that need to be held in-person.

Will more student staff or building access technology be needed to monitor occupancy flow/tracing in traditional/corridor style residence halls?

All of the residence halls' doors are on a card swipe system that utilizes student ID cards. We can pull reports from each door to see who swiped in and when.

Does the college have a sensitivity/educational plan for the residential community to mitigate anxiety and intake feedback, should someone test positive?

Residence Life is working with campus and community partners to develop plans to assist students in this high-stress time. We will work closely with Midwest Counseling Services to meet the needs of our students. 

Does the campus have protocols for managing, and if needed, disbanding campus-sponsored gatherings of students?

Student Activities will approve and monitor club events in partnership with club advisors. 

How will campus life activities work?

Student Life is prepared to host a variety of in-person and online events for all students. Current students have raved about online trivia platforms, social media engagement, and a variety of raffle items that can be won through online platforms. With large indoor and outdoor spaces, CSP has the capacity to host unique and engaging events both online and in-person. If numbers are limited, our plan is to host a larger overall number of events allowing smaller groups of students to engage throughout the week. These events will cater to commuters, residential students, athletes, graduate students, and online students.

Does the campus have plans to limit event capacity?

We will follow the recommendations of the CDC and the Minnesota Department of Health. We will make sure that events are hosted in spaces where social distancing can occur.

Does the college have plans and capacity to establish, monitor, and enforce social distancing requirements at student gatherings?

Staff and student leaders will prep events ahead of time to reflect social distancing guidelines. Staff and student leaders will monitor and enforce social distancing at events. 

Does the college need to update the code of conduct policies to reflect social distancing? Given possible/expected limitations, how will the college redesign programs to engage students?

We expect all of our students to abide by social distancing guidelines. We do not need to add additional policies to our Student Code of Conduct as there are current policies in place that students in these situations could violate.  

Multiple campus departments are meeting to discuss programming across campus. We are looking to offer multiple programs at the same time and/or offering the same program at different times to ensure students are able to participate. We are also reviewing the spaces where programs will be held.

Has the college communicated expectations, protocols, and any new policies to student leaders and organization advisors?

Student Activities will research and review any protocols, policies, and training to ensure safe events and meetings. 

Does the university need to provide additional campus space or technology to campus organizations to allow them to operate?

Concordia University is prepared with the necessary technology and resources to transition events online or partially online. We are equipped with various classroom and meeting spaces to ensure social distancing and capacity guidelines are being followed. 

How will the University make decisions without state guidance? For example, should the state say we can gather in large groups, but the university is not yet comfortable doing so, what will its measures be for making that decision about its events?

Our University will refer to our Pandemic Leadership Team for guidance.

Has the university developed language for contracts that protects the university in the event of a future closure or change in state, local, or national guidance (i.e., a future outbreak)?

Residence Life is adding language to the Housing Agreement with refund information should the University make the decision to close the residence hall and dining services prior to the end of the semester or academic year. 

Has the university considered changes to guest policies at events to allow for additional social distancing? If guests are allowed, is there a need for further documentation if contact tracing is required?

Currently, Residence Life is not allowing guests that do not live in the specific residence hall in that residence hall. 

Has food service been modified for take-out?

Yes 

Have arrangements been made concerning the inability to wear PPE/masks while dining?

Yes 

Has the institution considered regular testing of dining employees?

Yes, a daily screening checklist.

Has dining furniture been removed or restricted to accommodate any maximum gathering numbers identified by the state?

Yes, in compliance with CDC/MDH.

Do dining personnel have access to appropriate PPE and have they been trained on the proper protocol?

Yes. Training is given before the start of the school year then ongoing daily.

Have campuses considered dining shifts to manage demand during peak hours?

Yes, based upon CDC/MDH recommendations.

Has food service been designed for take-out and delivery?

Yes

Has food service ordering been designed for online?

Yes, this is in process.

Have all dining halls been designed for social distancing and seating?

Yes, in compliance with CDC/MDH (6 ft distancing)

Have all dining personnel been trained on proper protocol, and have they received appropriate PPE?

Yes

Have all buffet lines been eliminated?

Yes

Have sneeze guards been put in place in critical food serving areas?

Yes

Have open binned utensils been replaced with prepackaged utensils?

Yes. Pre-packed silverware will be used.

Have plans been put in place to safely transport food to individuals who are isolated or in quarantine?

Yes

Does CSP have means to limit gatherings in dining areas to no more than 50, either through multiple cordoned off dining rooms, assigned dining shifts, or take-out meals?

Yes

Have clearly marked six-foot distance markers been placed around dining food stations?

Yes

Has a sanitation program been put in place to sanitize tables and chairs after each use?

Yes, along with cleaning schedules and times.

Have standards and procedures been put in place to clean and sanitize work surfaces?

Yes

Is management or a supervisor scheduled to be on-site at all times during working operating hours to ensure all procedures are being followed?

Yes

Are Grab-and-Go coolers being stocked with no more than minimum levels?

Yes

Have restroom cleaning schedules been adjusted for frequency of use during peak dining periods?

Yes

Are third-party delivery drivers and suppliers aware that we adhere to social distancing requirements?

Yes, and signs are in place.

Have plexiglass barriers at registers been installed to protect cashiers?

All cashiers and service areas will have plexiglass in place per CDC/MDH recommendations.

Have contactless payment options been developed to reduce person-to-person transactions?

Yes

Has proper signage been posted around dining facilities regarding social distancing and sanitary procedures?

Yes

Have automatic hand sanitizers been placed throughout the dining area?

Yes

Does campus bookstore have protocols in place for campus events held in non-academic facilities?

If the bookstore has a "pop-up" store for campus events such as Homecoming/Commencement, we will work with the Event staff with set-up to accommodate Social Distancing. 

Is enforcing social distancing in the store a higher priority than minimizing customer contact with items?

Still exploring options. Tape on the floor indicates CDC recommended six feet. May make Textbooks Area off-limits to support physical distancing. Will limit the number of customers entering the store. 

How can bookstore take pre-orders and create contactless pick-ups on a large-scale?

Pre-orders can be made by visiting the store's website:  csp.bncollege.com. 
For this summer, BNCollege offered free shipping for students to have their books delivered to them.
There has been no word yet about "Free Shipping" for Fall, but we may return to Free Shipping for $25 or more. Regardless, we will be strongly recommending students have their course materials shipped to their homes prior to coming to campus.
If students choose to pick-up pre-orders on campus, one option to consider is to use the seldom-used "Library" window, but we may need to work with campus security to see if we can keep physical distancing in the Long Hallway.

Are there other distribution networks that stores could efficiently participate in to help deliver books?

The bookstore uses UPS to ship books to students. BNCollege has expanded its digital format availability for students who may choose e-books.

What open-source materials might be available for students who are unable to purchase books due to financial hardship?

As mentioned above, more digital books are being offered and often at a lower price than the physical textbook.
The bookstore will continue sourcing for Used Textbooks before New which is why we stress the importance of receiving book adoptions from Departments ASAP.
BNCollege works with some of the major publishers in providing to students First Day / Inclusive Access Course materials which come below the publisher's online price. Based on data from Fall 2019, students whose schools participated in the program saved an average of $76 for the materials or 47% per course.

Does the college have a way of monitoring or limiting visitors' access to campus facilities?

Not always as CSP consistently receive visits by community members.

All of the University Residence Halls are card accessed and only student residents can access their residence hall.  

Yes

Does campus security have a clear direction on how to treat visitors to campus? 

Campus Security will politely remind individuals of physical distancing.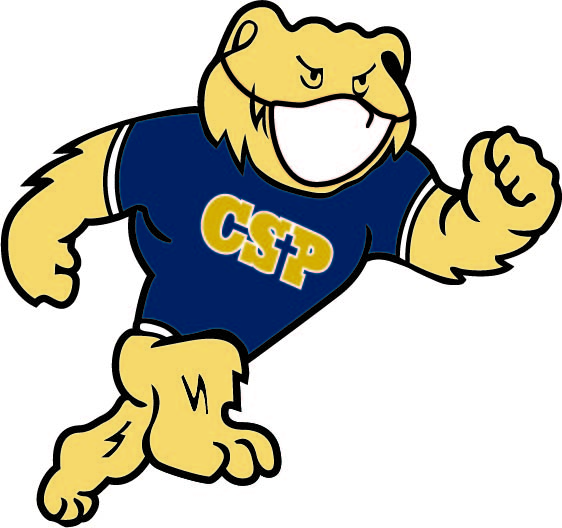 We are all in this together. If you have additional questions please do not hesitate to contact us.
staysafe@csp.edu