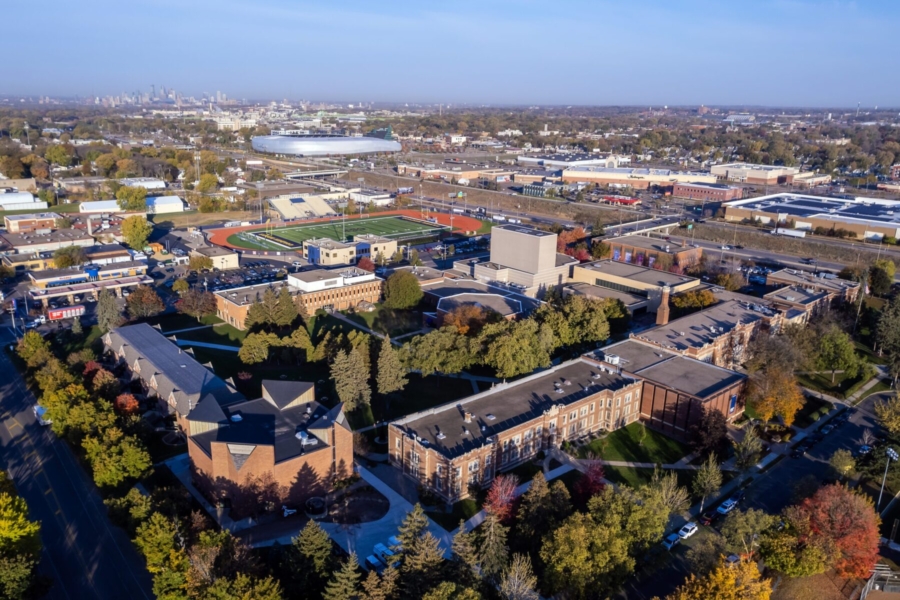 University News
With a longstanding focus on supporting students of all backgrounds, Concordia St. Paul moved up significantly in the most recent CollegeNet Social Mobility Index. Now ranked 82nd nationally on a list of more than 1,400 colleges and universities, CSP and CSP Global show extraordinary performance advancing students from low income strata into the middle class within five years of their graduation. 
The new rankings released by CollegeNet move Concordia St. Paul from its previous ranking at 321 nationally. Now firmly in the top 100, the university is the highest ranked among all Minnesota private universities and second among the 34 Minnesota colleges that were rated for social mobility through 2022.  
Universities are evaluated on a wide range of factors for the social mobility ranking, including tuition, average family incomes for enrolled students, graduation rates, placement, and early career income data for graduates. Concordia St. Paul has made concerted efforts to keep the cost of higher education low while offering career-relevant degree programs designed to propel students into high value careers. 
"As the most affordable private university in Minnesota, we focus on students holistically to help align their interests, skills, and desired outcomes to set them on a path to success," noted Dr. Eric LaMott, provost and COO for Concordia St. Paul. "We explore all options, including a heavy focus on Pell-eligibility to make it as affordable as possible for students to attain a high value undergraduate degree. Doing so, graduates can see life-changing outcomes, including greater family stability, access to healthcare, better housing options, and longer-term career viability."
Graduates of Concordia St. Paul enter the workforce with a measurable advantage. More than 95 percent of recent graduates are employed or enrolled in graduate school within one year of graduation. In addition, CSP and CSP Global graduates earn 11 percent more than the national average. The university is also ranked as the No. 1 Pell-eligible private university in Minnesota. 
Comparison to other Minnesota Universities
For additional context, Metropolitan State University is the only Minnesota college to rank higher at 22nd. Other notable regional ranking comparisons among the 1,414 colleges evaluated include:
St. Catherines: #268 (closest ranked Minnesota private university)

Augsburg: #546

College of St. Benedict: #610

Bethel: #847

UMD: #866

U of M Twin Cities: #1,105

St. Thomas: #1,274

Macalester: #1,395
By making career-propelling degrees affordable and accessible to students in-person or online, Concordia St. Paul expands social mobility for students and sets them up for longer-term growth professionally, personally, and spiritually.