Residence Halls & Apartments
Housing first-year male students on its upper two levels, Wollaeger Hall features 12 x 18 foot, two-person air conditioned rooms and community style bathrooms. The main level of Wollaeger Hall is home to the Barbara Schoenbeck Early Learning Center and Hand-In-Hand Child Care Center, which serves the local community and offers training and enrichment for Concordia students pursuing careers in early child education. Constructed in 1964, Wollaeger Hall was named after Rev. Herman William Franz Wollaeger, Ph.D., professor of German and librarian at Concordia from 1904 to 1941. At various points, the hall served as a women's residence and a health center.

Housing almost 100 first-year women on four separate wings, Luther Hall features 12 x 18 foot, two-person rooms, community style bathrooms, and air conditioned community lounges. The lower level is attached to the university tunnel that connects to most university facilities including the Library, Dining Hall, Academic Advising, and academic buildings.

Housing a mixture of upper-class students and first-ear men and women enrolled in the Business Leadership Community, Hyatt Village features 10 x 12 foot, two-person air conditioned suites. Our suite-styled living options consist of two people per room sharing a private bathroom facility with suite mates (2 other people of the same gender in their own room connected by the bathroom). There are five pods, each consisting of 8 rooms and a community lounge with new 4K flat screen televisions, lounge furniture, study tables, microwaves, and toasters.

Originally named the Residence Life Center (RLC), Holst Hall opened for fall semester 2008. This four-story, 290 bed apartment style residence hall features a mix of studio, two- and four- bedroom fully furnished apartments and houses sophomore, junior, and senior students. The two- and four- bedroom units feature two bathrooms, a kitchen, living room and individual bedrooms. The studio units include a kitchen, living/sleeping area and a separate bathroom. In May 2011 The Residence life was renamed Holst Hall by the Concordia University Board of Regents in honor of 20-year president Rev. Dr. Robert Holst.

One bedroom apartments reserved for students with families, a spouse, enrolled in graduate school, or over the age of 24. Complete with a full kitchen, private bathroom, community laundry room, storage units, parking spots, and heating units, Mary and Martha Halls offer a private, apartment style living option for qualifying students. Each building offers 6 one-bedroom units. Space is limited. Please email ResidenceLife@csp.edu for more information and a separate housing application.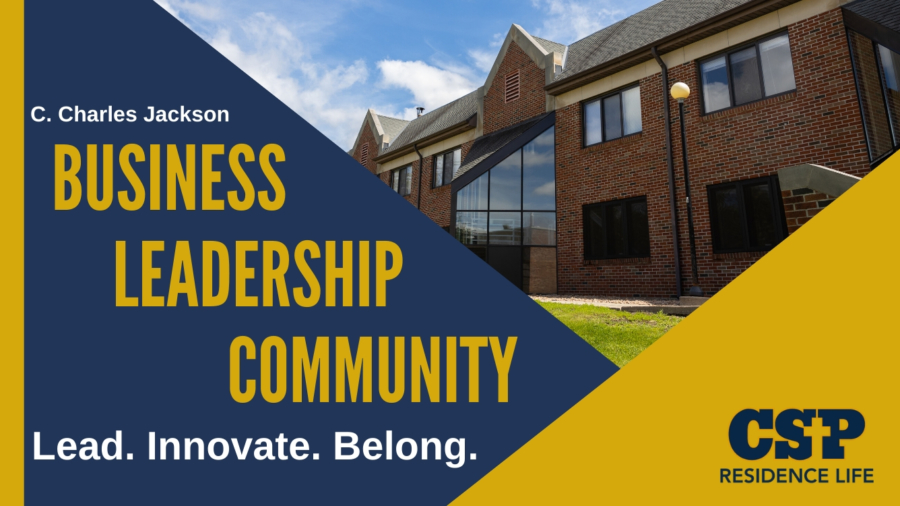 Jackson Business Leadership Community
Learn More About CSP's First Living Learning Community
Learn More

Belong to a community, create unforgettable memories, and make life-long friendships. Live On Campus! With 6 unique halls to choose from, there are living arrangements perfect for first-year, transfer, upperclass, graduate, and nontraditional students.  On-campus students are connected via tunnel to your classes, have access to workout facilities, engage with others in study spaces, and have the convenience of eating in our on-campus dining options. With this built in network, on-campus students tend to have higher GPA's, are surrounded by friends, and have the chance to succeed in new ways.
We house more than 500 students on campus with amenities including air conditioning, fully-furnished apartment, increased wifi and bandwidth, Xfinity On-Campus cable package, laundry, consistent maintenance and custodial presence all at no extra cost!
                                You belong at CSP
         Residence Life will help you find your community
Of first year students say they feel connected to people on their Residence Hall floor
Residence Life sponsored events and programs each semester
students have attended Residence Life events on campus!
2020-2021 Housing and Meal Plan Costs (Residence Halls)
2020-2021 Housing and Meal Plan Options (Residence Halls)
| | Wollaeger Hall | Luther Hall | Hyatt Village |
| --- | --- | --- | --- |
| Double Room | $2,482/semester $4,964/year | $2,482/semester $4,964/year | $2,482/semester $4,964/year |
| Meal Plan | $2,318/semester $4,636/year | $2,318/semester $4,636/year | $2,318/semester $4,636/year |
| Total | $4,800/semester $9,600/year | $4,800/semester $9,600/year | $4,800/semester $9,600/year |
2020-2021 Housing and Meal Plan Costs (Holst Hall)
| | Holst Hall 4 Bedroom | Holst Hall Studio | Holst Hall 2 Bedroom |
| --- | --- | --- | --- |
| Housing | $3,760/semester $7,520/year | $5,160/semester $10,320/year | $5,160/semester $10,320/year |
| Holst Hall Meal Plan | $1,040/semester $2,080/year | $1,040/semester $2,080/year | $1,040/semester $2,080/year |
| Full Meal Plan | $2,318/semester $4,636/year | $2,318/semester $4,636/year | $2,318/semester $4,636/year |
| Meal Plan Opt Out | $300/semester $600/year | $300/semester $600/year | $300/semester $600/year |
     Get Involved In Your Hall!
There are so many ways to get involved throughout campus and it all starts in your residence hall. Students connect in apartments, engage in our green spaces, study in our lounges, and hop into programs happening in and outside the halls. Resident Assistants (RAs) are hosting programs all year on campus! If it's a weekday or a weekend, there is always something for you to do. Maybe it is a study nights, free food, tea and coffee nights, mug decorating, build your own blanket, eat around the world, Superbowl watch parties, or crafting nights. Be bold! Meet new people! Jump in!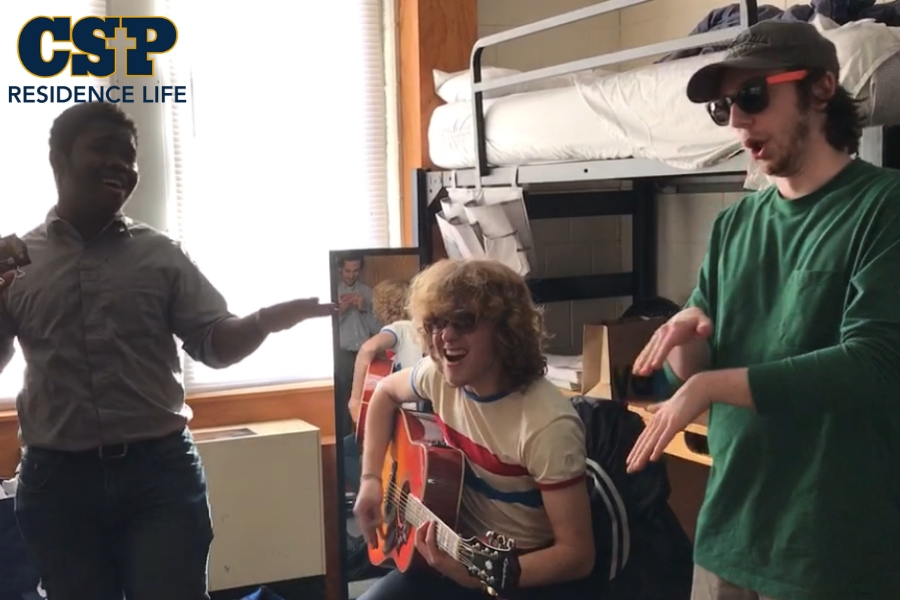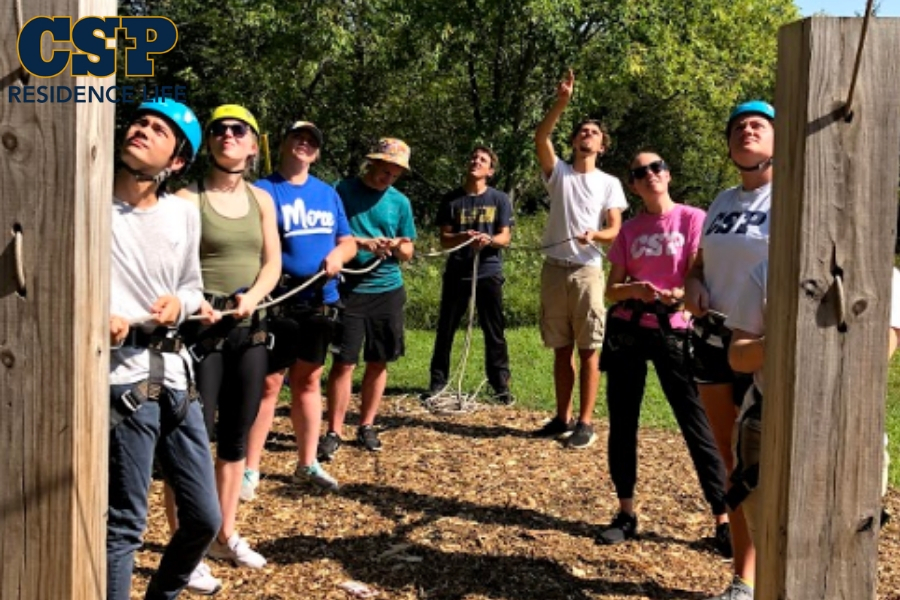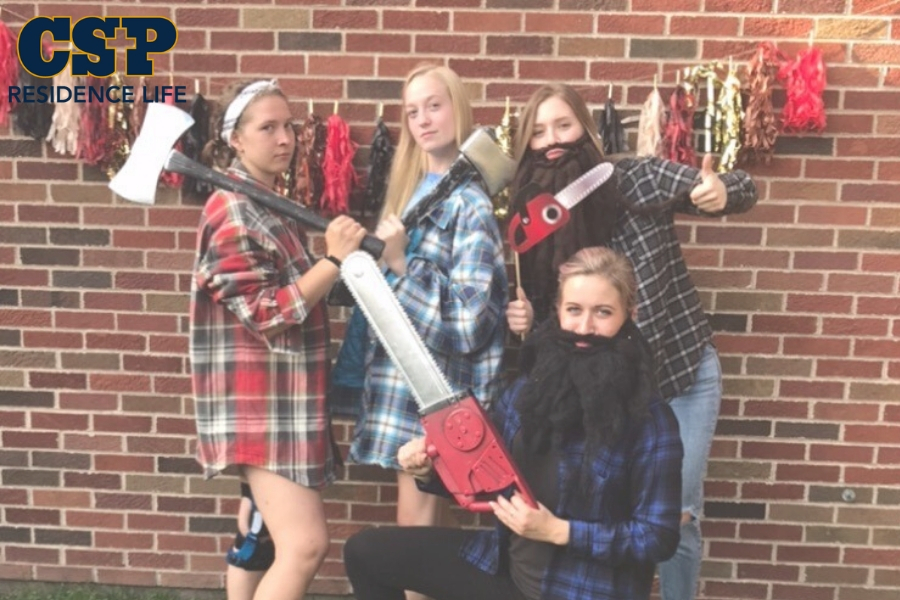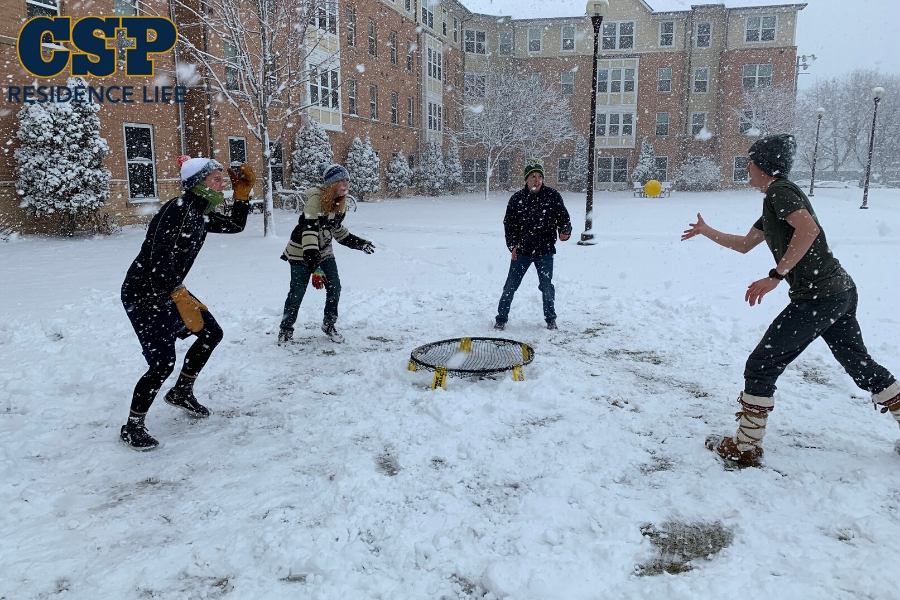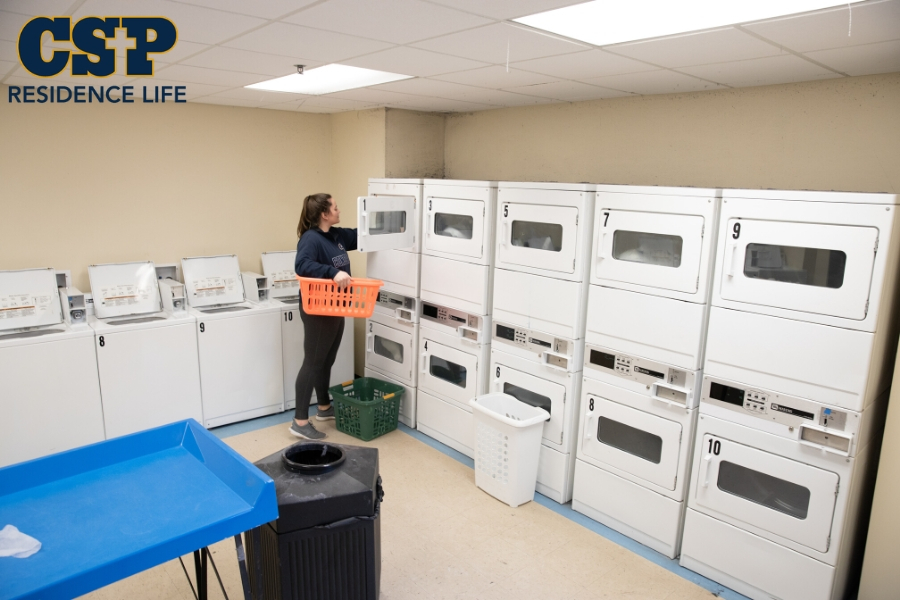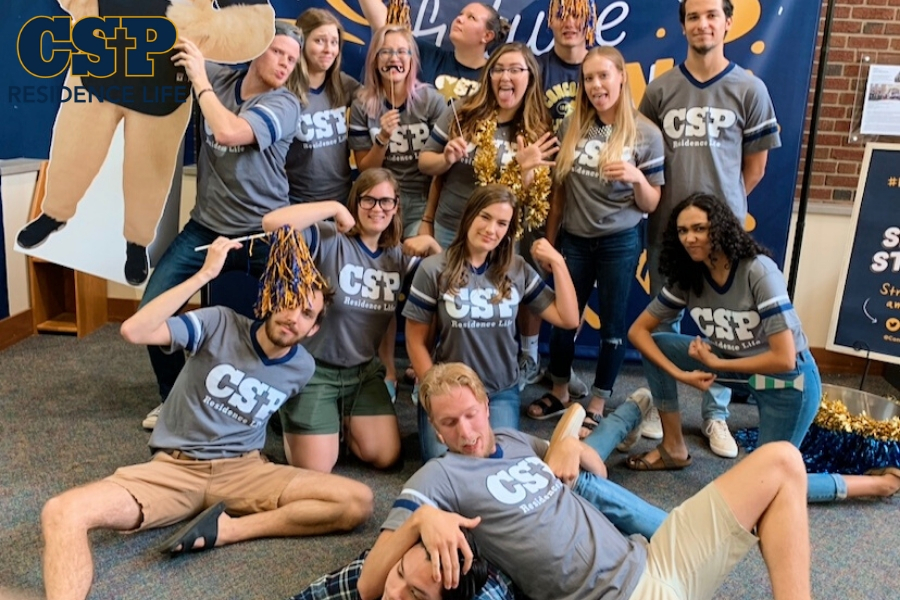 What You Need To Know!
In the apartments in Holst Hall – The kitchens have a full size refrigerator, stove, and microwave. The common areas have a table and chairs, 3-piece sectional, end table, coffee table and entertainment center. Each bedroom will have a bed, desk, desk chair, dresser and pedestal.

In Hyatt, Luther and Wollaeger – Each room has a bed, desk, desk chair, and wardrobe for each resident.

Mini-fridge: Residents in Luther, Wollaeger and Hyatt may have a personal refrigerator that is 4 cubic feet or less. Holst Hall does not permit personal refrigerators as each apartment is equipped with a full size refrigerator/freezer.

Microwaves: St. Paul City ordinances prohibit food preparation in residence hall sleeping rooms. Therefore, no microwaves are allowed in the rooms in Hyatt, Luther or Wollaeger. Microwaves and toasters are provided in each of the lounge areas in these halls.

Extra-long twin bedding

Desk lamp (not halogen)

UL approved power strip

Clothes hangers, hamper

Cleaning supplies/toilet paper

Kitchen items (Holst residents and Hyatt residents if you want to use the community kitchen)

Shower Curtain (Holst residents)

Garbage and Recycling Cans

Mini-refrigerators (Allowed in Luther, Wollaeger, Hyatt)

Extension cords

Personal bed

Multi-plug adapters

Halogen lamps

Space heater

Candles and incense

Full size refrigerators (any hall)

Mini-refrigerators (Not allowed in Holst Hall)

Pets (other than fish)

Nails, other materials that cause wall damage

Holst Hall: There are 68 four bedroom apartments, 9 two bedroom apartments and 7 studio apartments in Holst Hall. Studio and two-bedroom apartments cost more. Be sure to check the application for price. Space is limited so, apply online and specify your desired living option.

Residence Halls: A limited number of single rooms are available in Luther, Wollaeger and Hyatt on a space-available basis. For more information, contact Residence Life at residencelife@csp.edu.

Other accommodations: Students needing accommodations for housing and food services should contact Student Accessibility Services at SAS@csp.edu.

Holst and Hyatt: These two halls stay open from move in day in August to move out day in early May! Students living in these buildings can stay, at no extra cost, throughout breaks. Holst and Hyatt residents have access to a kitchen area and therefore, are able to cook for themselves throughout breaks.  We do require students to sign up for break housing.  Emails are sent prior to the break period by Residence Life staff.

Luther and Wollaeger: These two halls close during Christmas/Winter break in December. These buildings do not have access to a kitchen and therefore, do not stay open. First-year students living in these halls must make arrangements over this break time.

Note: Dining Hall provides limited service over breaks and is completely closed over Christmas/Winter break.

Yes! We have summer spaces in Holst Hall. Students can reach out to residencelife@csp.edu or stop by Meyer Hall 111 for an application. Students looking for summer housing must have a university-related reason for living on campus over summer months (Athletics, on-campus employment, classes). Summer applications will be available beginning in March.
Assistant Director of Residence Life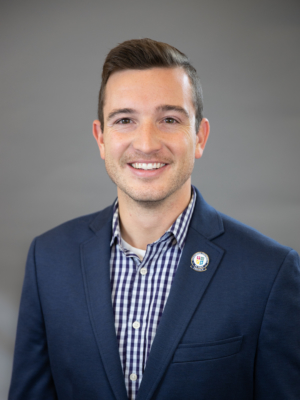 Associate Dean of Students & Residence Life Director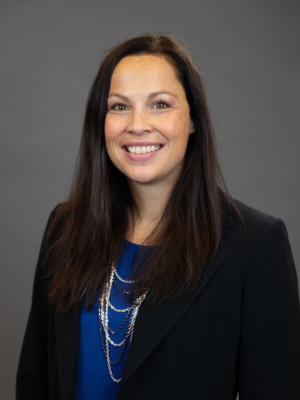 Associate Vice President for Student Life Dean of Students Instructor of Organizational Management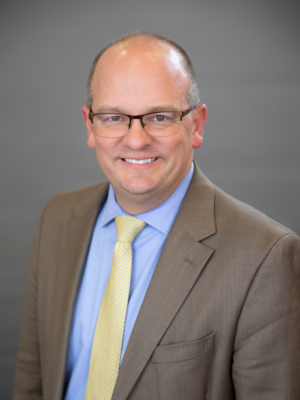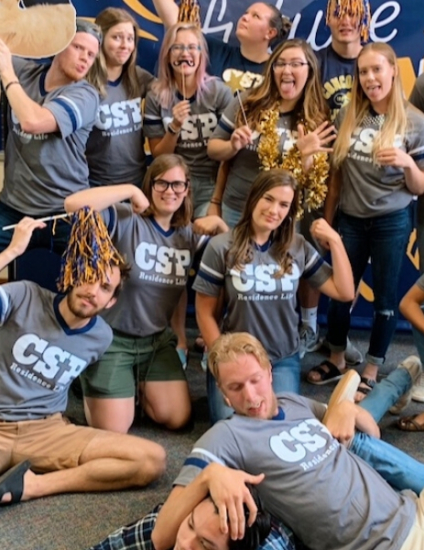 Our Resident Assistants, Building Managers, Graduate Hall Coordinators, Desk Employees, and our Student Life Center Employees are here to help you!
                     Please email ResidenceLife@csp.edu
                 for any questions, comments, or inquiries!