Concordia University, St. Paul supports you as you explore your academic interests and refine your career choices. In our ever-global world there's no better place than Concordia to prepare you with the culturally dynamic and rich experiences that you'll need. The Concordia family includes students from diverse backgrounds, faith traditions and cultural heritages.
undergraduate international admissions
STEP 1: SUBMIT YOUR CSP APPLICATION
Create an account through our application portal, then complete and submit your online application.
Use the portal login page to reference your application status and items you still need to submit throughout the application process.

*Please use the same email you created your account to correspond with the International Admissions office for faster processing.

Fall Admission 

December 1: Priority Deadline
July 1: Final Deadline*

Spring Admission 

November 1: Final Deadline*

Summer Admission is not available for new students

**Applicants who are transferring an F-1 VISA from another U.S. academic institution may be considered for admission after the final deadline.
STEP 2: UPLOAD THE FOLLOWING DOCUMENTS TO YOUR CSP APPLICATION PORTAL
Submit official transcripts of the highest degree awarded. Minimum equivalent of high school degree required.

Transcripts/credentials are required prior to being admitted to an undergraduate program.

Official transcripts should be sent or evaluated after all coursework is complete with grades and if applicable, the degree awarded is finalized.
It is your responsibility to request official transcripts/credentials from the required school(s).
School officials may contact institutions directly to verify official documents. If we are unable to verify the student's transcripts or credentials, the University reserves the right to request an official transcript evaluation of your credits or withdraw your application.
Evaluations must be from approved members of the National Association of Credential Evaluation Services if we are unable to verify or evaluate your transcript/certificate.

Once the official document is in our possession, we will be unable to release it back to you.

Photocopy of your valid passport page showing photo, name, and birth date. If you are transferring from a US institution, please also submit a photocopy of your visa page.

Upload an original/official bank letter or statement provided on official bank letterhead that meets CSP's cost estimate in U.S. dollars.

Bank statement may be from a student or family member.
We ask that statements are dated and less than 3 months old from the time of your application submission and in English

Students must complete the Certificate of Finance form that reflects the information stated on their bank statement. This form should reflect information for the term that you intend to start your studies in.

Cost Estimate for Academic Year 2023-2024

Tuition and Fees: $25,000
Living Expenses: $10,800
Students Services: $2,400
Other Estimated Expenses (health insurance, books, transportation, personal expenses, etc.): $6,000

Total: $44,200

Please see CSP's Tuition and Financial Aid page for more information on tuition and fees. International students are eligible for scholarships and are automatically awarded during the admissions process.

First-Year Students ONlY, please submit a typed essay (minimum 500 words)

CSP Essay Topic Options (select one):

Some students have a background, identity, interest, or talent that is so meaningful they believe their application would be incomplete without it. If this sounds like you, then please share your story.
The lessons we take from obstacles we encounter can be fundamental to later success. Recount a time when you faced a challenge, setback, or failure. How did it affect you, and what did you learn from the experience?
Discuss an accomplishment, event, or realization that sparked a period of personal growth and a new understanding of yourself or others.
Share an essay on any topic of your choice. It can be one you've already written, one that responds to a different prompt, or one of your own design.

Completed essays can be submitted as a PDF document and uploaded to your application portal.
STEP 3: EMAIL PROOF OF ENGLISH PROFICIENCY
Email to [email protected] OR if you are living in India, please email: [email protected]

Complete an approved English proficiency test and have your test scores sent or released to Concordia University, St. Paul. You may also provide a copy via email for TOEFL, IELTS, PTE and iTEP (Duolingo tests must be released to Concordia University, St. Paul for us to retrieve them electronically)

Test scores should be taken within the last 2 years before the student's start date (test scores will not be admissible if they are more than two years old at the time of enrollment).
ONCE ALL ITEMS ABOVE HAVE BEEN SUBMITTED, YOUR APPLICATION WILL BE PROCESSED AND REVIEWED WITHIN 3-5 BUSINESS DAYS.
Concordia University, St. Paul is one of the best values among private universities in the state of Minnesota.
We are proud to offer a wide range of scholarship opportunities to enhance our affordability and to recognize and reward the individual gifts and talents of our students.
Scholarships
Congratulations on your acceptance! Now, onto your next steps located on the Accepted International Student webpage. Please be sure to review all steps on this page to prepare for your enrollment at CSP!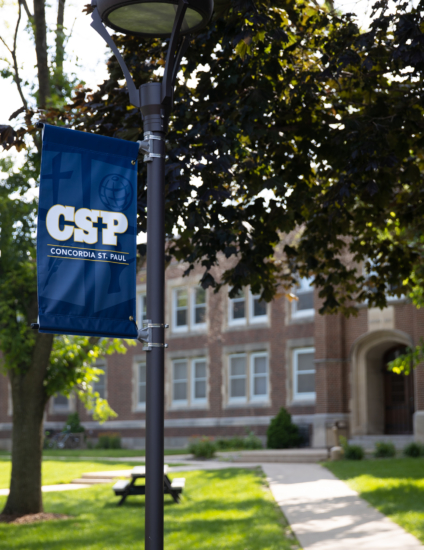 If you have already applied, please include your application number in the subject or body of your email for quick reference.