Welcome to CSP!
We are so excited that you've joined our community here at Concordia, and we can't wait to get you your ID. There are two methods you can use to submit your photo for our Comet Card.
1. Submitting your ID Photo Via CloudCard
CloudCard is a photo collection software we use to make the process simple for you and for our Card Office. New students, staff, and faculty will receive a welcome email from CloudCard (example below) that will prompt you to submit your photo. Simply follow the prompts and submit your ID via that website.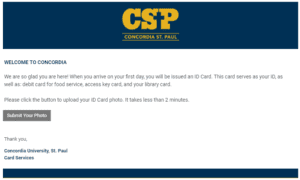 2. Submitting your ID Photo Via Email
We also accept photos via email at cardservices@csp.edu. Please be sure to include this information in the body of your email:
First and Last Name
L# (Your ID # here at CSP)
Role at CSP (Student, Staff, or Faculty)
No matter which submission process you use all photos should meet the below requirements:
ID Photo Requirements:
Emailed from your Concordia University Email
Color photo, 300 x 400 pixels
Minimum size of 15KB, but less than 1MB
File type must be Jpeg
Photo file is named using your L# (ex. L00897634)
Subject must be looking straight at the camera, against a light colored, and solid background.
 Photos cannot include: hats or sunglasses, derogatory subject matter. Photos should not be group photos, or cropped down from a group photo.
Receiving your ID
Staff and Faculty who teach on campus will be emailed when their IDs are ready (typically within a business day), and are able pick up their IDs in the Security Office. Those who teach remotely will be able to have their IDs mailed to them.
New Students attending classes in person, or living on campus will receive their IDs during Welcome Weekend. Students in our cohort programs will be mailed their IDs from Admissions two weeks after their first class begins.