The Office of LCMS Placement
The Office of LCMS Placement at Concordia University, Saint Paul, serves to facilitate the placement process and to provide support for congregations, schools, and candidates for commissioned public ministry in The Lutheran Church—Missouri Synod.
Concordia, St. Paul offers the following programs of study which prepare students for public commissioned ministry in the LCMS:
LCMS Congregations and Schools
Congregations, schools, and RSOs of the LCMS can request candidates by filling out the "Placement Request Form" on the Concordia University System website. Be sure to select "St. Paul" as one of the schools to receive your request. The CUS website can be found here: https://cus.edu/
We will make every effort to respond to your request in a timely fashion, but since we receive such a high volume of requests each year, we ask for your patience in this matter. If you would like to follow up directly with our office, feel free to contact us with any questions.
Please note that we release information on spring graduates after October 15 each year. We will gladly field requests before this date and any time during the year, but we are not able to discuss specifics on spring graduates before mid-October.
The LCMS Placement office at Concordia, St. Paul follows the procedure for designated calls set forth by the LCMS. An overview of the process can be downloaded below and shared with members of your staff, call committee, and others who are involved with the search process at your congregation.
CSP Church Work students are guaranteed a maximum $6,000 total tuition per academic year.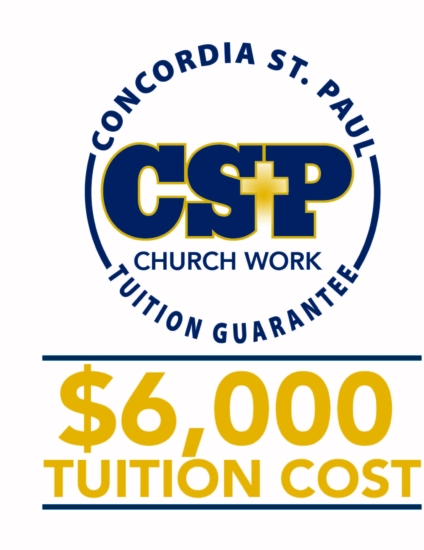 Student Information
Seniors in an LCMS church work program at CSP should contact the LCMS Placement Office to discuss your plans regarding placement and to receive instructions to begin the placement process. The LCMS Placement Handbook provides a comprehensive overview of the placement process and directions for submitting documentation. If, at any time, you have questions about the process or the application forms, please contact the LCMS Placement Office.
Alumni of CSP Church Work Programs
Graduates of CSP's church work programs who were never placed may still be eligible for placement. If this describes you and if you are interested in entering the placement process, please contact the LCMS Placement Office to schedule a phone conversation to get started. Each case is handled on an individual basis upon consultation with the LCMS Professional Standards Committee at CSP.
Contact Office of LCMS Placement
Ms. Kristi Bauer, DCE (CSP '13)
651-641-8792
kbauer@csp.edu