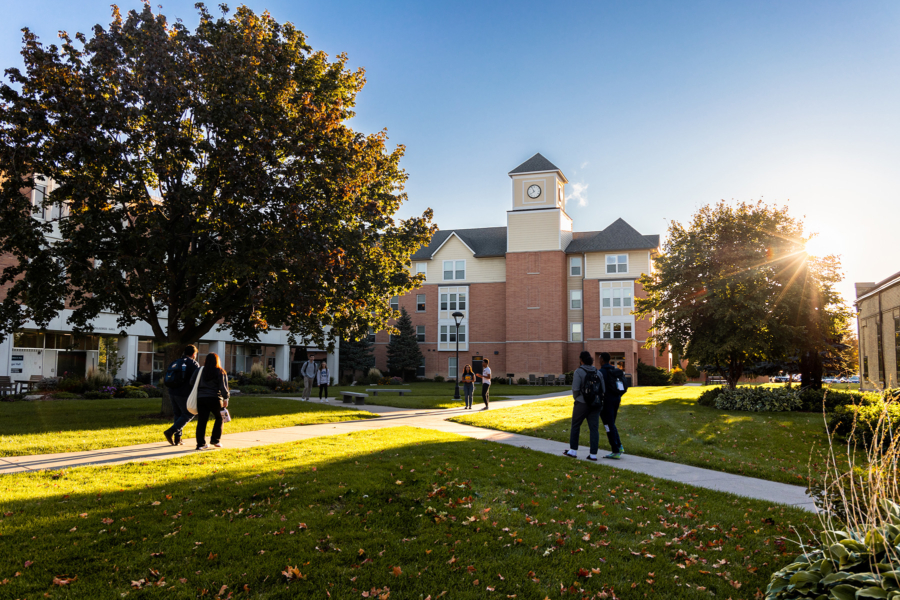 Categories: Incoming Students, Student Life
Read time: 3 minutes
Making the Choice Between Public Versus Private Schools in Higher Education
Both private and public schools can offer an excellent education, but there are some definite benefits of a private college experience. By comparing different traits and resources, this article will lay out some of the pros of a private university in hopes of helping students through their search for higher education.
A Small Class Size Is Important
One of the biggest advantages of a private college is its size. Usually, private universities are a lot smaller than their larger, public university counterparts. This impacts many of the resources a school can offer students.
With a smaller school, students get a better faculty-to-student ratio. Concordia St. Paul offers a low student-to-faculty ratio. A smaller classroom means more opportunities for students to engage in the classroom. Developing lasting relationships with peers and faculty is another benefit of small class sizes.
Having a smaller campus, in general, helps to create a tight-knit community, which bolsters the campus atmosphere. It makes it easier to form lasting friendships and feel engaged with others while participating in school activities and clubs.
Making Private Universities Affordable
It might appear like state schools are always cheaper than private schools, but that is not always true. Since state schools are usually government funded, they may not be able to offer as many scholarships and financial aid opportunities.
Private schools may appear to be more expensive, but students can lower their cost of tuition with the help of scholarships and financial aid. Because of these financial opportunities, private schools can often be cheaper than public universities in the end.
Scholarships can come in many different shapes and sizes, so doing your due diligence is important. Merit-based academic scholarships are usually awarded for maintaining academic excellence. Oftentimes, specific programs and departments will have scholarships for participating students. Be sure to look into local scholarship opportunities as well, from local businesses, clubs, and organizations.
Life After College
The intimate setting of a small campus allows people to make close connections that last beyond the classroom walls. Peers and faculty are great resources for career opportunities. Many private universities have an alumni connection network that keeps alumni informed of each other's careers and positions. Additionally, career development offices can help students form connections with alumni, increasing career opportunities.
The smaller the school and class size, the more one-on-one time students get with faculty. These kinds of learning experiences can help land your dream job, and give you the confidence to do it well.
Student Resources to Keep In Mind
One of the biggest perks of attending a traditional university is the student resources available. At a small, private university, students have even more access to those resources.
Services such as career development, student accessibility services, campus food shelves, and more, are only some of the amazing offerings a school might have. Take a look at an example of student resources at a private university here.
About Concordia University, St. Paul
Concordia University, St. Paul is one of the top private universities in the midwest, with more than 100 degree programs available from undergraduate through doctoral studies, all while being the lowest-cost private college in the Twin Cities. 95% of recent CSP graduates are employed or in graduate school within one year and earn 11% more than the national average. Connect with CSP by filling out the form below.