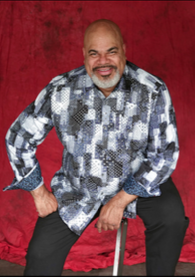 T. Mychael Rambo will present through storytelling and song the journey of his life from his proud lineage of Rambo, Texas to his experiencing homelessness and addiction to today embracing 33 years of sobriety and becoming
a highly sought-after Emmy Award winning actor, acclaimed vocalist, arts educator and activist. Through this presentation he will share the power of song, the richness of African American culture and the artistic wealth that radiates from them both.
This energized, illuminating, and interactive celebration of community is laced with humor, thought-provoking insights and poignant moments that uplift and amplify the importance of joy, gratitude and grace at a time when they're needed more than ever…ultimately reminding us to let our hearts sing so that our spirits may fly!