General News
This weekend, our nation and world mark the 20th anniversary of the devastating 9/11 attacks that claimed the lives of nearly 3,000 people that day, injured tens of thousands of others, and have caused ongoing illnesses, trauma, and fear for so many. As we reflect on the horrors of 9/11, we also recall the heroism of so many first responders and civilians who worked selflessly to rescue others.
I hope you find time to reflect on this anniversary as we collectively remember as a community and nation. Please also join me in prayer:
Gracious God, you are the author of life. When evil acts take life and cause grief and pain, we cry out and wonder where you are in the midst of this.
We take comfort, however, that you are "our refuge and strength, a very present help in trouble" (Psalm 46:1). We praise you that, in Christ, you have defeated sin and death.
As we remember the events of September 11, 2001, we pray that you would continue to comfort the family members who mourn loved ones that died that day or have died of illnesses caused by it.
We pray that you would heal those who survived the attacks and carry physical and emotional scars from that day.
We pray for an end to terror, violence, hatred, and prejudice in our country and world. Help us respond to evil not with hostility, but with love.
We pray that you would help us each day faithfully live out our calling as citizens of this nation and world as we serve you and our neighbor.
In Jesus' name, Amen.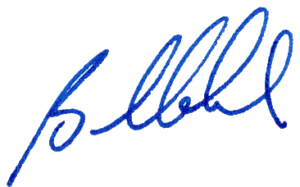 Rev. Dr. Brian L. Friedrich
President