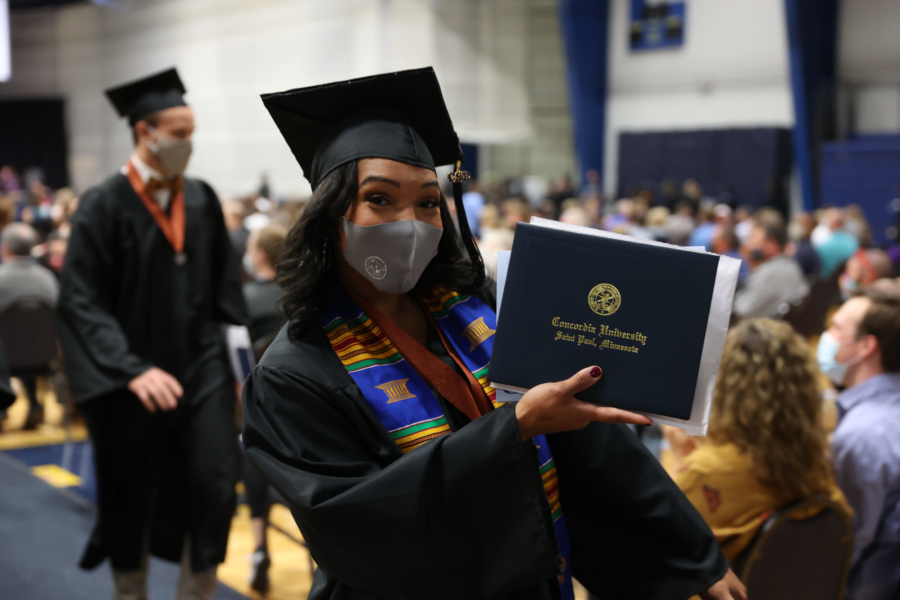 General News, University News
It's hard to believe, but this spring's commencement ceremony has come and gone. This semester, CSP returned to a face-to-face format to celebrate graduates. For the past year, commencement ceremonies have been held solely virtually due to the COVID-19 pandemic, which made this an even more momentous occasion for graduates and the CSP community alike.   
Commencement turnout was solid for both face-to-face and virtual graduates. On Friday evening, 168 graduates participated in person and 16 participated virtually. On Saturday morning, 107 graduates participated in person and 44 participated virtually. Finally, on Saturday afternoon, 145 graduates participated in person and 54 participated virtually. In total, 528 graduates participated in this semester's ceremonies.
Because of attendance guidelines, we had a great turnout for virtual guests, as well. On Friday evening, 997 guests tuned in. On Saturday morning, 550 guests joined to watch. For Saturday's afternoon ceremony, 654 guests attended. In total, we had 2,181 unique views for all three ceremonies.
"We are so thrilled we were able to celebrate our commencement in a face-to-face celebration that included their families while adhering to COVID protocols," said Dr. Jason Rahn, Associate Vice President for Student Life. "We would like to express our deepest appreciation and gratitude for everyone who made our 2021 commencement ceremonies possible."
From event/venue preparation, commencement communications, tech support, photography, and the 35 faculty/staff volunteers per ceremony who shared their time, your help made our 2021 Commencement, not just possible, but a huge success that means the world to our graduates and families.