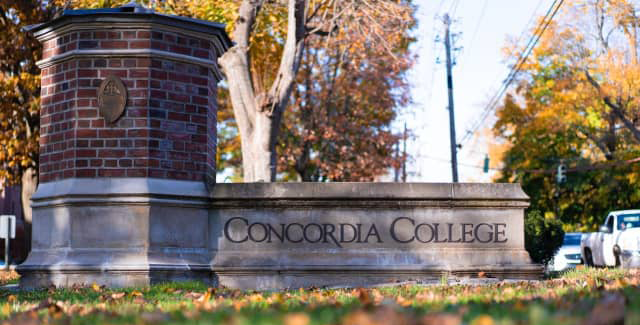 University News
Concordia College New York Announces Closure
Today it was announced that one of our sister institutions, Concordia College New York, will close later this year. It's difficult when any institution in our network faces significant challenges, and we encourage everyone to keep the students, faculty, staff, and alumni of Concordia New York in your prayers as they navigate a difficult transition.
Concordia New York and Iona College formalized the announcement this week, detailing an agreement in which Iona College will acquire the Concordia campus in Bronxville, New York. Iona College will also provide a teach-out plan, which will enable most students to complete their degrees through Iona.
"We're deeply saddened to learn that a sister Concordia institution will close its doors, despite the heroic labors of President Nunes and the Board of Regents to find a way forward, and we pray specifically for those affected by this difficult decision," said Rev. Dr. Brian Friedrich, president of Concordia University, St. Paul. "At the same time, we're grateful that Iona College is helping to provide a pathway forward for students at Concordia New York."
The colleges and universities of the Concordia network are deeply connected through The Lutheran Church–Missouri Synod. Each institution operates independently, serving their communities under their own strategic direction with their own accreditation, board of regents, president, and faculty but walks together in mission and commitment to the Chrisitan Gospel.
Concordia University, St. Paul has pursued its own groundbreaking strategic path over the past decades specifically focused on growth and providing career-focused academic programs. Deep relevance to today's regional and national landscape contributes to CSP's fundamental strengths and solid financial position, and respect in the higher education community.
CSP continues its growth trajectory with 15 consecutive years of growth in spring enrollment and revenue. Its growth now places it as the second-largest private university within the Minnesota Private College Council. It's important to note that CSP's financial position is sound and the university continues on a firm path with a strong outlook for years to come.
"CSP's focus on affordability and providing career-relevant academic offerings has become a model for many colleges and universities across the nation," said Dr. Eric LaMott, provost and COO of CSP. "The planned closure of our sister institution in New York is the result of many factors unique to that campus. CSP will continue to drive affordable and sustainable higher education aligned with the evolving needs of our students, communities, businesses, and industries. Serving our students' desires for career-relevance and affordability are cornerstones of our strategy."
Again, please keep the students, faculty, and staff at Concordia New York in your thoughts and prayers. As a deeply connected community, we join the entire Concordia network in support of those dealing with a difficult transition.