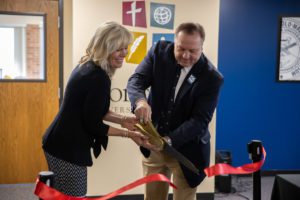 University News
Concordia University, St. Paul renamed the recently purchased Central Midway Building as Ries Tower at a dedication ceremony Friday morning, honoring President Rev. Dr. Tom Ries, who is retiring at the end of the 2018-19 academic year.
"This facility is an extraordinary example of how God gives when we don't expect it," Dr. Ries said at the dedication ceremony. "It is an opportunity we as a University community can treasure forever as a true, genuine gift from our great God, which will solve the space needs for the institution for at least the next 10 years."
Ries Tower provides the university with the flexibility to serve the needs of a growing student population by opening space for additional classrooms, labs, and administrative offices.
Rev. Dr. Ries is the sixth Concordia St. Paul president to have a building named after him, joining Rev. Dr. Robert Holst (Holst Hall), Rev. Gerhardt Hyatt (Hyatt Village), Rev. William Poehler (Poehler Administrative Building), Rev. Martin Graebner (Graebner Memorial Chapel) and Rev. Theodore Buenger (Buenger Education Center).  
CSP has experienced incredible growth under Dr. Ries, highlighted by soaring enrollment, academic program expansion, as well as a twofold increase of the University's net assets. Dr. Ries also oversaw the highly successful tuition reset, which lowered CSP's traditional undergraduate tuition by $10,000 in the fall of 2013, making Concordia the most affordable private school among the 17-member Minnesota Private College Council.
Concordia, which currently utilizes three full floors and a portion of a fourth in Ries Tower,  officially purchased the nine-story facility March 19, 2019.