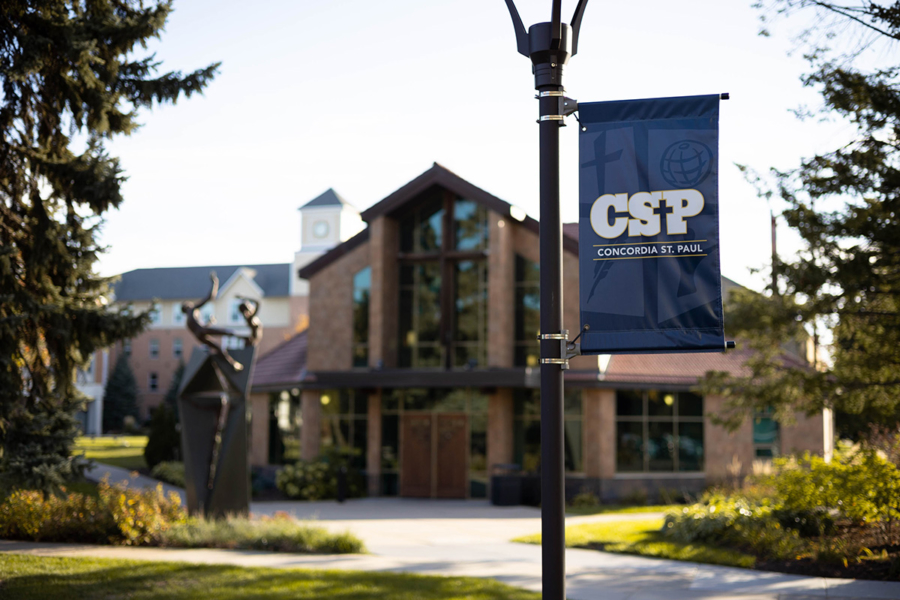 Innovation & Growth, University News
Over the past decade, CSP has essentially doubled in size, now serving approximately 5,000 students. This tremendous accomplishment occurred during a time when many higher education institutions have suffered steep enrollment declines, while some have had to close their doors. Our growth is a credit to the entire CSP team, and it has empowered our mission and vision and allowed expansion that brings great value to those we serve.
The guiding principles at the foundation of all we do is summed up in CSP's vision, which is to be a Christ-centered, nationally prominent Lutheran university known for excellence and innovation that fosters success for all students.
Under that vision, we are now focused on an important and attainable goal of doubling in size again in the coming years to 10,000 students. With such growth, CSP can do even more to impact lives, expand career horizons, and bring people to faith. We will be a lasting fixture in higher education locally, nationally, and even internationally, as has been the case with counterparts such as Southern New Hampshire University, Grand Canyon University, Capella, and other nimble institutions.
CSP – Realigned and Reimagined
Today, we are announcing a re-alignment of programs and colleges that make up Concordia St. Paul. These changes mark the logical next step in this growth process and support strategic plans to be a premier, affordable institution of higher education.
During the current semester, CSP will migrate to a realigned structure for Academic Affairs comprising six specific colleges. This will include some new combinations of current colleges as well as separations of others to help strengthen and foster growth for the coming years. The revised structure will be as follows:
College of Business & Technology, led by Mychal Thom

Adding Communications Department

College of Nursing, led by Dr. Hollie Caldwell
College of Health & Science, led by Dr. Mandy Brosnahan
College of Kinesiology, led by Dr. Lana Huberty
College of Education & Humanities, led by Lonn Maly

Adding Religion & Theology and Ministry
Adding Music and Theater Department
Adding E.H.L.P. Department
Adding Art & Graphic Design

College of Human Services & Behavioral Sciences, led by Dr. Michael Walcheski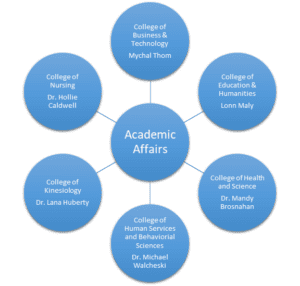 In general, programs under each college will operate under structures including:
Traditional (in-person) undergraduate
Non-traditional (Online/Cohort) undergraduate
Graduate programming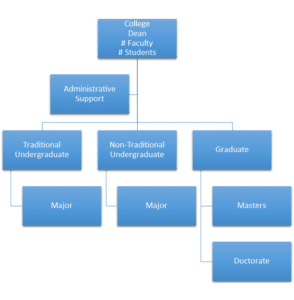 Significant groundwork has already been underway with changes in roles and functions among some CSP staff and support groups, including org structure changes announced in December. These changes position us to better serve our students, faculty, and staff via human resources, financial aid, marketing, and many other operational areas.
Data-Driven Rationale
CSP has tapped some of the top experts and advisors in higher education to understand our strengths, areas of challenge, and key opportunities for growth for the next several years. The data and insights gained add to our knowledge and were essential for informing this realignment. By combining some colleges and separating out others, we strike a solid foundation for success across the university.
Colleges that have the greatest growth potential, particularly to a broader online universe, can be better resourced to better support students, faculty, and staff. Conversely, colleges and programs that are essential, but have comparatively low enrollment and lower projected growth, can be combined to share resources more efficiently.
These changes will help each college focus on student success, enrollment goals, retaining students through graduation, and growing CSP. The structure will also foster greater collaboration on pedagogy, areas of academic focus, and mode of delivery (traditional, non-traditional, graduate – as well as in-person/online).
Ultimately, the new structure will also help better align skills and expertise throughout the CSP faculty and staff. Growth in enrollment will require growth in staffing in virtually all aspects of CSP operations. Our intent will be to continue functioning in highly efficient ways to maintain our competitive edge, demonstrated by our spot as the most affordable private university in the metro area. CSP is well-positioned to be the university of choice in the region, but we are also well-positioned to compete against large and rapidly growing online institutions that serve students across the country.
With any change, we know there will be many questions. The changes will roll out in carefully planned ways over the next several months. We will continue to communicate with you on a regular basis throughout to help minimize disruption. You can also direct questions you may have to the dean of your respective college or to the administration.
All of the changes noted above mark an exciting time for CSP as we work toward our goals to grow and become an even stronger force in higher education. The senior leadership team and the deans of our six colleges will be working closely throughout this transition process. We look toward the coming months with great confidence in the next stages of our University Vision and strategic plan.