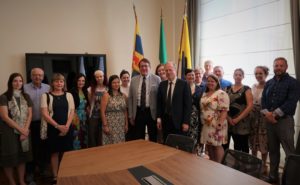 University News
Graduate students from Concordia University, St. Paul met with the mayor of Modena, Italy on July 1 to present a letter from the mayor of St. Paul, Melvin Carter. They are attempting to revitalize the sister-city relationship between the two cities that is more than twenty years old. The group hopes to encourage more cultural and business exchanges. Already, several teachers from Modena have taught in Minnesota and a couple from St. Paul have taught in Modena as a result of the relationship and several delegations have traveled back and forth.
CSP Professor Eric Dregni led the group of students and explained what it was like to be a part of the experience and what he hopes to be its impact:
"It was an honor to bring a letter from our mayor, Melvin Carter, to the mayor of Modena. We passed by the "stolen bucket," a historical relic from a long-ago battle with Bologna and into a room that was many centuries old. The city hall, or comune, has frescoed ceilings and shimmering glass chandeliers. Upstairs is the official consortium for balsamic vinegar, aceto balsamico, with little bottles that can easily cost $200. We hope to welcome visitors from Italy to St. Paul in the future and show them what we have to offer. What a treat to be international emissaries to try to build understanding in this divisive age!"
Here is a copy of the text of the letter that was presented to the mayor of Modena:
"Gian Carlo Muzzarelli, Mayor of Modena
Comune di Modena
Piazza Grande, 16
41121 Modena (MO) Italy 
Dear Mayor Muzzarelli,  
We are excited to continue our relationship with our famous sister city in Italy, Modena. This relationship goes back to 1988 when Mayor George Latimer signed a resolution passed by the city council formally establishing our connection as sister cities. It is an honor to have such a historic, important city in Italy as a "sister," and I appreciate the opportunity to connect with you for the first time as Mayor of Saint Paul.  
Saint Paul is a vibrant city on the world-famous Mississippi River. We are also the capital of the state of Minnesota and as a result, are at the center of politics and culture in our state. Saint Paul is also a great place to call home, and we are humbled to be ranked among the top cities in the United States for our parks and quality of life.   
Our two great cities have much in common. Just as Modena is in the center north of Italy, Saint Paul, Minnesota is in the center of the Upper Midwest of the United States. Like Modena, Saint Paul has a beautiful cathedral, the Cathedral of Saint Paul, that serves as the seat for the archbishop of our metropolitan area.  
We have many museums, theater stages, and a vibrant music community, including the Minnesota Chamber Orchestra and the Minnesota Opera housed at the Ordway Center for the Performing Arts. Most recently, we officially became the center of Major League Soccer in Minnesota, similar to Serie A in Italy. Our state team, the Minnesota United, celebrated the opening of Allianz Field, our state's first modern professional soccer stadium. 
Two of Saint Paul's distinguished colleges, Concordia and St. Thomas, offer Italian language classes to their students with student trips to Italy. This letter is being delivered by graduate students from Concordia University, St. Paul in hopes of continuing the partnership of our two cities. We would welcome the opportunity to explore new ways for our cities to collaborate in both business and cultural exchange, whether people to people or business to business.
Sincerely,
Mayor Melvin Carter
15 West Kellogg Blvd. #390
St. Paul, Minnesota 55102″