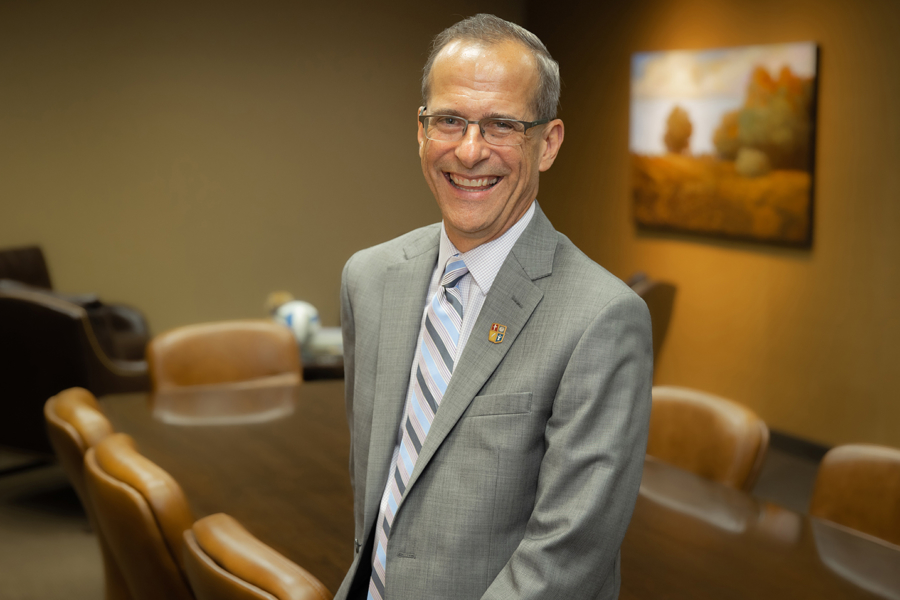 University News
Concordia University, St. Paul's Board of Regents has extended a Divine call to Rev. Dr. Brian L. Friedrich to be the tenth president in the University's 125-year history. Friedrich, who graduated with his bachelor's from CSP in 1979, has served as the president of Concordia University, Nebraska for 15 years and has held several positions in development and administration at the school since 1991.
The CSP community looks forward to and prays for Dr. Friedrich's decision.
He and his wife Laurie, a 1980 graduate of Concordia St. Paul, were honored with the Aeterna Moliri Award at CSP's December 2018 Commencement ceremony.
"One of the most important responsibilities of the Board is to identify the candidate best equipped to continue guiding this University on the unprecedented growth trajectory it has experienced," said Board Chair Mark Moksnes. "We are confident Rev. Dr. Friedrich is well prepared for the high responsibility of leading Concordia St. Paul and building upon its many successes."
To ensure the privacy of a sitting president the Board elected to privately meet with Friedrich as part of its search process. Private searches are not uncommon in a search for a CEO, which includes higher education.
Friedrich is a Vice President of the Concordia University System, member of the Colloquy Committee of The Lutheran Church—Missouri Synod, trustee of Mill Neck Foundation and Lutheran Friends of the Deaf boards, a director of the Council of Independent Colleges of Nebraska, a director of the National Association of the Council of Independent Colleges and Universities, a member of the Seward Rotary Club and St. John Lutheran Church. He was a director of the Nebraska Independent College Foundation Board, past president of the Seward Rotary Club, past chair of the Lutheran Educational Conference of North America (LECNA) Board of Directors, past member of the National Association of Intercollegiate Athletics (NAIA) Council of Presidents, past chair of the Association of Independent Colleges and Universities of Nebraska (AICUN) and past member-at-large of the Association of Lutheran Development Executives (ALDE) Board of Directors. In 2010, he was named ALDE's Outstanding Executive of the Year.
Prior to joining the Concordia, Nebraska staff, Friedrich served as pastor of Peace Lutheran Church in Park Falls, Wis., from 1988-90. He simultaneously served as a religion teacher and dean of chapel at Martin Luther High School in Maspeth, N.Y., and as an assistant pastor at Lutheran Church of St. John in Flushing, N.Y., from 1986-88.
In addition to his CSP degree, Friedrich earned a master of divinity degree from Concordia Seminary in St. Louis and doctorate in Organization and Management from the School of Business of Capella University in Minneapolis.
Friedrich and his wife Laurie are blessed with three adult children, Micah (Alina), Leah (Philip Vogel and grandson, Camden) and Philip.