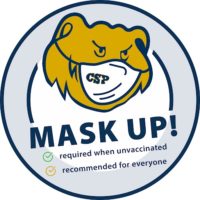 COVID-19 Information & Resources, University News
Following our successful launch of the Fall 2021 academic term, we want to thank everyone at CSP for their diligence in following our initial mask requirements on campus. 
As we shared on Thursday 9-16-21, we are continually monitoring essential data points relating to the prevalence of COVID-19 across our campus population. All of the data continue to show that CSP is performing far better than the broader community in relation to COVID mitigation, due to multiple factors:
Vaccination rates among all groups on campus range from 72-90%, which is well above our targets of 70% or higher

Active case counts remain below 1% at CSP (due primarily to our exceptionally high vaccination rates)

The few incidents of COVID on campus are all following standard quarantining practices
With the data in hand, as of Saturday September 25th, we plan a responsible slight easing of the masking requirements on our St. Paul campus, modified to the following: 
Mask usage will be

required

in common areas indoors and in classrooms for those who are not vaccinated.

Mask usage is now

strongly encouraged

for everyone who is vaccinated.
For our Portland on-site nursing students, faculty and staff are masking indoors and meeting vaccination standards in compliance with the local requirements.
The data shows that, because of the strong participation of our CSP community, it's safe to modify the St. Paul campus requirements while still maintaining a precautionary stance against this continually evolving issue. 
For any identified cases of COVID-19 on our campuses, we will work with those individuals to help ensure adherence to reporting and quarantining protocols for their well being and the well being of everyone. 
This issue has been contentious throughout our society over the last several months, but everyone at CSP has done a great job rising above the fray. We are confident that our CSP family will continue to watch out for one another and show respect for the differing opinions. Together, we can continue on our path of taking prudent precautions and working together to navigate through this new normal. 
As always, we encourage everyone to follow Comet's Commitment each and every day. 
COVID-19 Masking Requirements at CSP
FAQs – September 23, 2021
Why is CSP easing mask requirements this early in the academic year? 
Our intent at the start of the fall term was to provide a smart and safe transition back to campus, particularly as the broader community navigates a fourth wave of higher numbers of infections. We track specific metrics relating to the prevalence of COVID on campus and vaccination rates for all CSP populations. The data shows CSP continues to perform significantly better than the broader community and that a slight easing of requirements is in order at this time.

Will CSP revert back to requiring masks if we see more spread of COVID?
We monitor all essential metrics on a daily and weekly basis to track any trends. We certainly will expand or reduce requirements based on the data at hand. The main factors for consideration include the number of active cases, vaccination rates (which are already well above the broader community among all CSP populations), and data points relating to the broader metro area community. We also follow guidance and input from the Minnesota Department of Health, the CDC, and other governing entities. 
What if someone isn't comfortable being around people who are not masked? 
CSP offers a wide range of academic delivery options and we would encourage anyone who has concerns to speak with an advisor on their options. We also empower our faculty to work with students on classroom layout to accommodate distancing needs. Also, while we are not requiring mask usage for those who have been vaccinated, it is still strongly encouraged. 
Why not require faculty to wear masks, particularly if they have someone who is uncomfortable in the classroom? 
Faculty generally remain at least 6-feet apart from students during class time – with even greater separation in many settings. The data has shown that such separation greatly reduces the potential for spread. In addition, our vaccination rates on campus far exceed the broader population, which makes our environment even safer than most in the metro area. 
What if someone is uncomfortable with getting the vaccination or may want to learn more before getting vaccinated?
There are many credible sources of information about the vaccine options that are available. The Mayo Clinic in Rochester, Minnesota, has extensive resources and information available at https://www.mayoclinic.org/coronavirus-covid-19/vaccine.
Will CSP conduct vaccination opportunities for those who want to get vaccinated? 
Given the already high vaccination rates of students and employees and with highly available vaccination centers near campus and throughout the Twin Cities CSP will not be providing on Campus Vaccination.