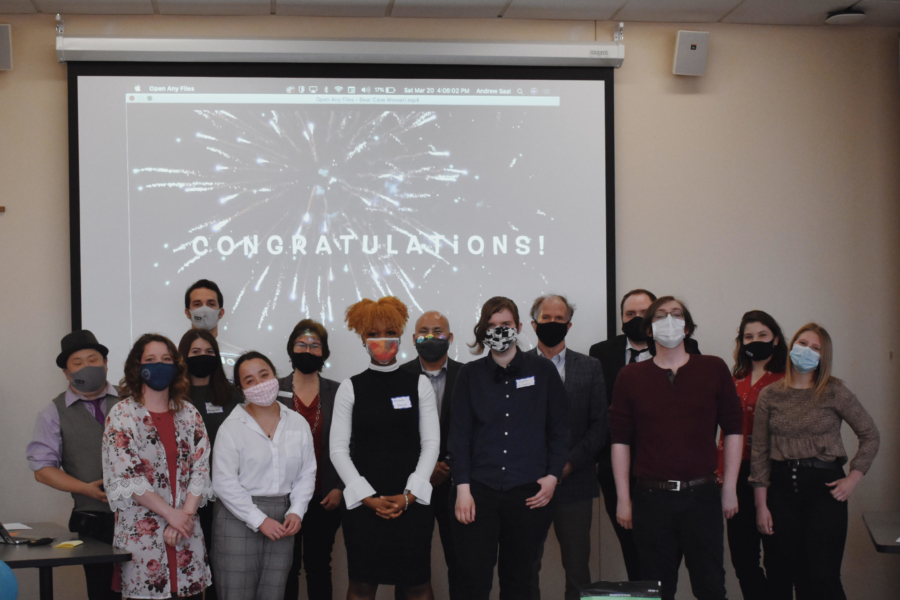 Academics, General News, University News
CSP's Entrepreneurship Club held its first Bear Cave Event on Saturday, March 20, 2021. The club, under its advisors Renata Mayrhofer and George Diaz, began to plan for this event during the Fall 2020 semester. The Bear Cave, fiercely led by Entrepreneurship Club President Andrew Saal, aimed to involve passionate and fresh entrepreneurs from Concordia's student body. Entrepreneurship Club was excited to have four teams compete, with two teams as the finalists for Saturday's event.
"What inspired me to organize the Bear Cave event was that I wanted to bring student entrepreneurs into the club and create an event that could change lives," Saal explained. "This past year, I've found a passion in leading teams – this was the perfect project to test this skillset."
Last summer, Professor Renata Mayrhofer brought up the idea of a "Shark Tank" event. All club members agreed and the idea was set. Each team had time to develop a business plan, guided by CSP graduate students and alumni, who served as mentors. Mentors included John Hanson, Daniel Carter, Pamela Westling, and Natascha Saylor.
On Saturday, each finalist presented their constructed business plan to three judges – Dr. Kevin Hall, Professor Renata Mayrhofer, and Professor George Diaz. The first team to present was Richard Mahle and Isaac Critchley, both of whom were mentored by Pamela Westling. Mahle and Critchley's business idea was Shield Braces. The mission of Shield Braces was to provide durable and affordable wrist braces to anyone experiencing carpal tunnel or stiff joints. They explained how they plan to expand their business to care for more injuries and to provide more specialized care to those in need. The second team was Mameki Donzo, who was mentored by Natascha Saylor. Her business, Mameki's Hair, sought to "make hair days easy for the entire family." The mission was to provide "affordable, high-quality hair products which allow the well-deserved confidence to be felt in melanated families of all shades, cultures, and hair textures."
Both teams had ample time to present their plan and answer various questions from the judges. The judges, after careful deliberation, chose Mameki Donzo (of Mameki's Hair) as the winner of this first Bear Cave. As the winner, Mameki will be given the opportunity to start her business at Concordia with the help of a generous grant from David Frauenshuh.
Assistant Professor George Diaz helped facilitate the Bear Cave event for the club and shared the excitement that can accompany new business ideas and what students can take away from this experience.
"CSP's Bear Cave helps put theory into practice, no matter what your affiliation is to the Bear Cave experience," Diaz explained. "Students, mentors, faculty, and staff get the opportunity to witness how a new business idea can come to life by utilizing the knowledge and resources offered here at CSP."
The event's impact is clear and Saal hopes the event will grow even bigger in the years to come. For now, though, Entrepreneur Club is shifting its focus to Donzo's winning business plan for Mameki's Hair.
"The club is honored and excited to assist Mameki in her business venture," said Saal. "The club's goal is for Mameki's Hair to launch her company on her own during Spring of 2022. That way we make room for another business to come into the club during the spring of 2022 for Bear Cave 2.0."