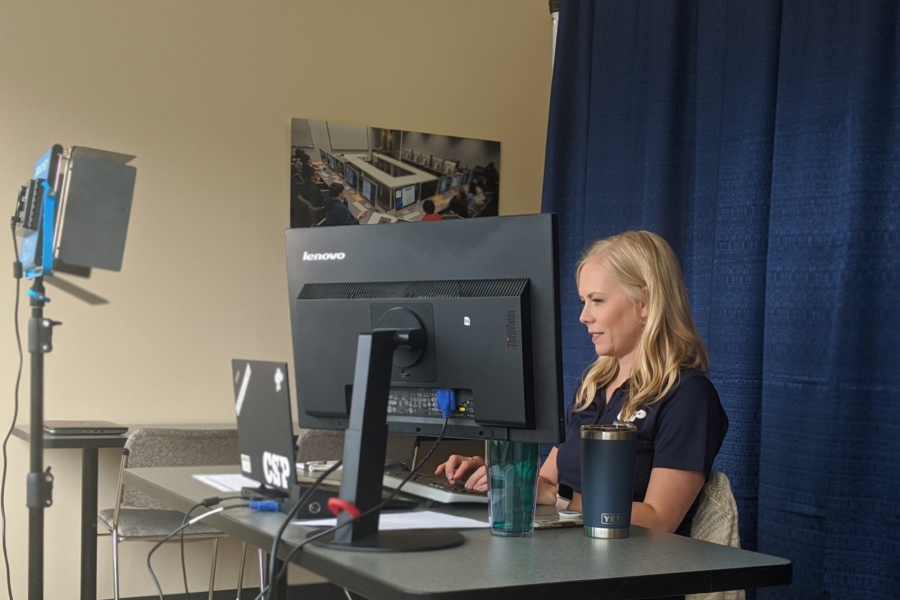 Academics, Admissions, General News, University News
Concordia University, St. Paul's held its first ever Virtual Admitted Student Day event on Friday, June 19. The event was a success as CSP welcomed over 90 attendees in the day's top session and had great attendance retention throughout the entire three-hour event.
Traditional Admitted Student Day events are held on Concordia's campus, which is an exciting time for students and their families as they enter the summer before their freshman year of college. While 2020's event may have looked different, all of the teams involved strived to make the virtual version of Admitted Student Day as engaging and impactful as possible.
Director of Student Life Education and Leadership Jake Wakem and Student Activities and Leadership Development Coordinator Kimberly Newton hosted the event with Associate Director of Undergraduate Admissions Kelly Macik and Senior Undergraduate Admissions Counselor Tom Halligan as moderators. The event featured several pre-recorded messages including a welcome from President Brian Friedrich, the latest COVID-19 information and what to expect from this upcoming academic year from Associate Vice President of Student Life Jason Rahn, student life introduction from Jake Wakem and Kimberly Newton, and an overview of CSP from Provost Dr. Eric La Mott. It also provided the opportunity for numerous staff members across campus to introduce themselves and present their departments to new students. Several current CSP students even joined to share their perspectives and experiences.
"I'm so thrilled at how our CSP community came together so quickly, from all parts of campus, to conduct such a successful and welcoming virtual event," Director of Undergraduate Admissions Leah Martin shared. "When we asked our incoming students to share something they learned in our wrap-up session, one student wrote, 'One thing I loved today is the communication and making us feel like family." A true testament that shows how much time, thoughtfulness and care by so many on campus, went into making this event so successful."
CSP moved to virtual instruction in mid-March as the Coronavirus began to ramp up. In the months that followed, the decision was made to host Admitted Student Day events virtually as well.
Virtual Admitted Student Day served as a reminder that things will continue to get better. Soon, with student, staff, and faculty's health and well-being in mind, campus will be full of activity once again and for that, the entire CSP team is grateful.