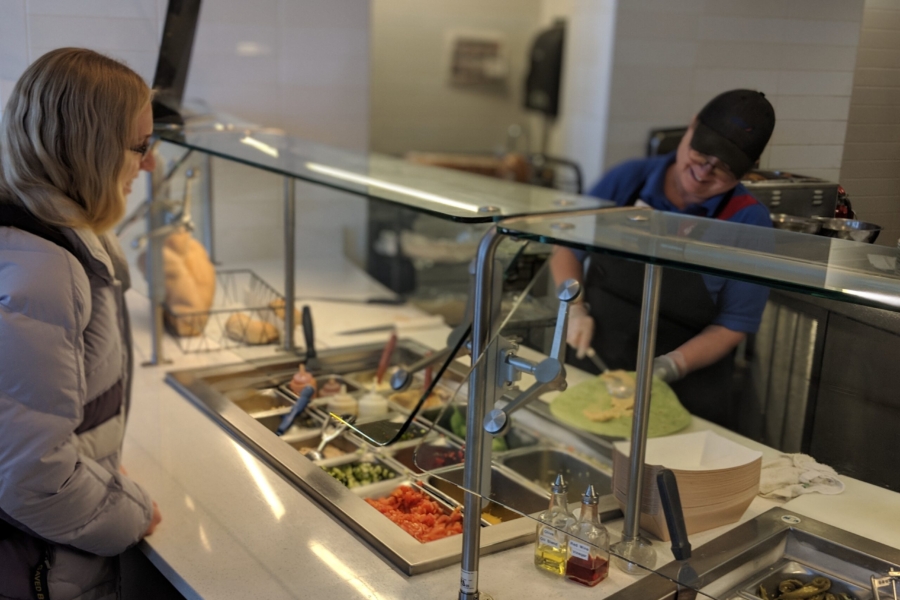 University News
When you enter Concordia's dining hall in the Winget Student Life Center, you will find plentiful options to fill up and fuel your day. If you select the deli line, it is safe to say that you will find more than sandwiches, wraps, and salads. Amidst the hustle and bustle of a typical weekday on campus Barb Tritch is filling orders and sending students off with something that she hopes is even more fulfilling.
With a schedule defined by peak busy-hours, interaction with students keeps her going.
"It's a race against time from the moment I'm through the door. But, I get to interact with people and try to put a smile on their face. That's the difference maker," she confirmed with a smile.
Tritch has been with Sodexo since 1990. She worked with a large corporate account until her move to CSP in November of 2012. She began at Comet's Cafe and then transitioned to the deli inside the WSLC to prepare salads and sandwiches and that is where she's made her mark for the past three years.
While she enjoyed the time with the corporate account, she admits there is something unique about working on a college campus.
"It's like a big family. I genuinely care about the students, faculty, and staff," says Tritch.
That care is evident in each meal she puts together and her words on the side. Her goal is to offer those who visit her line an ear, a bright spot, and most importantly, to let them know that they are significant. Tritch knows that, for many students, this might be the first time that they are away from home for an extended period of time.
"I let them know that, yes, you are away from home, but I can be a 'second mom'," Tritch said. "So, if you have questions [about food], let's get healthy. I don't feel like I have a lot to offer, but I'm willing to offer that to students."
Students take her up on it and it and the impact is visible.
"Today, I had a student come through the line and he told me, 'I'm going to turn my back. I want you to make a wrap how you would do it!' He came back right as I was closing and said that it was the best wrap he ever had," she beamed.
Outside of her work, Tritch attends as many Golden Bear sporting events as possible, especially basketball games.
"They are all extremely talented athletes and I love getting to interact with them and then watch what they do," she added.
Influenced by her faith and a call to service, Tritch says the best part of all is sharing a moment with CSP's students, faculty, and staff in a world where everyone is always busy.
"Let's realize the blessings we have. Right now, I'm where I need to be and doing His work – putting a smile on and being the hands and feet of Jesus," she concluded.