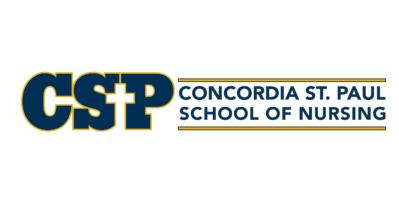 General News, University News
Oct. 7 Event to Showcase Innovative Program to Prepare the Next Generation of Nurses in Minnesota
St. PAUL, Minn. (Sept. 30, 2021) – Minnesota needs nurses. 
Because of the shortage of nurses, Concordia University, St. Paul has launched an Accelerated Bachelor of Science in Nursing program to get these helping professionals on the front lines of care within 16 months.
On Oct. 7, the university will mark the official opening of its program and interactive learning lab at a special event from 5-7 p.m. Oct. 7 at 393 Dunlap Street North.
"Nurses are the backbone of the healthcare industry, but in Minnesota, there are not enough of them to serve a growing population and the additional needs brought on by a global pandemic," said Dr. Hollie Caldwell, Associate Dean of Nursing and Chief Nurse Administrator for the School of Nursing at      Concordia St. Paul.
Rooted in Concordia's Christian principles, the university's new hybrid ABSN program features a rigorous and accredited curriculum delivered on an interactive e-learning platform. Students learn essential content via online instruction, which is further enhanced with clinical learning experiences in the skills and simulation labs and clinical rotations in Twin Cities hospitals and community-based agencies.
Nationally and locally, the market demand for nurses is strong: In its 2019-2029 employment projections, the U.S. Bureau of Labor Statistics lists nursing as one of the top occupations in terms of job growth.
In Minnesota, the number of registered nurse positions is projected to grow 11% to approximately 72,670 by 2026, according to CareerOneStop, the flagship career, training and job search website for the U.S. Department of Labor. The data ranks the Twin Cities among the top 10 locations for nursing employment, with other parts of the state also ranking extremely high.
In 2020, RNs in the Gopher State earned an annual mean salary of $80,960, according to the Bureau of Labor Statistics (BLS), putting Minnesota at No. 14 for RN pay nationwide.
"The job outlook and competitive pay for nursing in the region is good news for our students," said Kimberly Craig, vice president of Enrollment Management for CSP. "With such high demand for professional baccalaureate prepared nurses, many colleges and universities are at capacity and turning students away. The new ABSN program at the School of Nursing at Concordia St. Paul fills a critical void and creates a pathway for those who want to go into such an essential and rewarding career."  
In 2019, more than 80,000 qualified applicants with a passion for nursing were turned away from college and university nursing programs nationwide. The reasons: a lack of faculty, clinical placements, and space, according to the American Association of Colleges of Nursing. The CSP School of Nursing is fortunate to have dedicated nursing faculty, high quality simulation, and strong relationships with its clinical partners.
CSP's ABSN program offers start dates in January, May and August. Prospective students must have at least 60 credits, including designated prerequisites/general education coursework and a strong academic track record, to enter the ABSN program. The University also offers several other degree programs focused on the growing needs in the health care field. 
For more information, visit absn.csp.edu.
The Event: 
What:

Grand opening, tours, and dedication of interactive learning labs 

Where: Concordia University, St. Paul – Ries Tower – 393 Dunlap St. N. (north side of I94)

When: Thursday, Oct. 7 from 5-7 PM
Media interviews can be accommodated prior to the formal event. Photo and video opportunities can also be conducted during or prior to the event. Speakers will include CSP President Rev. Dr. Brian Friedrich, CSP Director of ABSN Program Hollie Caldwell, and others.
About Concordia University, St. Paul 
Founded in 1893, Concordia University, St. Paul is a private Lutheran liberal arts university that delivers academic programs designed to respond to marketplace needs by providing an educational experience that is responsive to the needs of our students and relevant to the demands of the job market. One of the most affordable private universities in Minnesota, Concordia St. Paul's student body consists of over 5,000 students representing 49 states and over 20 different countries. For more information, visit csp.edu. 
NOTE: Media are welcome to attend the event, interview program leaders and faculty, and watch students working in the interactive learning lab.