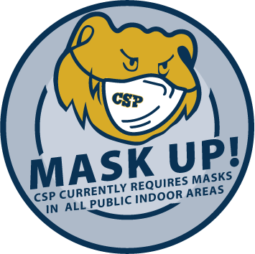 University News
Greetings Concordia community and thank you for your continued diligence to ensure a safe, healthy and productive learning environment on campus over the past year and a half. CSP rallied together last year, resulting in remarkably low COVID-19 positive totals. In-person learning and operations continued uninterrupted and we look to continue our collective success this year.
INDOOR MASK REQUIREMENT
On September 1, Concordia is placing a requirement in place for all indoor public spaces to start the academic year. The mask policy will continue to be reviewed on a biweekly basis throughout the duration of the fall term.
Masks will not be required outdoors, within resident hall rooms or office spaces.
COVID-19 VACCINE: ENCOURAGED, BUT NOT REQUIRED
Concordia will not require students or employees to be vaccinated for COVID-19, however, CSP is encouraging all to get the vaccine. Individuals who may have concerns about the COVID vaccinations should consult a physician to determine if the vaccine is safe and effective for them. MN Vaccine Connector
Earlier this month, Concordia began collecting survey responses from the community while also receiving data from the Minnesota Department of Health (MDH) regarding the percentage of campus population who are fully vaccinated for COVID-19.
The results are encouraging, with approximately 70 percent of students being fully vaccinated. The employee vaccination rates are even higher, at approximately 90 percent.
We are still in the process of collecting results, and encourage those who have not yet completed the survey to do so by responding to the confidential and unique survey link previously sent to you. 
WHY NOW? 
CSP is implementing this mask requirement because the start of fall term coincides with greater infection and hospitalization rates in the area.  The campus community brings everyone together for the new school year from different areas in the country and globally, making it prudent to take these steps. CSP's vaccination rates are encouraging and masks have been proven to reduce transmission. So, as we go through residence hall move-in, welcome week activities and the first couple weeks of class, the goal is to limit any potential spread in campus environments as much as possible to provide a better learning environment for all in the long term.
WHEN WILL THE REQUIREMENT BE LIFTED?
Low campus COVID rates and high vaccination rates of on-campus students and employees will be used to determine the timing to end the requirement. Decisions will also hinge on the data about positive cases on campus and community spread of the virus.
Based on our successes of last year, we believe these targets to be achievable early in the Fall term. 
CAMPUS LIFE & COVID REPORTING
Residence Life will follow normal visitation policies this year, meaning more individuals from off campus will be present in the halls than last year. We ask all to wear masks when in the hallways and common areas during the campus mask requirement. When in rooms, individuals may choose to use their own discretion while knowing the risk of transmission and close contact policies may still present a quarantine requirement.
Students who are tested for COVID-19, exposed to a COVID-19 positive person or who have tested positive for the virus are still expected to complete the COVID-19 Reporting Form, so the CSP Contact Tracing Team can work to limit campus spread. Employees of the university are expected to contact Human Resources ([email protected]) for those same factors.