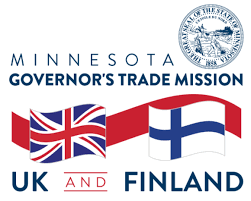 University News
Concordia University, St. Paul, has the distinct honor of participating in an important international trade mission alongside Governor Tim Walz, state government leaders, and 30+ businesses and higher education institutions. 
The trade delegation will visit the United Kingdom and Finland from November 13-19, focusing on international trade hubs in London and Helsinki. CSP is one of only five colleges and universities from Minnesota to participate in this important mission. VP of Enrollment Management for CSP, Dr. Kimberly Craig, will work alongside counterparts from the University of Minnesota, St. Cloud State, Mankato State, and St. Thomas to expand the international reach of Minnesota's higher education institutions and draw more international students to the region. 
"CSP continues to expand the number of students we serve from nations across the globe, with current students representing 32 nations," noted Dr. Craig. "We draw from so many nations around the world due to the power and value that CSP provides in terms of career opportunities and an exceptional, complete academic experience. At the same time, our international students provide so much to our CSP community by bringing worldwide perspectives and ideas to our campus."
Delegates in the trade mission will also focus on boosting state exports, promoting Minnesota as a key hub for business and education, expanding the reach of our state's agricultural sector, and strengthening Minnesota's transcontinental ties.