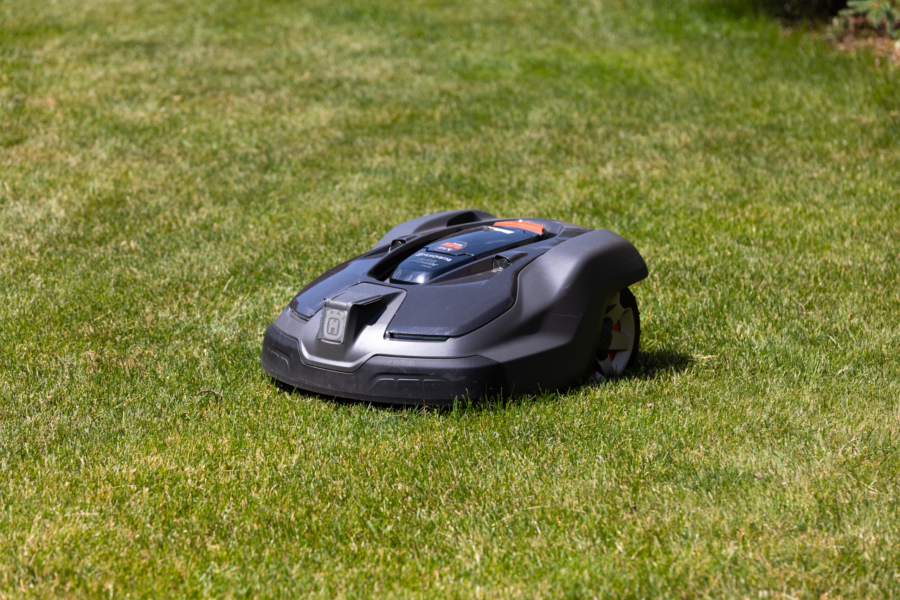 University News
It's summertime at CSP. The sun is shining, the temperature is rising, and the grass is growing, which means someone must cut it. However, the idea of pushing a lawnmower during scorching and humidity-heavy days can not only be overwhelming but also dangerous. That's why CSP Sodexo's maintenance team has invested in a safe, cost-efficient, and environmentally friendly robotic lawnmower.
The robotic mower is electric, hands-free, secure, and self-navigating and makes for a safer option than push mowers. It's also small, portable, and is controlled remotely from a phone app. Through the app, the mower can provide its whereabouts, what it is currently doing, and can show when a problem has occurred. This completely eliminates the physical labor needed with older mowers. The robotic mower also has a security system in place that protects it from tampering or manipulation. There is a PIN code needed to get into its systems. If the code isn't entered, the mower will shut down, rendering it useless. The mower also has built-in sensors, which provide the means to stop if it encounters any obstacles, including people.
However, the app, the sensors, and the mower's PIN aren't the only ways the mower stays secure. It also secures itself in its navigational capabilities. According to CSP Sodexo's Barry Kirsch, the new mower has two primary means of navigation. First, there is a cable that is buried that determines the perimeter in which the mower can maneuver. The cable is used as a boundary or "fence" the same way that invisible fences are arranged – that way, the mower cannot leave designated areas. This mower's navigation also provides a notification if the mower is intentionally removed or stolen, adding another element to its security system. 
Second, the other navigational component is in its GPS capability. "The mower uses GPS to keep track of where it needs to go," Kirsch explained."It also learns where grass may be growing faster or slower and plots these points using the GPS and allowing it to return to these areas more or less often." 
The robotic mower isn't just safer and self-reliant, it also provides a higher quality of cut grass than traditional mowers. "The mower will mow each night, 1/8 of an inch in a random pattern," Kirsch noted. "The result will be that every morning the lawn will look freshly mowed, but without clippings or mower 'tracks.' The small 1/8 clippings will more easily degrade and feedback into the grass as a natural fertilizer." 
The mower doesn't only cut grass, but it also cuts the maintenance budget in half. Traditional push mowers need both gas and oil, but the robotic mower benefits budget costs since they aren't spent to keep the mower running. Gas, scheduled oil changes, and other general maintenance aren't necessary for the new mower. This supports CSP's maintenance budget  
The robotic mower is environmentally friendly, too. "The robotic mower runs on electricity and does not use gas, so there is no exhaust as with a traditional mower," said Kirsch. "Additionally, it does not use oil as a traditional mower would, and therefore, no oil changes." The only maintenance the mower requires is the changing of its blades every few months and clearing any debris build up once or twice a week."
The new mower's plethora of benefits makes it undoubtedly superior due to its safe usage, security systems, its app, and navigational technology, its higher quality in cut grass, its cost-efficiency, its environmental advantages, and its minimal maintenance upkeep. The self-reliance of the new lawnmower can ease the tasked filled days of our hard-working CSP Sodexo maintenance team by providing them more time to attend to other duties without wasting valuable time using standard mowers. It also provides our campus freshly cut grass, making our school clean and beautiful in the process for staff and students.