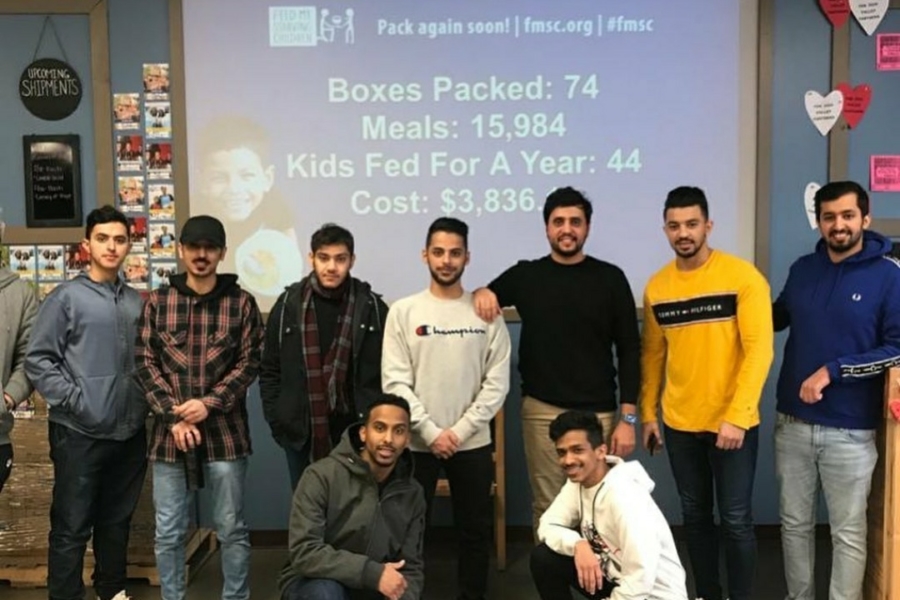 General News, University News
Concordia University, St. Paul is located in the heart of St. Paul, Minnesota's Midway District, but students from all over the world attend CSP to pursue an international education experience unlike any other. In fact, CSP's student body represents 23 countries. For CSP's Saudi Club, fostering a sense of community and building bridges to create lasting connections is their focus. The club's work to do just that earned them the title of "Best Saudi Club" in Minnesota by the Saudi Clubs Union in Minnesota. 
A Sense of Community
Discovering a sense of community is important for students. For international students, that means finding a sense of community in an entirely new place with a new culture. To create that sense of community, students from Saudi Arabia came together in 2015 to form CSP's Saudi Club. CSP graduate and current MBA student Ali Alshehri served as president in 2020. To Alshehri, Saudi Club is more than just a club to gather; he saw it as a way to add value back to the campus community. 
"The Saudi Club is an opportunity that opened doors for us to apply what we gained from our studies," Alshehri explained. "We really wanted to add value and do something to build the bridge between students and strengthen social ties."
Building the Bridge
Alshehri knew that to build those bridges, their club would need to find ways to connect. They jumped into action to organize their first ever event, an orientation. This allowed the group an opportunity to officially introduce themselves as well as the mission and vision for CSP's Saudi Club. From there, they formed a WhatsApp thread with a total of 70 students to connect in a digital space. 
As time went on, they organized activities focusing on different aspects of the community. For instance, the group has volunteered together at Feed My Starving Children and "Share the Warmth" as a way to give back. Another group member suggested hosting a game night to bring everyone together, too.
From there, the list has only grown: CSP's Saudi Club has led and participated in activities including working with Waey Association for Community Health, a non-profit organization, to organize a seminar with a Saudi doctor talking about mental health during the COVID crisis held an online contest during Ramadan where students could research answers to win a prize, celebrated Eid Al Adha with patients at the Mayo Clinic by bringing patients flowers and cupcakes, and even observed the G20 Summit with inspirational materials like notebooks, sticky notes – little gifts to help students get through their finals.
One of the biggest events Saudi Club hosts is called Saudi Night, which is held on the same day as Saudi National Day in July. Saudi Night offers the group an opportunity to spend time together, make food, and share the Saudi culture with the community. It also offers the group an opportunity to feel homesick with others who understand. Last year, the club held a modified version of the event called Saudi Table where they shared their culture with the CSP community.
Detours and Resilience
When COVID-19 took hold in the United States in early 2020, colleges and universities were impacted with classes moving from face-to-face to online delivery. Classes shifted and so did the ways that Saudi Club connected.
"We wondered if we should give up," said Alshehri. "Should we find another alternative? What are we going to do?"
The Saudi Club came together to discuss ways to give back during such a challenging time. Together, they created care packages to distribute. 
"During that time, it was very hard to find [hand] sanitizer, masks, and gloves," Alshehri explained. "In April, we gave out almost 45 bottles of sanitizer, masks, gloves, and more to students."
As May approached, so did commencement. At CSP, all ceremonies shifted to a virtual format. With that news, Alshehri and the Saudi Club came together to discuss what else they could do to celebrate. 
"Most of the international students will leave the state and won't be able to come back to the United States," Alshehri shared. "We had to find an alternative way to celebrate the students' accomplishments." 
That alternative was a drive-thru-style commencement ceremony. At first, the group planned to hold the ceremony in the parking lot of a hotel. With the help of CSP faculty and staff, they were able to hold it on campus in one of Concordia's lots. To make it even more special, the group planned to award graduation plaques to graduates. Alshehri had visited nearly every store to purchase them without luck. Thankfully, they were able to purchase plaques from a store in Kansas City that shipped them to CSP. 
"We're so proud of the drive-thru graduation," said Alshehri. "These students worked so hard for their degree and I am glad we were able to celebrate their success and achievements."
Lasting Connections
For Alshehri, the Saudi Club has meant more than just an extracurricular activity to add to his resume. It's impacted him on a deeper, more personal level.
"When I was elected president of the Saudi Club, I didn't know most of the Saudi community here at the CSP," noted Alshehri. "Through Saudi Club, I had the opportunity to know all of them and establish a strong relationship between the club and the students." 
While Alshehri's favorite parts of being involved with Saudi Club include involvement in the CSP community, celebrating Saudi culture, identity, and traditions, his takeaways are bigger, too.
"The  [Saudi Club] has connected me with the whole Saudi community in the state," he said. "Students always reach out to us whenever they struggle or have an issue and we always make sure to be there for them and take their issues as a priority and make their experience here in the US better."
Alshehri is grateful to the entire CSP community for their support including particular thanks to the Office of International Student Services and its director, Tiffanie Loeb Schneider, Professor Renata Mayrhofer, and Assistant Director of Student Activities and Leadership Kimberly Newton.
As for what's next, Alshehri is already working on his MBA at Concordia and hopes to have his online brand launched in 2021. He also aspires to someday work for the SACM and continue to help the students. In all ventures, his goals are to advance his leadership skills and add value to himself.
To keep up with CSP's Saudi Club and to hear about upcoming events, follow them on Instagram: @CSPsaudiclub