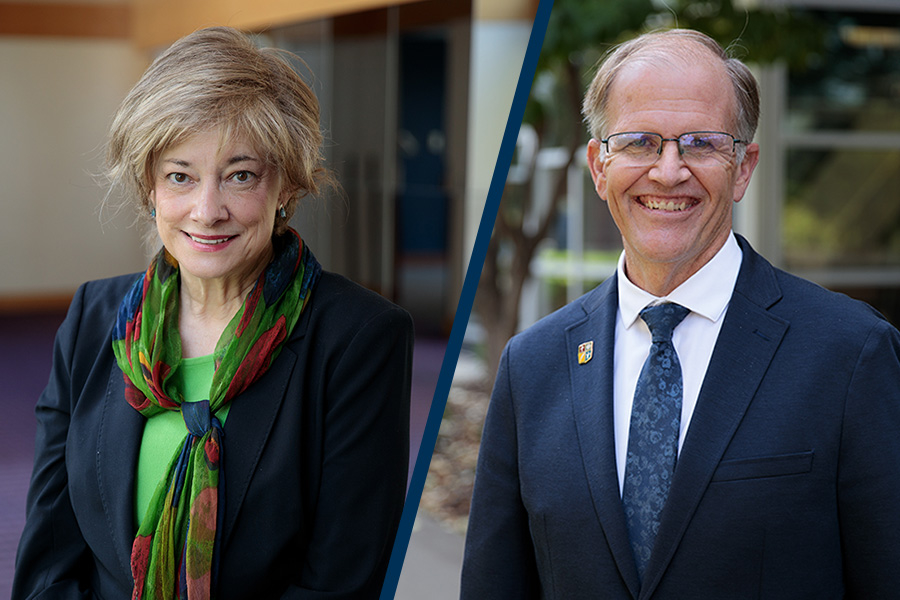 Academics, University News
Concordia University, St. Paul has announced that Dr. Kevin Hall BA '83, will transition into the position of Vice President of Academic Affairs this upcoming spring 2021 semester as current VP of Academic Affairs, Dr. Marilyn Reineck, transitions into a new role as Assistant to the Provost for Special Projects. Dr. Reineck's primary responsibility will be focusing on preparing the University for its Higher Learning Commission four-year review submission. She intends to retire from CSP at the conclusion of the Spring 2021 semester.
"Dr. Marilyn Reineck has been a key member of the leadership team since her return to CSP in 2015," CSP President Dr. Brian Friedrich said. "Her ability to listen, engage, and empower the deans and department chairs is without parallel. She has enabled the growth of programs, development of faculty, and a significant increase in enrollment during a time when many institutions of higher education are struggling with direction, uncertain about budgets, and worried about the future." 
Dr. Reineck has been instrumental in the oversight of faculty to update the faculty handbook, revise and solidify faculty tenure and advancement in rank, implement program review, and has helped assure continued accreditation in all of CSP's accrediting agencies including a full 10-year approval by the HLC. She has also helped expand degree offerings at Concordia, from Associate of Science to the Educational Doctorate terminal degree. Additionally, under her leadership, the University has expanded its college structure to five colleges, the graduate school and school for continuing studies. She has provided leadership for professional development for faculty staff in examining their vocational callings.
"What a blessing it has been to serve as Concordia's VPAA for five and half years," Dr. Reineck said. "I look forward to assisting Dr. LaMott with special projects, especially work on CSP's Year Four Assurance Argument for the Higher Learning Commission and further developing CSP's focus on our vocational calling."
Dr. Reineck has served in her current role since June 2015 after spending nearly four years as the Senior Vice President for Academic Affairs at Concordia University, Chicago. Prior to her time at Chicago, she served a number of administrative roles at Concordia St. Paul as Dean of the College of Arts and Sciences (2009-11) and as the department chair of Communications Studies (1995-2009). A tenured faculty member in the communications department, she began teaching at CSP in 1980. 
Appointed to the role of Associate Vice President of Academic Affairs in 2019, Dr. Hall has been responsible for providing leadership in increasing student success by focusing on effective pedagogy and curricular innovation. Most recently Dr. Hall has been instrumental in preparing the campus to engage with the Curriculum and Instruction Center, which helped faculty prepare and adapt to instruction changes due to COVID-19. In doing so, CSP was well prepared to continue its educational mission without interruption.
"I am so pleased Dr. Hall will be taking the reins as Vice President of Academic Affairs as he will seamlessly continue the growth and trajectory Dr. Reineck established and led for faculty and academic programming," Dr. LaMott said. "As part of our succession planning, Dr. Reineck has been mentoring Dr. Hall for this transition since he was elevated to Associate VP of Academic Affairs."
"Dr. Hall's wise, steady, and humble leadership has blessed CSP from his service as a faculty member to Dean of the College of Business and Technology," President Friedrich said. "The success of CSP's MBA program is but one example. He is the perfect successor for the next Vice President of Academic Affairs."
Dean of the College of Business & Technology since 2014, Dr. Hall centers his work on helping students and faculty engage in exceptional learning experiences – both inside and outside of the classroom. He originally joined CSP's faculty in 2006 to teach and serve as the coordinator of the Director of Christian Education program where he designed and taught undergraduate and graduate courses for face-to-face, online, and blended delivery in a wide variety of subjects related to business, family life science, Christian education, and leadership. Prior to joining CSP's faculty, he served for 22 years in leadership roles at a Lutheran non-profit.
"I am thankful for the opportunity to serve as the university's next Vice President of Academic Affairs," said Dr. Hall. "While the challenges facing the university are unprecedented, I am confident we will continue to keep our focus on students, helping them graduate for thoughtful service to God and community. Our future calls us to work with resilience, flexibility, and creativity. These attributes will serve us well as we walk together to fulfill our mission and our new vision statement."
Dr. Hall's acceptance of the new assignment, which follows CSP's succession planning, creates an opening in the dean's role within the College of Business & Technology. As CSP works to fill this role, Dr. Hall will continue to serve as dean with Professor Craig Lien continuing to serve as Associate Dean. Lien has also agreed to assume additional administrative responsibilities during the transition.