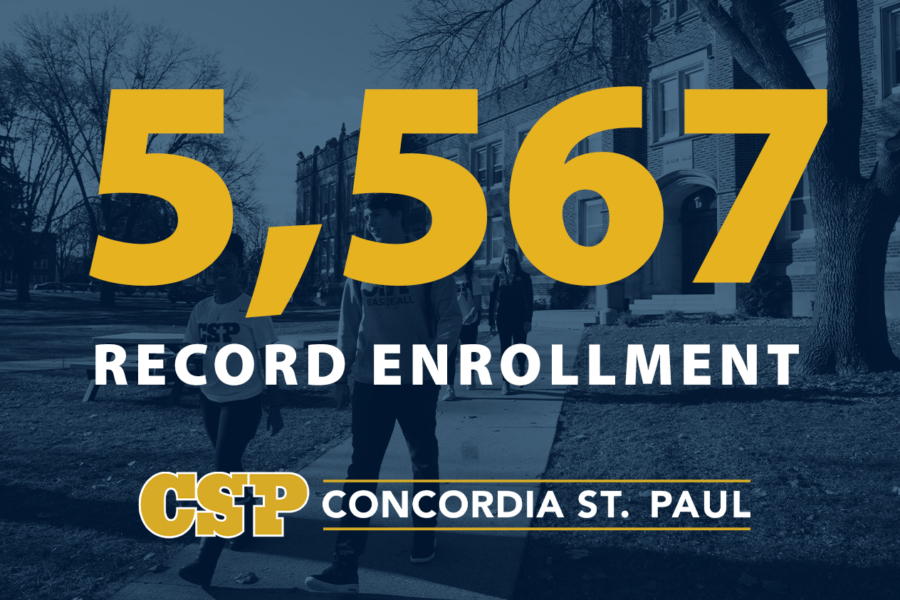 University News
Despite unique challenges and unprecedented circumstances brought on by a global pandemic, Concordia University, St. Paul set a new enrollment record for the ninth consecutive fall semester with 5,567 students. CSP enrolled 428 more students compared to its previous high of 5,139 set only one year ago, including increases in all three student learning areas. 
Traditional undergraduate programs are up 56 students, adult undergraduate programs saw an increase of 361 students, while graduate programs gained 11 students. Enrollment for students learning on-campus (traditional) now stands at an all-time high of 1,756, while graduate programs saw their total enrollment surpass 2,000 students for the second consecutive year. Adult undergraduate program enrollment, which includes the bulk of online students, stands at 1,788.
CSP's enrollment trajectory has seen significant growth since 2005 as it has posted enrollment increases 14 times during the last 15 years. During this time period, Concordia's overall enrollment has substantially increased by nearly 3,500 students. (View historical CSP enrollment chart here)
"I am grateful to God that CSP continues to be a distinctly different university in its growth trajectory and the way we equip students for their callings," CSP President Dr. Brian Friedrich said. "It is inspiring to know more and more in-person and online students in St. Paul, Portland, and around the world have chosen Concordia St. Paul as a place to learn and grow personally and professionally. Our faculty and staff are to be commended for their extraordinary efforts and diligent work in making this growth a reality during challenging times."
In a time when many institutions of higher learning are facing uncertainty due to the impact of COVID-19, leaders at CSP made the decision early on to commit to a robust and detailed plan to open campus to face-to-face-learning this fall. The University made a substantial investment in its curriculum and facilities to ensure a reasonably safe and successful return to campus for students so they could continue working toward their educational goals.
"It's refreshing to see students back on campus and abiding by the guidelines to help keep the CSP community safe with our return to face-to-face learning," Vice President of Enrollment Management Dr. Kim Craig noted. "We have heard from a number of students and families about their appreciation in how we diligently planned to reopen campus and plan to remain open with the help and dedication of the entire campus community, including students, staff and faculty. Everyone is on board with the 'we are all in this together' mentality." 
"Throughout the challenging times with COVID, economic turmoil, and traditional demographic shifts, CSP has stayed focused on serving its students and executing on our strategic plan," said CSP Provost and Chief Operating Officer Dr. Eric LaMott. "The addition of two new programs, the Accelerated Bachelor of Science in Nursing (ABSN) in Portland, Ore., and Ed.D in Kinesiology, contribute to the overall growth this fall as has CSP's affordability initiative, which has cemented the University as the most affordably priced private college in the Twin Cities."
Looking ahead, CSP plans to launch a number of programs in areas of market need, including an MS in Cybersecurity, MS in Data Analytics and an ABSN program located in St. Paul.