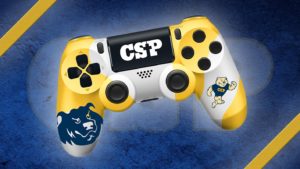 Athletics, University News
In case you've missed it, Concordia University, St. Paul has launched a new Esports program. Head Coach Logan Hermes recently sat down to discuss CSP's 17th official sport, competitive gaming, and fostering a more social and active gaming community in the Twin Cities.
Setting the Stage
Esports isn't just growing — it is exploding across the globe. Last year, Forbes estimated that competitive gaming out earned Hollywood, capping off the year's end with over 400 million viewers from the professional circuit. The 900 million dollar industry is beginning to bubble into the consciousness of the general American public. Esports is played, watched, and celebrated across the world, most famously in South Korea, which made an estimated 1.1 billion dollars in 2008. The rise in popularity of gaming can be traced back to Arcade gaming of the '70s '80s and '90s when people used to compete for high scores in games like Pacman and Donkey Kong.
Today, Esports more closely resembles other team sports. With the rise in popularity, colleges across the nation have been adding Esports programs to their catalog, replacing student-run clubs, and offering official support, funding, and regulation. The NCAA has not yet decided whether or not to include Esports as an official sport under their regulation. Instead, collegiate Esports is overseen by the National Association of Collegiate Esports (NACE). By launching their program starting in 2019, Concordia becomes the first school in Minnesota with an Esports program.
College Esports: What is it?
Coach Hermes answered the above question by saying, "[Esports is] playing games competitively. There are two parties competing against each other human or otherwise. It meets if not exceeds the expectations of sports… [One] difference is how you affect the Meta of a game." The last part of this statement refers to how the community play style and sometimes game design is affected by the best players in the world. A comparison could be made to how basketball teams at all levels began shooting more three-pointers after Stephen Curry won back to back MVPs and the Golden State Warriors racked up Championships.
College Esports, as currently constituted, sits beneath professional Esports at the same level as "tournament" level Esports. The skills necessary to compete at the college level are largely the same as the skills professional players have honed. Because Concordia offers five different games for their athletes, it is comparable to track and field. There is a sense of specialization akin to having some athletes specialize in shot-put and discus, while others focus on sprinting and others on distance running. When Concordia begins playing competitively in the fall of 2019,  athletes will have the opportunity of playing "League of Legends", "Overwatch", "Hearthstone", "Rocket League", and "NBA 2k19".
Athletes or Enthusiasts?
One major knock on Esports is that gamers are not athletes and that playing competitive gaming doesn't make someone an athlete. Hermes would push back on this notion: 
Esports meets if not accedes the definitions of what a sport is. The skills in Esports may not appear as athletic but they are existent in other sports. Decision making is a primary skill for Esports and that's prevalent in football or basketball too. Quarterbacks and point guards are the decision makers in their games and that is the premier skill in our game.
Players have to make good, quick, and smart decisions that affect the whole teams play in a matter of seconds in order to win a match. Reading the game and predicting are other skills that go hand in hand with decision making. Pattern recognition,  positioning, and shot calling (the shot-caller is the leader of the team, that tells them when, where, and how to gain an advantage) are of huge importance in these games as well. These may sound simplistic and in some of the games they are, but there is a heightened sense of importance for these skills. In Esports you cannot make up for bad positioning with speed like one could do on a football field. Elite reaction time and quick twitch muscles are also vital to the success of top players but these are less coachable than the other skills. Hermes believes that the lack of physically determined athletic abilities can also be viewed positively:
Esports has the potential to become the most inclusive sport of all time. Some people from Twolves gaming have said that they have gamers that can interpret the sport as well as professional athletes. I could understand basketball, but because I am not 6'7 I won't be able to play. And there are similarities to basketball and Esports from a coaching standpoint with rotations, movement, finding openings and waiting for mistakes to attack.
There have been some issues regarding inclusivity at the pro ranks but they are beginning to change. The gaming industry was and is still to an extent, male-dominated. This led to games being misogynist and designing female characters to fit the male gaze if women were included at all. Designers have heard these complaints and have worked to reverse this problem. There have also been issues of race within the competitive ranks of Esports but this has had more to do with fans and the global nature of the sport rather than the gaming industry cozying up towards racists. Naturally, there was some concern about matching games with Concordia's Lutheran values The focus of these games is not solely on violence. Most of the games can be won without eliminating a single opponent if the team focuses and plays the objectives correctly. In the games that do contain violence, the art style is more cartoonish, the characters vaguely resemble humans, and the eliminations send characters back to base rather than erasing them from the game. Three of the games, Hearthstone, Rocket League, and NBA 2k19, have no violent components.
Changing the Landscape
One term that Hermes echoed was the role of institutionalization in sports and how we think about them. This may go beyond the official role of coach, but it is something he's passionate about developing here in the Twin Cities. He pointed out the value of being seen, heard, and accepted by the public. "We plan to win games, but support from the community can be more valuable than winning games," he explained. Specifically, he mentioned the proliferation of soccer due to the newly arrived Minnesota United. Soccer was not something commonly associated with the Minnesota sports scene beyond youth and high school leagues. After fielding a team and building a stadium, fans began coming out in droves. In Hermes' view, that is something that can and needs to be replicated with Esports, albeit with less of a monetary commitment from the state and its taxpayers.  The starting point for Concordia's Esports team is more difficult than the United as they have fewer roadmaps to success. While there may not have been many MLS fans, at least the general public knew what soccer was. Esports is a bit more of a mystery and the job of informing and teaching people about the sport will be immensely important.
Fostering Community 
One step Hermes finds necessary in promoting the game is finding good announcers. Hermes, a former broadcaster himself, knows the importance of finding polished and informative announcers that can teach the audience about the games and the strategies behind them. Furthermore, there is a lack of places to gather and talk about Esports. Unlike the Arcade age, all of these games can and typically are played online, reducing the need for people to gather and socialize around them. Coach Hermes' plan to build a stronger community is also focused on supporting local businesses that show matches or that provide opportunities to play the games offered by Concordia. Hermes has no illusions of the size and scale of this challenge, but it is a challenge he looks forward to: "What we do here will ripple throughout the region, which makes it fun because you're doing it yourself with few roadmaps." There are successful collegiate programs that have been around long enough to study, but they are not within the Midwestern market. What worked in California is not guaranteed to work here. Finally, and most importantly is the formation of high school leagues. This will help players and parents become more aware of what Esports has to offer them and how to play the games once they reach the college level. High school and college students are already playing these games, forming their own clubs, and competing in tournaments, but this can come at the expense of their academic pursuits. Some of the best college players in the metro area belong to these clubs. This means they have to provide their own equipment, which can become expensive, and they have to compete and practice on their own time which has led to an increase in dropout rate among some of the best and most dedicated players. Not only can this program keep kids in school, but it can show them opportunities they may have otherwise been blind to. There are many transferable skills that are unofficially attached to the program such as economics, computer science, communications, and business that students who qualify for the team will learn just by being around the sport.  
Fans can support the Esports team by watching their matches live on the official Twitch Channel https://www.twitch.tv/cspbears or in person at the Marshall building. If you have any interest in joining the esports team or have any other questions you can email Coach Hermes at [email protected].