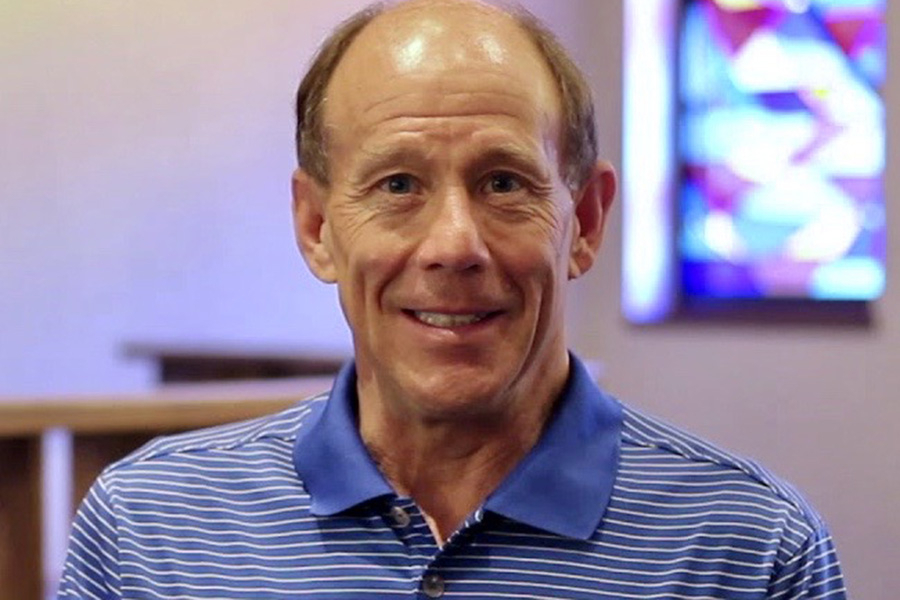 General News, University News
This summer, the Rev. Dr. Reed Lessing prayerfully answered the call to serve as the newest professor in Concordia University, St. Paul's Department of Theology and Ministry. Rev. Dr. Lessing is well-known across the LCMS having published numerous books, given presentations on his work, his teaching at Concordia Seminary in St. Louis, and most recently, his service as Senior Pastor of St. Michael's Lutheran Church in Fort Wayne, Indiana. 
Chair of CSP's Department of Theology and Ministry Rev. Dr. Mark Koschmann, who was a student of Dr. Lessing's at Concordia Seminary, speaks highly of his former professor and what he will bring to Concordia St. Paul. 
"I vividly recall the passion and excitement that he shared in his courses," Koschmann shared. "He prepared me to more deeply appreciate the overarching biblical narrative of God's redemptive work in Jesus Christ."
Koschmann, who also serves as Director of CSP's DCO program, is thrilled that students at CSP will have the same opportunity in Dr. Lessing's classes. 
"Dr. Lessing brings an impressive blend of pastoral experience and scholarly expertise in the Old Testament which will be very enriching for our entire campus community," he continued. "Reed has a deep Christian faith, an engaging personality, and a biblical fluency that will equip students to better understand the Old and New Testament. As our CSP community seeks to thoughtfully and compassionately engage the world around us, I believe Reed's expertise in the Old Testament prophets will help guide university conversations on faith, justice, and care of God's creation within the context of the Gospel."
CSP had the opportunity to catch up with Dr. Lessing to learn more about his journey to CSP, the classes he will be teaching at CSP in the fall, and what he hopes to instill the students who take his class. Our interview below: 
Q: Tell us a little bit about your journey to CSP – your career as a whole, your studies and how they impacted your career/service path, and the ways God has called you to serve in those capacities and now with CSP.
A: I love serving both as a pastor and as a professor. While studying to become a pastor I became fixated on the Old Testament, so much so that I earned a second master's degree and then a PhD in Old Testament studies. My 20 years of parish ministry, along with 14 years as a seminary professor, have uniquely equipped me to serve as a pastor/professor at CSP.  
Q: Tell me about the presentations you've given throughout the LCMS. What sorts of topics have you covered? 
Most of my presentations have come from the books that I've written; Isaiah 23, Isaiah 40-55, Isaiah 56-66, Jeremiah, Amos, Jonah, and Zechariah. 
Q: Which classes will you teach for CSP this fall? 
A: Biblical Heritage of Christianity, the Old Testament, and the Problem of Evil. 
Q: What can students expect from your class? What do you hope to impart to them in shaping their understanding of theology and, specifically, the Lutheran Heritage? 
A: Students can expect that I will take a genuine interest in them as people. Their success is my success. My goal is to help them become lifelong followers of Jesus and interpret their world through the Bible. 
Q: Is there any overlap in the way you serve a congregation as Pastor and now as a Professor of Theology with CSP? 
A: Very much so! My goal in life will remain the same;  instill in people a love for Jesus and his Word. 
Q: Follow up: What are the main differences? 
A: I served as pastor of a 1,700 member church with a Lutheran school of 400 children. As you can imagine, I interacted with people of all ages. At CSP the focus is much more narrow with undergraduates. 
Q: What do you enjoy most about teaching? Do you have a favorite topic within Theology that you find particularly intriguing personally or in the classroom? 
A: I enjoy connecting with students, both academically and personally. And I'm addicted to Old Testament prophets, especially Isaiah. 
Q: What aspects of your career have you found most fulfilling?
A: People. People. People. 
Q: What are you most looking forward to as you join the CSP family this fall? 
A: Getting to know students, faculty colleagues, and campus staff. 
In addition to his work, Dr. Lessing leads an active life. In fact, he shared that he has jogged or ridden his bike almost every day for the last 40 years. His love for family is evident in his description of his family, too (three wonderful children, two marvelous sons-in-law, and an adorable two-year-old granddaughter named Meryl Rose.) Dr. Lessing shared that he's looking forward to getting to know CSP's students, faculty, and campus staff when he begins this fall and the feeling is mutual.
"I'm energized by this opportunity to work with him as we prepare and equip CSP students to know of God's deep and abiding love for them in Jesus Christ," Koschmann concluded.