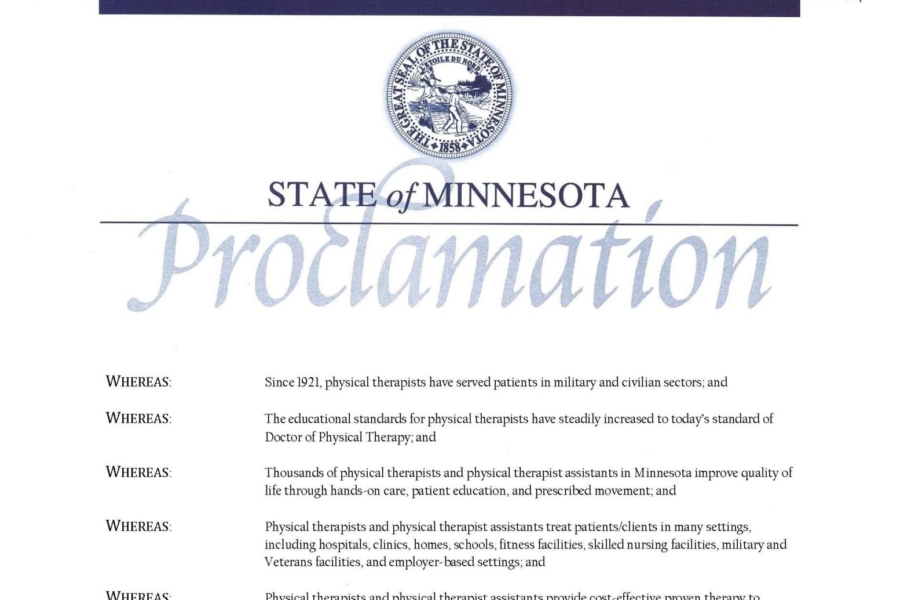 Academics, Admissions, General News, University News
Governor Tim Walz declared March 15 to be Physical Therapy Day. We join him and all of Minnesota in celebrating. Physical therapists have an important role in holistically caring for people as they heal, gain strength, and increase movement after injuries, surgeries, and other health issues.
"The CSP DPT program is proud to be guiding the development of future physical therapy professionals," said Dr. Peter Rundquist, DPT Program Director. "We're thrilled that Governor Walz proclaimed 3/15/21 as MN Physical Therapy Day. This is in recognition of the 100th anniversary of PT as a profession and of PT's role as frontline workers in the fight against the COVID-19 pandemic."
On March 15 and beyond, we give thanks to all physical therapists, and especially our DPT faculty, staff, students, and alumni who care so well for people in need.
View the proclamation in full HERE.