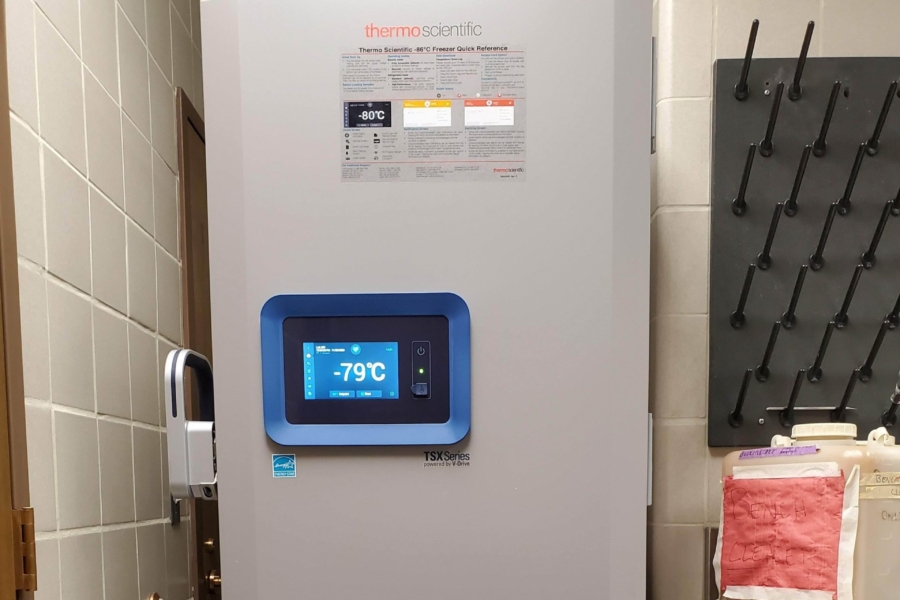 Academics, General News, University News
In the midst of the stay-at-home order, CSP's Science Department became acutely aware of the need for a better system to ensure that various biological samples and reagents were maintained at the proper storage temperatures, especially if faculty aren't regularly on campus to check on things. Due to an electrical malfunction, the team lost the contents of a fridge and freezer, which made it even more apparent that they needed to address some long-standing issues of temperature monitoring and outdated equipment.
The team worked with John Bodle on the Sodexo team to identify the best path forward with their current setup. They installed temperature monitors in all existing fridges and freezers and then worked with John to identify a new -80 degree Celcius ultra-low freezer to replace the existing, outdated -80 freezer. This freezer is really critical in the department as it houses most of the biological stocks of human and animal cell lines, as well as bacterial and fungal stocks. It also houses the entire Staph study stock collection of which there are currently over 1,500 samples.
The new ultra-low freezer has much better technology, including temperature monitoring and a CO2 redundancy system that would buy them time if their building experienced a power outage or equipment malfunction, ensuring that they are much less likely to lose critical samples. While it's not particularly flashy, it is a much-needed piece of equipment for the department and they're thrilled to have it to support their research needs in-house.