Program Coordinator, Minneapolis Public Schools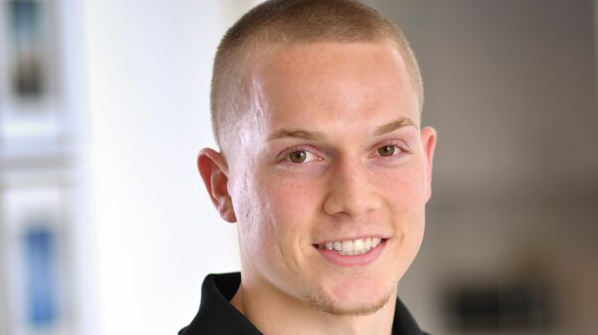 "CSP challenged me to grow as a student and person."
Andrew Capirchio was born in Fountain Hills, Arizona but now calls the Twin Cities his home. He studied sociology and community health studies at CSP and intends to pursue his master's degree in 2020. He is currently managing a school-age care program for Kenwood Community School. He's a passionate student-athlete and played football here for the Golden Bears. This passion led him into publishing his own book on the student-athlete experience, "Blessed to Announce." Andrew has been busy since his graduation in 2018, but we had the opportunity to catch up with him to hear about the impact his CSP experience had on him, and how he exhibits that in his work today.
Q: Why did you choose Concordia over other colleges?
A: The biggest deciding factor for me was the location. I love the Twin Cities and it is where I now call home. I enjoyed the smaller class sizes and the ability to connect with professors and network with other students on campus. My ultimate deciding factors were the culture of the campus, the location of the school, and the affordability. Being a student-athlete there were also several aspects of the football program I considered such as facilities and coaching staff.
Q: How did you like living on the Concordia campus?
A: The diversity of Concordia's campus and the location are huge positives for any student who attends. Working for Minneapolis Public Schools, there is tons of representation among student bodies. One of my passions is trying to erase the academic achievement gap in the cities. One class, in particular, Minority Groups with Dr. Lotegeluaki, was very thought-provoking and valuable.
Q: What was your favorite moment you had at CSP?
A: One of my favorite moments was experiencing snow at the end of my senior year during football season. I had never had the opportunity to play in the snow, and it was a really fun practice that day.
Q: Any recommendations for fellow student-athletes? 
A: I established connections with my professors. It made the experience as a student-athlete much easier being able to have open communication about our travel schedule and expectations during the season. Without a doubt, the demands of juggling a sport, work, and school prepared me for my professional career. Being a team-captain also helped establish leadership skills in me that directly relate to building a culture with our team and staff in my current position.
Q: You published a book, "Blessed to Announce," to aid college athletes. What can you tell us about it?
A: I wrote my book "Blessed to Announce" to inspire, educate, and prepare youth athletes for the collegiate level. It shares my experience of walking-on at the junior college level, and eventually transferring and becoming team captain at Concordia. I share stories, but also offer practical advice to help athletes succeed when they get to college rather than learning on the fly and struggling as myself and so many others did.
 Q: Where can readers find out more about you and your book title?
A: At blessedtoannounce.com or by searching "Blessed to Announce" on Amazon.