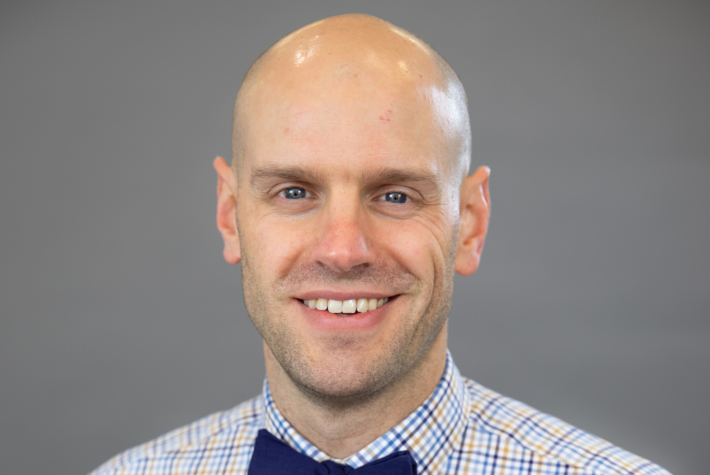 Dr. Benjamin Harrison is a professor who has been on the faculty in the Science Department since 2013. Dr. Harrison is primarily involved in teaching the introductory biology series as well as the 200-level genetics course.
For the majority of Harrison's academic career, he has been trying to understand how eukaryotic cells segregate their chromosomes. This process involves the coordination of several different cellular processes and an amazing multi-protein machine called the mitotic spindle. The mitotic spindle is responsible for generating the forces that segregate our chromosomes as cells divide, ensuring that the two daughter cells receive all of the essential genetic information (DNA). When it is working perfectly, the mitotic spindle is the center piece for the creation of new cells. When it is perturbed, it can be the harbinger of cancer. Dr. Harrison has studied this machine by researching the regulatory proteins that signal it as an undergraduate at the University of Wisconsin. He investigated its protein composition and function while pursuing his Ph.D. at North Carolina, and more recently looked into how it is involved in the development of antibiotic resistance in human pathogens through his postdoctoral work at the University of Minnesota.
At CSP, Dr. Harrison has turned his attention to better understanding how students learn. Calling on previous research, Dr. Harrison has developed activities, tools, and assessments that are designed to help the novice learners that are in his first-year and sophomore-level courses. He has developed his own research projects around these implements to better understand the needs of CSP students.
"Failure is not an end point. It is an opportunity to wrestle with new ideas and grow in understanding. You must embrace the struggle of learning if you want to become an expert."
Academic Pedigree
MinnCResT Postdoctoral Fellow, University of Minnesota
Ph.D., Biology, University of North Carolina
B.S., Botany, University of Wisconsin
Websites
Address: SC 114
Phone: 651-641-8824 Extension 8824