Art Director, Geometry North America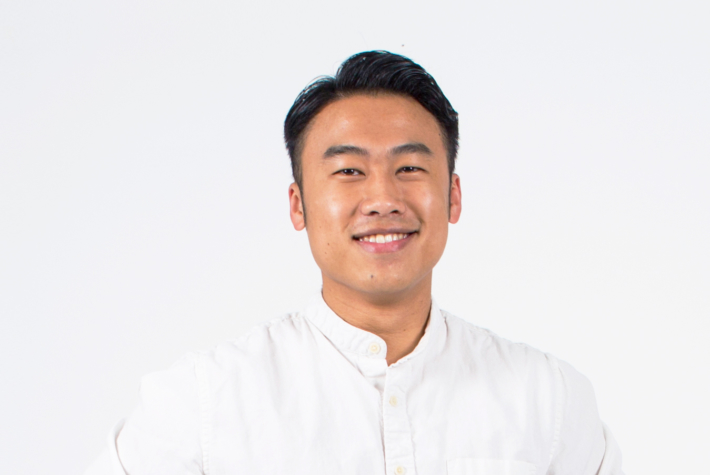 "John DuFresne taught me everything I needed to know about graphic design and the importance of hard work, discipline, and craft. "
A second generation Hmong-American, Bert Lee, BFA '17, pursues his various passions with vigor and enthusiasm.
By day, Lee works as Art Director at Geometry North America. Outside of this work, you'll find him volunteering in the graphic design field, sharing his love for public speaking, and helping lead a breakdancing group.
Lee credits Concordia with helping him become successful in all these areas. "CSP provided me with the right resources and opportunities that allowed me to pursue my career and interests."
When he chose CSP, however, he wasn't sure what he wanted to study. For Lee, graphic design was "was just a checkbox on a college application asking for my field of interest," he recalled.
However, his perception of the field changed his sophomore year. Lee shared how "the graphic design classes I took caught my interest and I realized the endless opportunities that came along with design."
Lee found numerous ways to explore graphic design on campus beyond the classroom. He was a part of CHUSA (Concordia Hmong Unity Student Association) and designed marketing materials for that group, while also serving as the art director for The Sword (CSP's student newspaper) and as vice president for the student American Institute of Graphic Arts (AIGA) club.
To this day, he still volunteers with AIGA as their director of education working with college students and recent graduates. "I know the hardships design students go through to land a job in this industry…[and] I want to be able to share my experiences with those who are struggling," Lee explained.
His experience with CSP's Ignite Leadership Program led him to discover a gift and passion for public speaking. "Aside from being a graphic designer, I also want to coach individuals how to become effective communicators and storytellers," Lee said. "I participate in speech competitions and host my own workshops talking about the art of body language, stage presence, and storytelling."
Lee concedes that his busy professional life and personal interests can be overwhelming. That's where dance comes in. He serves as chair of the Hmong Breakers Leadership Council, which works to "bridge the Hmong Community with different modern and traditional talents by initiating opportunities with Hip Hop and the arts as the platform."
"[Dance] is such an expressive art form that does not need a lot of thinking and planning," Lee asserted. "You just get on stage and dance."
With a variety of gifts and talents he puts into use daily with all of his activities, Lee leads a full life. "Aside from family and friends, [these activities] are my focus…that fuels my ambition," he revealed.
Thanks to his experience at Concordia, Lee was able to discover this ambition. "I made great friends, memories, and experiences that inspired me to be who I am today."
Lee on some of the most influential people at CSP:
Dr. Cheryl Chatman, Executive Vice President and Dean of Diversity: "[She] was the first to recognize my potential as a student, leader, and designer. She was my first real client that I had to design a project for as a freelancer. Her trust in me made me confident."
Lee Pao Xiong, Director of the Center for Hmong Studies: [He] taught me the importance of understanding my culture, family traditions, and the amount of privilege I have in America compared to third world countries. Also, the fact that laughing throughout class is the best way to bond with students.
Kimberly Newton, Student Activities and Leadership Development Coordinator: "She opened a whole new door of opportunity for me. Her mentorship shaped me to be my best self in recognizing my five leadership strengths and most important of all, the spark for public speaking. I held my first ever public speaking workshop after graduating with her Ignite Leadership Program."
John DuFresne, Professor of Graphic Design: "[He] taught me everything I needed to know about graphic design and the importance of hard work, discipline and craft. His guidance shed light on my success as a working professional in graphic design."