Teacher at Century Elementary School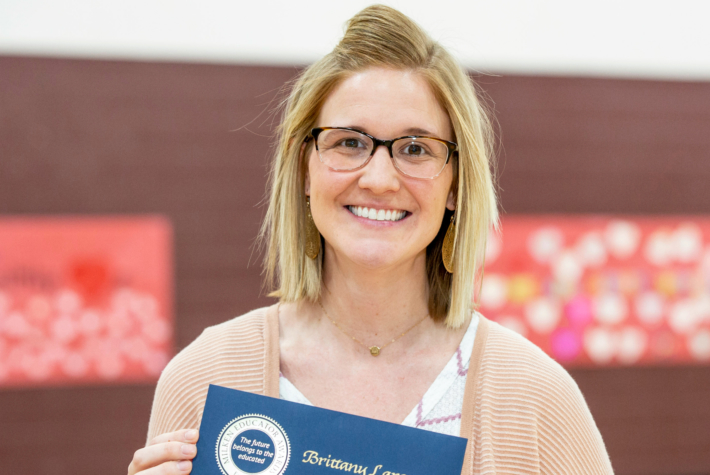 "The professors balanced the needs of individual learners with time, patience, and understanding."
Winning a $25,000 prize for her excellence as an educator certainly was not what alumna Brittany Larson, MAEd '17 had in mind when she attended an early March assembly at Century Elementary School in Grafton, ND. However, this unexpected surprise was much deserved for this first-grade teacher.
Larson was one of 33 recipients of the 2018-19 Milken Educator Awards, established and funded by the Milken Family Foundation. These awards recognize the accomplishment and potential of early to mid-career educators, and highlight and promote efforts to enhance the quality of education and student outcomes.
Choosing to continue her education at Concordia was an easy decision for Larson because she was able to take all her classes online. The Master of Arts in Education with an emphasis in Differentiated Instruction program was exactly what she was looking for to enhance her professional skills. "As a first-grade teacher in a rural school district, my primary focus was on ways professional educators can effectively teach young gifted/advanced students in general education classrooms for academic, social, and emotional success," she remarked.
Larson appreciated learning about differentiated instruction from both professors and fellow students and found the class structure supportive of learning. "They allowed us space and time for whole group, small group, and individualized instruction," she observed.
"The professors balanced the needs of individual learners with time, patience, and understanding," Larson recalled fondly, naming Theresa Starkman, Phyllis Burger, and Ann Kern as some of the most influential professors in her program.
The impact of her degree has been quickly realized by Larson. "I differentiate for my advanced/gifted readers 1.5 hours a day. Through the differentiated master's program, I learned how to effectively use cluster grouping, interest grouping, incorporate problem-based learning units, curriculum compacting, and independent projects for effective teaching practices for young gifted students," she explained.
According to the Milken Family Foundation, Larson's use of data to make these groupings and her love for her students and their learning environment were hallmarks of her nomination for this award. "Her students react enthusiastically to driving their learning plan, gauging their own levels of proficiency and achievement with an eye to making improvements that meet established standards and their own rising expectations," the Foundation's press release reads.
Larson noted that her MAEd degree provided her the tools that enabled her to win this award. "It has changed my life and career…I cannot thank CSP enough," she exclaimed.
Besides the cash prize, there are other benefits to receiving the Milken Educator Award. This year's winners attended a forum in New Orleans in late March to celebrate their achievements, and winners have the opportunity to network nationwide and attend conferences throughout their careers.
"I am very honored and humbled to be recognized," Larson said. "Teaching is my passion and I am very lucky to have a career I love."