Associate Designer, 10 Thousand Design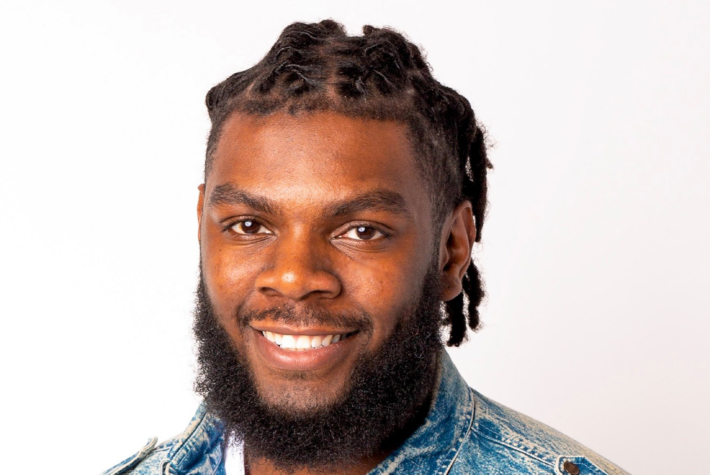 Cornel Beard is a graduate of Concordia University's graphic design program and is now an associate designer at 10 Thousand Design. During his time at CSP, Cornel interned with three different agencies (Colle Gems, McVoy, and Broadhead) and won a $2,000 scholarship for his portfolios. In addition to improving his design skills, continuous education is important to Cornel and eventually, he wants to share his knowledge and experiences with others in an educator role. We caught up with Cornel to discuss how CSP's graphic design program and workshops provided rigorous feedback, helped him sharpen his design skills and offered him the support he needed to pursue his passion while providing for his growing family.
Q: What were your most important factors to consider when you are selecting a college? 
A: I used the GI Bill. I did six years in the army after high school and two years into college. I prefer a smaller environment and heard a lot about [graphic design faculty member] John DuFresne. CSP just seemed like the right place.
Q: What do you think creates a quality academic experience?
A: On-the-fly learning. The graphic design program is that way. Every day is a critique of your work, other's work, and a continuous rotation of sharing your work and advice to improve it. A huge part of our careers as designers is to present our work efficiently and why we made certain decisions. Showing my work and getting feedback really helped me to do that confidently in the work environment.
Q: Do you feel that you established significant relationships with the faculty? What importance did those relationships have in the quality of your classroom experience?
A: I think more than anything, having a rapport with my teachers and talking to them inside and outside of class helped me to gain a better understanding of my career. They can't cover everything in class, so I asked them questions that applied to me outside of class. Having that relationship to talk openly, get feedback, bounce ideas, and ask for advice has really helped.
Q: Did you encounter any challenges during your time at Concordia? If so, what were they and how did you overcome them?
A: When we were going through our pregnancy with my son, I had a hard time balancing. I was working about 25 hours a week and taking 19 credits while supporting our family. Taking the time to process that we were going to be having a son in a few months made it challenging to stay ahead in some of my classes. I had an art history class with Keith Williams and I talked with him about everything. He and all of my teachers were more than open to helping me and to extend deadlines – just like getting me the extra help to get things done. That was helpful to have.
Q: If you could give advice to a student who wants to pursue a similar career path, what would it be?
A: Try to understand your worth and know you're doing right by yourself as well as the client or customer. If I were graduating and didn't think I had a good handle just yet, it wouldn't be smart of me to freelance and take money from people knowing that the service I'm providing isn't that great. If I graduate and I'm strong but I haven't found a job yet, I would not just take free work because I need something to do. Overall, know your worth and stick with it.