Project Assistant at Polaris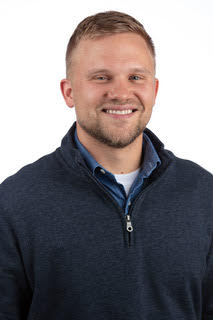 "I have been fortunate to have met so many wonderful people at Concordia from all over the world. Truly, a very cultural and diverse experience. In today's global world, that experience alone is invaluable."
Drew MacLeod, BS '19 served in the Marines prior to beginning his college career at a community college. After one semester, he transferred to Concordia where he majored in finance. Drew currently works as ground crew operations manager for Viking Land Tree Care, and he's excited to see where his next career opportunity takes him.
Q: What inspired you to serve in the Marines?
A: I was determined to go to college, but was not ready once I graduated high school. I knew that time away in the Marines would give me time to grow personally and professionally. Also, the challenge of becoming a Marine was definitely an appeal for me.
Q: How did you discover CSP?
A; When I was in high school, one of my friends did PSEO during our senior year. I visited campus a few times and it was always something that stuck with me, even years later after getting out of the Marines. I really liked what I saw! Another big appeal for me was the Christian background that CSP has. 
Q: What drew you to major in finance?
A: I was seeking a degree that would be versatile for future professional opportunities. I chose business for that reason, and finance specifically for the challenge. I am glad that I learned so many professional skills, as well as many personal skills pertaining to my own financial picture.
Q: How do you describe the educational experience at Concordia?
A: The greatest thing I can say is that the professors truly care about your success. I was blown away at the backgrounds of nearly all the professors that taught me. Being able to interact with individuals who have spent many years in professional business backgrounds was incredible—I learned so much just from their own experiences! Having completed my degree at Concordia, I am very confident in entering the professional workforce!
Q: Who were some of the most influential people for you at CSP?
A: Dr. Renata Mayrhofer: I was fortunate to have three classes taught by Renata during my time. She really is an individual who cares and wants to see you succeed. I deeply appreciate that about her and have so much respect for her work ethic. 
Phil Hampton: I really enjoyed learning from Phil. He incorporated many real-world scenarios into his classes, which really helped me learn the material. In addition, there were so many laughs! Truly a great guy. In fact, we just had the opportunity to get coffee this past week!
Rev. Dr. Mark Koschmann: I was fortunate to take a Theology course with Mark. Again, this is another individual with a tremendous work ethic and knowledge base. He challenged me in so many ways intellectually and spiritually. A class I won't ever forget.
Dr. Eric Grube: Eric and I had one class together during my time at CSP, but we stayed connected throughout my time. He would frequently come into the Veterans Lounge and have coffee with us. Again, a lot of laughs and life lessons! 
Last but not least, Barb Tritch, our lovely cafeteria worker! She made the best wraps known to man, and we always would cheer (and often cry) about the Minnesota Wild. She is the best!
Q: What are some of your favorite memories?
A: Finishing our senior class capstone was an incredible feeling. I was able to partake as a class leader, and seeing the final product and presenting it to the company we were working for was really an awesome thing.
All the fun conversations had in the veterans' lounge, as well as in all my finance courses with Phil Hampton! 
Visiting the 3M Innovation Center with the business students was also a great experience!
Q: What are your career goals?
A: I am looking to get into a career that allows me to help others in some capacity. Ideally, I will one day be able to mentor and coach others. I am thankful to everyone that has helped me get where I am today, and I hope that I can offer the same help. Currently, I have aspirations to work for Cargill or Polaris and grow within the company. 
Q: How has Concordia impacted your life and career?
A: My experience has given me the confidence and education that I need to be successful, both personally and professionally. I have been fortunate to have met so many wonderful people at Concordia from all over the world. Truly, a very cultural and diverse experience. In today's global world, that experience alone is invaluable. From a spiritual perspective, my faith has been nurtured and strengthened. The bottom line, that is the most important, in my opinion.