Business and Service Line Development, University of Minnesota Medical Center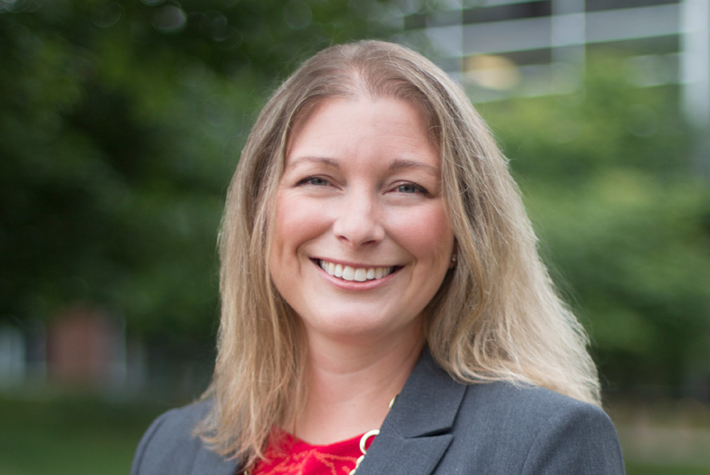 "It seems like every class I take, there's something absolutely parallel in my work environment."
Like many Concordia University, St. Paul students, Emily decided to go back to school because of the opportunity to advance in her career.
The choice to enroll at CSP was a result of the flexible, affordable program offerings. "I'm mid-career. I wanted to be able to go back to school without financially putting my family through hardship. And if I had to go to class every week, I would have had a hard time managing my work and family schedule," she said. "This works out perfectly because I get the discussion, the dialog, the interaction that I wanted out of a program meeting every other week. And I also get the flexibility I need to fulfill my career and family obligations."
Emily is employed as a senior project manager in the orthopedic service line at Fairview Health Services, an integrated healthcare system located in the Twin Cities. She said that her studies have provided significant benefits already in terms of her career. "Recently, and this is probably as a result of me going back to school, I've been brought in to project manage some of our business transactions. So, I just project managed two joint ventures that we participated in. Because I have more business acumen now and have developed the strategy acumen, I'm being put into some newer type of work. Less clinical and more strategic and business-related," she said.
In the classroom, Emily has found real value in building relationships with her instructors. "We even connected outside of class in one case, because there were some things he said the first day that got me excited about applying what I know. My instructors make me think differently in what I do, and how I can promote what I do [through marketing]," she said.
One of the most valuable aspects of her Emily's education is that she can apply what she learns directly on the job. "It seems like every class I take, there's something absolutely parallel in my work environment. For me, the richness comes in being able to apply it and look back on what you've done with new knowledge."
That knowledge is already impacting her career progression. Emily is in the process of interviewing for a promotion and says she is "very confident" that this wouldn't be the case had she not gone back to school.