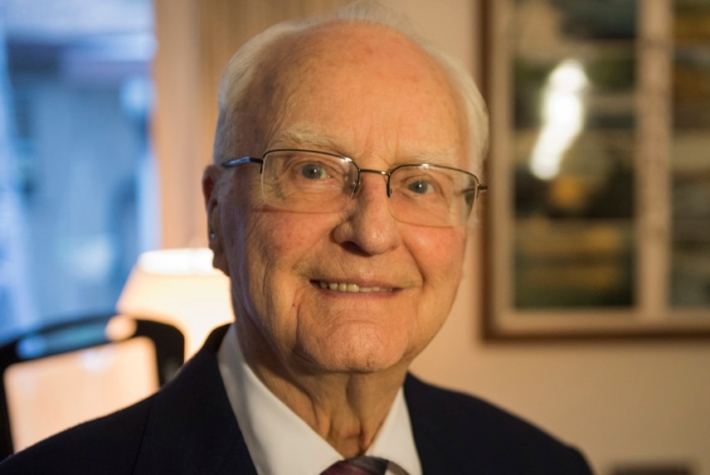 As Concordia St. Paul's oldest-known living alumnus, Fred Lussky, HS '38, JC '40 has been witness to the vast changes and growth that have marked CSP's 126 years of existence.
As Concordia St. Paul's oldest-known living alumnus, Fred Lussky, HS '38, JC '40 has been witness to the vast changes and growth that have marked CSP's 126 years of existence. "There were only about 150 students in total," he recalled of his time as a student.
As the son of Professor Ernest Lussky, who served on the faculty from 1906-1954, Fred spent the first 20 years of his life on campus. In fact, his family lived in one of the white faculty houses that lined Carroll Ave. on the east side of campus.
Fred enrolled at Concordia as a high school freshman. At the time, CSP was not yet coeducational but was a preparatory school for young men looking to pursue ministry in The Lutheran Church—Missouri Synod. Most students would attend Concordia for four years of high school and two years of junior college before attending a teacher's college or seminary. "Most of my classmates became pastors," explained Fred.
During his Concordia career, Lussky was involved in a wide variety of activities. "One of the things I really liked was the music program," he shared.
Fred was involved in music groups like the choral club, class quartet and octet, and brass quartet, especially enjoying the spring choir tours to congregations in the upper Midwest. His passion for singing continued for many years after leaving Concordia.
In addition to his musical endeavors, Lussky enjoyed what he described as a "tight-knit community." Despite living in the faculty housing during his six years at Concordia, he spent many evenings enjoying the companionship with his classmates in the dormitory. He was also a member of the tennis team for four years, and participated in intramural basketball and touch football.
Academically, Fred found a passion for science and math while at Concordia. "Paul Stor impressed me the most," he remarked. "He made things interesting."
He described many memories from Dr. Stor's classes, including visiting the South St. Paul stockyard, dissecting animals, watching birds in spring, and collecting insects. One particular experiment stood out: using a coffee can, candle, and flour to demonstrate what happened in the 1878 Washburn A Mill explosion.
Following his graduation with an AA degree from Concordia, Fred enrolled at the University of Minnesota, earning a degree in chemical engineering in 1943. Right after graduation, he was drafted into the US Navy, and trained in Chicago (where he first met his wife, Doris) to be an electronics technician on Navy aircraft. World War II ended just prior to his squadron beginning its time on the USS Midway, and he was reassigned to a shore base before being discharged.
After returning to civilian life, he was hired by 3M as a chemical engineer in Detroit. However, after four years with 3M, he returned to school to get the credits he needed to become a math teacher. After completing those courses, he began his teaching career, spending three years in Detroit and returning home to Minnesota and spending 26 years in Minneapolis schools.
Reflecting back on Concordia's history, Lussky shared his thoughts about his hopes for the future. "As [Concordia] has grown, it has branched out to more secular subjects," he observed. "My hope is that the preparation for a career in church work should still be a major goal of CSP."
To help make this a reality, Fred and Doris established the Dr. Ernest A. Lussky Scholarship Endowment. Proceeds from this fund are awarded each year to a student in one of CSP's church work programs.
With his unique perspective of nearly 100 years of growth and history, and continued generosity in support of its mission, Fred Lussky stands out as a notable alum in the legacy of Concordia St. Paul.