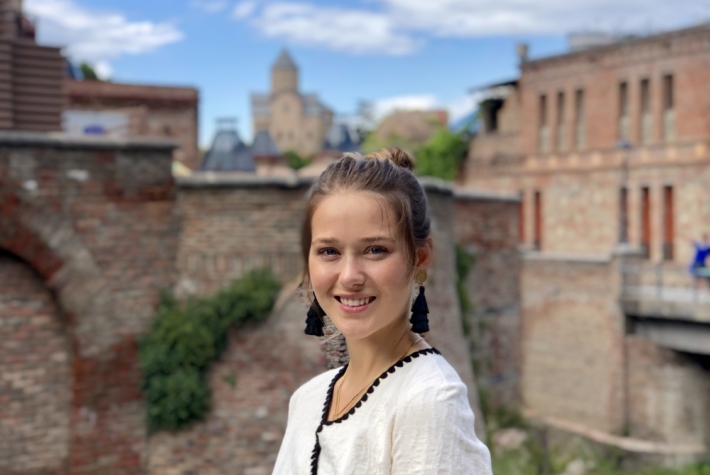 "I was so impressed and pleased by the faculty's willingness to truly support students and a strong belief in their institution's capability for preparing each student for their journeys after graduation."
CSP Mathematics and Computer Science graduate Irene Lanchava transferred to Concordia knowing that she had a busy life outside of school. She needed an institution that was flexible. Lanchava found her direction in an unexpected way. At her then-job, as she helped a couple select a Christmas gift for their son, small talk led to Lanchava expressing her interest in math. The husband of the pair responded enthusiastically and celebrated CSP's mathematics department, noting that he was a professor. Soon after, she was contacted by the head of the mathematics department on a Sunday evening with a warm hello and a nice chat that followed. Lanchava was so impressed and pleased with the faculty's willingness to support students and the two professors who gave her confidence in her pursuit that she chose to continue her education journey with Concordia. 
Today, Lanchava is a UX (User Experience) Designer at Polaris. We had the pleasure of catching up with her to learn more about her role with Polaris and how her CSP journey contributed to not only her pursuit of mathematics but her purpose and passion.
Q: Tell us about your position at Polaris. What are your responsibilities as a UX Designer?
A: My responsibilities include executing projects in parallel with managing assignments in an agile-scrum environment, supporting business and organizational plans, indicating issues with website performance, curiously investigating platforms and analytics, evaluating that data to ensure strategy and design practices, creating concepts that leverage brand assets for universal elements and features used across Polaris domains, and lastly, developing visual and interactive designs for presentations to review with management and internal clients.
Q:  What do you think creates a quality academic experience?
A: Patient professors who help students through their thought processes and concepts that promote an academic understanding rather than memorization.
Q: Did you participate in any volunteer opportunities or internships?
A: Yes, I had two internships on campus working with Concordia University's Marketing Department. Both were wonderful experiences involving projects and good people. Professionally, my time with the Marketing Department prepared me for working with internal clients, creating research and designs supported by data, and expressing curiosity about issues and solutions.
Q: Do you feel you established significant relationships with CSP faculty? What importance did those relationships have on the quality of your classroom experience?
A: Very much so. There is a handful of faculty/staff that I still stay connected with on life events and good wishes. This was helpful while in the classroom because this led to better communication and understanding between us. 
Q: Tell us about a professor who's been especially helpful or influential to you. 
A: Dr. Burkart because he was like the friendly grandpa I would go see, catch up with, get coffee with, and go to him when I was struggling. Each time I saw him, he offered effective advice, a song, and a fun conversation. Dr. Krueger because he supported me in pursuing my interest in UX design. He is funny, relatable, inclusive, and dedicated to every student. He would create fun math examples that involve students and even my husband! And Dr. Jahn because she was so patient, especially with me. She is excellent at making herself available to aid any student looking for help. 
Q: If you could give advice to a student who wants to pursue a similar career path, what would you say?
A: Be curious, network, and seek/make every opportunity possible.