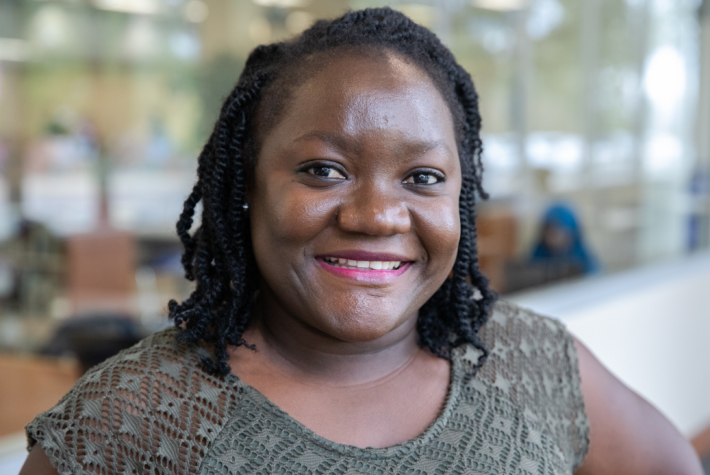 Jamesetta Kollie
CSP student Jamesetta Kollie is pursuing her degree in secondary education with an emphasis in social studies. In fact, Kollie is Concordia's first international student to pursue an education degree; Kollie is originally from Liberia. She shared her thoughts about what drew her to Concordia, her next steps as she approaches graduation in 2019, and her advice to students who want to follow a similar path.
Q: What drew you to Concordia? 
A: The first thing was the religious point of view – the Lutheran Missouri Synod (LCMS). My dad is a pastor. Diversity: having people you can relate to creates a better academic experience because people perform better when they have people they connect with. Also, the community: it's a really small campus you can get around easily. From the dorm room to the classroom is really close!
Q: Tell us about a favorite moment from your time at CSP thus far. 
A: My favorites are the classes I take and the work that I do at the International Student Services (ISS) office. It's good getting to know the ISS students coming in. They all face the same challenges you faced before. So, it's been really interesting and I've made good friends. My favorite class has been about inclusive classrooms and my class for students with special needs. Getting to know the kids in class and their needs, wants, and how to make them comfortable – that has been my favorite so far.
Q: If you could give advice to a student who wants to pursue a similar career path as you, what would it be? 
A: I would tell them that I'm the first international education student that CSP has had. There might be difficulties, but it's worth it! Once you know the professors, they will help you and it will get easier. Social studies teachers are needed. Go for it! Hear the kids' points of view. It means a lot to hear them say that it's important and makes a difference in my life.