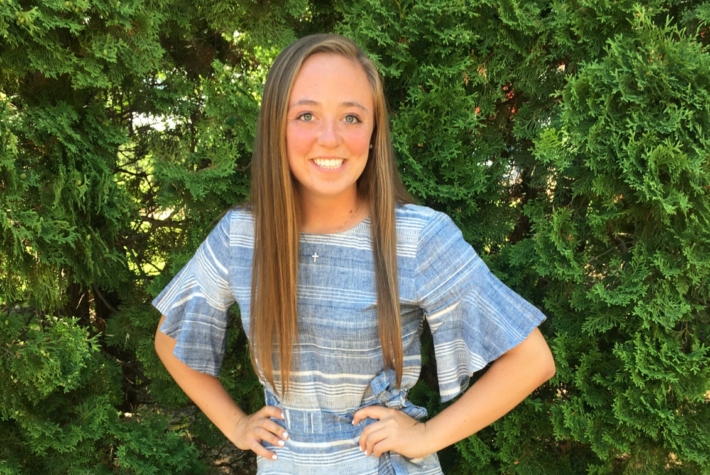 With an undergraduate degree in Math and Chemistry from CSP already under her belt, Katie Moynihan is already pursuing her MBA degree focused in Healthcare Management. During her time at CSP, Moynihan was a key player on the Women's Lacrosse team. As a student athlete who found immense success in both academics and athletics, Moynihan was named CoSIDA Academic All-American First Team twice during her student athlete career. Currently, Moynihan works at Optum in the Payment Integrity division. She hopes the pursuit of her MBA degree will open new doors and opportunities for her to advance her career.
Though she says earning the title of CoSIDA Academic All-American First Team does not define her, Moynihan appreciated the recognition for her hard work on the field and in the classroom. Being a student athlete is not always easy, and for Moynihan, it meant prioritizing her time to accomplish her goals. "I was very grateful for the opportunity to be a student athlete. It taught me how to balance my different commitments and prioritize what needs to be done."
Moynihan found her way to CSP by word of mouth from friends, family, and members of her congregation. After looking deeper into Concordia's values and what CSP could offer her, she knew the University was right for her. "I was looking to play lacrosse in college and was given the opportunity to help start a program going into my freshman year. I was able to fit all the important aspects of my life – faith, education, and lacrosse – all into one experience. I knew CSP was right for me."
One of Moynihan's favorite parts about CSP are the clubs and resources for students. Moynihan is part of the Fellowship of Christian Athletes (FCA), just one of the many campus clubs and activities available for students. "One of my favorite memories from CSP was being a part of Fellowship of Christian Athletes. It was made up of a tight knit community of athletes and non-athletes alike getting together every week to spend time in fellowship and the Word."
Being a student athlete helped shape Moynihan's college experience and she is grateful for the skills she has developed while at CSP.