PhD Candidate - Business and Managerial Economics, St. Mary's University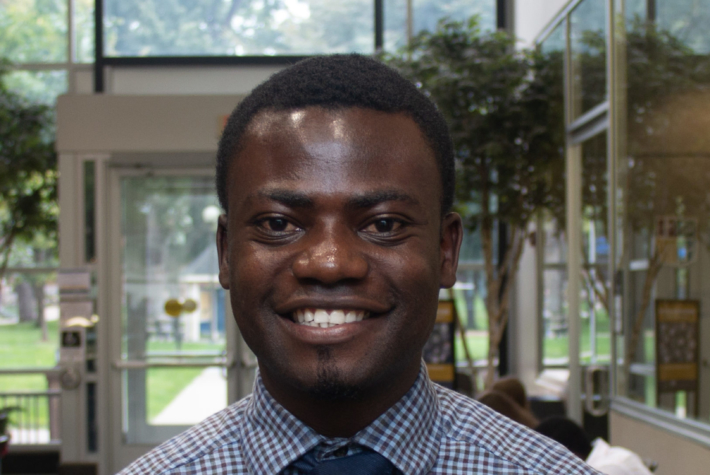 "CSP has given me a holistic experience. With my MBA, I get a bit of everything. It has diversified my mind."
Kennedy Lukoye hails from Nairobi, Kenya and is a 2019 graduate of Concordia's MBA program. He is currently pursuing a PhD in Business and Managerial Economics from St. Mary's University. We sat down with Kennedy to discuss what he thinks creates a quality academic experience, what it's like to study in the United States, and how CSP is helping him pursue his life of purpose.
Q: What were your most important factors to consider when you were selecting a college? 
A: In Nairobi, I was at the University of Nairobi, which is the biggest in Kenya. I wanted a smaller size, personal interactions between professors. The 16:1 ratio made CSP a contender. It is also a Christian college. I was raised in a Christian family, so I wanted to grow in faith and be able to have an experience and balance it with my Christian faith.
Q: What do you think creates a quality academic experience? 
A: I like the saying, "No horse ever runs unless it's directed. And no life ever grows unless it's focused, dedicated, and disciplined." That has been the quality of my education journey. Education is always ongoing.
Q: Why did you ultimately choose Concordia? 
A: My journey to CSP was interesting. I started a generic search because I didn't know anyone in the United States and they didn't know about CSP or colleges in Minnesota. One of the things I wanted was a college with one-on-one interactions between me and the professor. I also wanted faith-based and Christian-based. CSP stood out because of its size and because of its Christian faith.
Q: Share a favorite moment from your time at CSP.
A: I'm proud of the fact that we're a small university but we're able to do great things. The CSP alumni are proud. It's a cherishing moment when someone asks you about CSP and you can bring in the Christian faith. The students here also know each other which is rare. My university in Kenya had 65,000 students and we didn't know each other. At CSP, you can meet everyone.
Q: Have you encountered any challenges during your time at CSP? If so, what are they and how have you overcome them?
A: It has not all been smooth sailing. Coming from a different country, we have a different lingo. The first time I had a conversation with Dr. Brynteson, I couldn't understand him. Over time, because I met with him, I've developed the language part of it. Time and interaction with students have helped me to get the language. International Student Services (ISS) has English proficiency which helps ISS students grasp English.
Q: If you could give advice to other students looking to study internationally, what would you tell them?
A: I would tell them that it depends on what their aspirations are in life. If you want to grow – look for your morals and how you have been raised. You're getting a holistic education – education that is of value, a bouquet of everything. General life experience. You learn a lot.
Q: What are your next steps?
A: I have my bachelor's in broadcast production. With my MBA, I get a bit of everything. It has diversified my mind. I want to continue to do a PhD or choose a component in business analytics. I want to end up teaching or in academics.
Q: In what ways do you feel CSP is preparing you to pursue your life of purpose?
A: CSP has given me a holistic experience. The mentorship from faculty has given me roots and a foundation that I can face anything with. Concordia has given me the value of that. Plus, CSP is ranked as one of the best business programs.