Founder and CEO, SnowGlobe Public Relations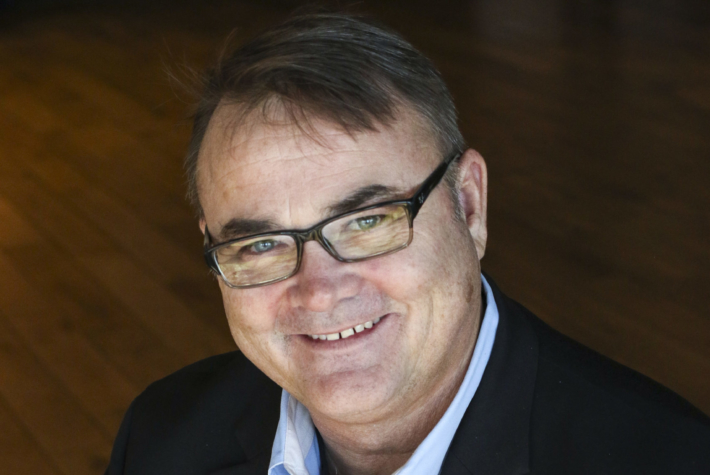 "Of all the higher education programs available in this market, Concordia was the most accessible."
Despite his pursuit of a master's degree being upended by 9/11 and the subsequent wars that followed, Lt. Col. Kevin Olson was able to utilize his real-world experience to complete his degree. He has continued being connected to CSP as an adjunct faculty member and started his own public relations firm, SnowGlobe Public Relations, after retiring from the Minnesota Army National Guard. He was gracious to take the time to share his life and vocational journey with us.
With stories of his mother's childhood in England during World War II, and a family that served in all branches of the U.S. military resonating in his mind, retired Army Col. Kevin Olson, MA '09 knew that serving a greater purpose was something he was called to. After graduating from high school in Omaha, he attended college in Massachusetts while also being trained at National Guard Officer Candidate School.
In 1988, Kevin received his commission, and in 1991 he completed his bachelor's degree at Framingham (Mass.) State University. His civilian career was in the hotel industry prior to beginning a full-time assignment with the Minnesota Army National Guard in 1999.
With the goal of becoming a field grade officer, Olson knew a master's degree was a worthy pursuit and found Concordia St. Paul to be the right fit. He enrolled in the Master of Arts in Organization Development and Management (now Leadership and Management) program.
"Of all the higher education programs available in this market, Concordia was the most accessible," Olson observed. "That was true twenty years ago, and it remains true today."
Olson spent time in the classroom once a week with his cohort, and especially appreciated classes with Professors Tom Hanson and Bob DeWerff. He was on track to graduate with his cohort, but the terror attacks of September 11, 2001 put a stop to these plans.
"[When] your job description includes 'close with and engage the enemy,' then your priorities quickly change," Olson intimated. "While I only had one capstone course to complete, I set aside my degree aspirations to provide support for Minnesotans ramping up for war."
Between 2001 and 2009, Olson held a number of important posts within the National Guard, namely in the public affairs field. In 2003, he was named the Director of Public Affairs for the Minnesota National Guard, and from 2005 through 2006, he served as the Media Operations Officer for the 140,000-person multi-national force in Iraq.
During his first deployment, Olson pondered ideas for his capstone project, "but nothing inspirationally gelled," he admitted.
Then, in 2008, he received his "dream" assignment: serving as the Public Affairs Officer for the deploying 34th Red Bull Infantry Division.
Olson elaborated, "I would be responsible for communicating all the activities of a 15,000-person multinational military force – including 1,200 Minnesotans – as we commanded the activities in nine of Iraq's provinces during combat"
Meanwhile, in this new role, Olson realized there was something he could do for his capstone project. He was responsible for the division's deployment ceremony, an event that included strategic messaging relevant to the deploying service members, their families, all media, elected state officials, all ten Minnesota elected federal officials, military leaders in the state and federal and international military officers.
He contacted Dr. Marilyn Reineck and proposed this ceremony would be a perfect way to complete his MA. After consulting with other university leaders, Olson's proposal was accepted, and Dr. Reineck would attend the event to evaluate the project.
On February 21, 2009, Olson coordinated the deployment ceremony for the 34th Infantry Division, with 8,000 people in attendance. Olson explained that the crowd included "members of the media, a four-star member of the Joint Chiefs of Staff, General Officers from Norway, the Croatian Ambassador to the United States (who is now the President of Croatia), the Governor and First Lady of Minnesota and Members of Congress."
Olson quickly received word from Dr. Reineck that his degree was complete, and was deployed to Basra, Iraq. While he was deployed, former CSP President Tom Ries offered Olson the opportunity to graduate virtually from Concordia. "I did so happily and, to my knowledge, I am the first and only person to accept my degree from Concordia from a combat zone," he said.
After returning from Iraq, Olson spoke with Prof. Alan Winegarden about ways to be involved at Concordia. Winegarden responded with an offer to teach classes as an adjunct professor in the Master of Arts in Strategic Communication Management program.
"While it was professionally very fulfilling to teach subjects that I had a passion for, the best part about being back on campus was connecting with the students," Olson explained. "Each of the cohorts that I interacted with was a group of diverse professionals driven to succeed."
He retired in 2017 from his post at the Minnesota Army National Guard and founded SnowGlobe Public Relations with fellow CSP alum and Air National Guard officer Anna Long, MA '13. Olson and Long worked together professionally since 2003, counting Concordia among their inspirations to start the firm.
Olson continues to be passionate about teaching at Concordia and collaborating with fellow faculty members. "Just recently, when one of my clients wanted to explore avenues to meet potential student interns for a veteran non-profit organization, Professor Kim Flottemesch introduced me to Professor Renata Mayrhofer to chart the way ahead," he elaborated.
One of Olson's proudest moments was when Dr. Reineck asked him to deliver the graduate program commencement address in 2017. "Never in my wildest dreams could I envision that I would be bestowed such a privilege and responsibility," he exclaimed. "For me, Concordia has helped me discover and engage in a meaningful life that has enriched my career and service to our state and nation."