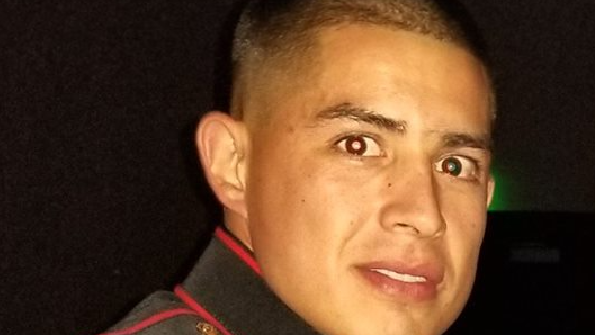 "CSP's professors have been helpful and understanding of the challenges that I encounter on a day-to-day basis."
Louis Perez is a United States Marine, a husband, and father whose career goals include coaching strength and conditioning for athletes at the high school and collegiate levels. Louis hails from Kansas City, Missouri, but his work as a Marine has brought him all over the world. With a demanding schedule, it was essential that his degree be online and flexible, so he chose to pursue CSP's online exercise science degree.
"This job isn't nine-to-five. Some days it's 14 hours. CSP's professors have been equally helpful and understanding of the challenges that I encounter on a day-to-day basis," he said.
Part of Louis' work as a helicopter mechanic and quality assurance representative has brought him to the line of defense for the Lilac wildfires in San Diego County in California. His squadron was there to protect personnel and buildings in the area. "I have to focus on ensuring my Marines and their families are safe, the helicopters are maintained properly and able to complete its flight mission for the day, and ensure the [fire] maintainers are working according to procedure so our Aircrew has a safe, effective, and airworthy helicopter to complete the mission."
In addition to the academic support Perez has encountered, he has appreciated how he has gotten to know his cohorts even if he isn't physically sitting with them in a classroom. "Each class provides the opportunity to see where all of my classmates are from as well as the opportunity to learn from their personal experiences."
Louis is set to graduate in 2019 and feels his degree will make him more marketable when he retires from service. In the future, he is looking into a fire science degree and Firefighter groups in his hometown of Kansas City.